Save your red shells for the person who "doesn't care" which character they play in Mario Kart. Finding the animated driver that best reflects your personality and playing style is important. And who you pick says a lot about who you are as a person, a gamer and, yes, a drinker. Here, what to drink depending on your go-to Mario Kart character.
Recommended Video
Thrillist's Best (and the Rest): What You Actually Need to Know About Natural Wine
If You Play as Mario, Drink a Negroni
It's-a me, Negroni! Not only does the classic Italian aperitivo match Mario's bright red hat and cart, but it also shares everyone's favorite plumber's easy going style. Like Mario's stats, it's strong (but not too strong) and has inspired a devoted following.
If You Play as Luigi, Drink an Americano
Much like Luigi is a lot like Mario but taller, the Americano is a stretched out version of a Negroni. Its bittersweet edge mirrors Luigi's own attitude, which goes from genial boasting ("I'm-a Luigi, number one!") to full on death stares.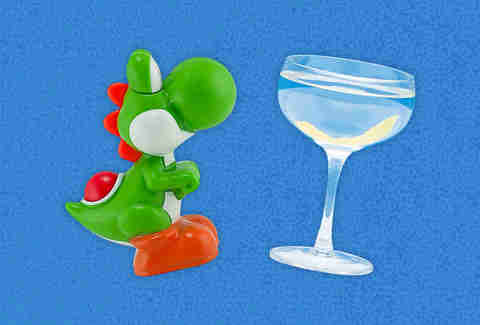 If You Play as Yoshi, Drink a 50/50 Martini
Yoshi is everyone's go-to pick when they can't decide on anyone else. He's right in the middle of the pack: middleweight, middle speed, middle agility—and zero conversational skills (unless you speak broken squeaky toy). Stay the course with your sensible pick by opting for a 50/50 Martini, made with equal parts dry vermouth and gin.
If You Play as Peach, Drink a Bellini
Bright, bubbly and sweet—but as speedy as a popped cork rocketing across a room—Peach is an unexpected powerhouse pick. Agile and quick, she can weave around the big guys and sneakily slide her way to victory. The Bellini not only appropriately includes peaches, but it can also creep up on you if you have one too many (which is very, very easy to do). As Peach would say, "Bingo! Bye-bye!"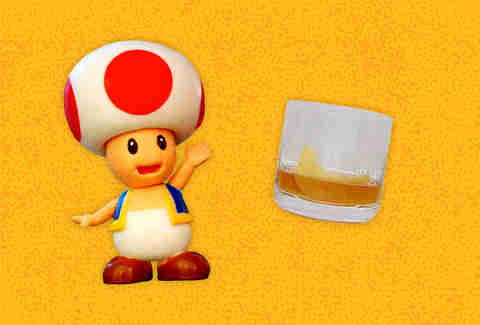 If You Play as Toad, Drink a Sazerac
Tiny, fast and an all-around crowd pleaser, Toad is like a miniscule fungi rocket, zipping around, narrowly avoiding skidding off the course. Equally small and mighty, the Sazerac will help you spring into action. Just make sure you apply the brake occasionally so you stay on the Rainbow Road (we mean that both figuratively and literally).
If You Play as Bowser, Drink a Zombie
Another catch phrase-less driver (unless you count "Roar!"), Bowser makes up for his lack of enunciation with sheer power. He might not be fast, but he's massive and can knock anyone into no-man's land, where only Lakitu can help. Lean into the heavyweight vibe with a Zombie, the kingpin of the tiki world.
If You Play as Donkey Kong, Drink a Jungle Bird
Dressed to kill in his red tie and nothing else, Donkey Kong is the king of the jungle. Honor him with a Jungle Bird, a powerful mix of blackstrap rum, pineapple juice, lime and Campari. It'll give you the strength you'll need to maneuver the hulking beast around tight corners.
Mario's arch nemesis (and possible blood relation? No one is sure.) is known for his menacing grin, wavy mustache and long, grueling eponymous course (if you've ever failed to make it across one of those motocross-style dirt jumps, you'll know what we mean). He's tough and deserves a drink that's just as powerful. Bitter and strong as Wario's soul, the Black Manhattan swaps friendly sweet vermouth for an extra-dark amaro. After a few sips, you will agree that yes, you are-a Wario and you are-a gonna win.