F, Marry, Kill: The Negroni, The Martini and The Old Fashioned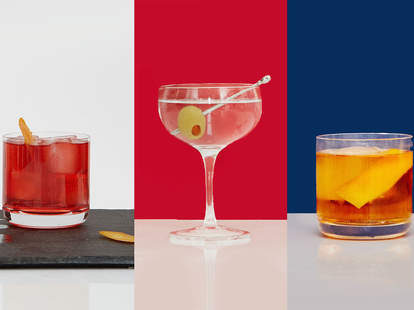 You've already played the classic, hypothetical game of "F**k, Marry, Kill" with all the Hollywood Chrises (the definitive answer, by the way, is F Chris Pratt, marry Chris Evans, kill Chris Hemsworth). But it's much harder to choose who'd you rather take home for the night, commit to forever and cut loose for good if you're picking between your most beloved cocktails. We asked five bartenders from across the country to do the near-impossible and play the game with three iconic drinks: the Negroni, the Martini and the Old Fashioned. Let's just say that they really rolled with it. Prepare to never look at a Negroni the same way again.
Josh Cameron
F**K: Negroni
Of course the Negroni. We got equal parts top, bottom and middle—depending on the mix, maybe heavy in the bottom? Sounds close to a 36-25-34, as long as she's 5'3'' (Sir Mix-a-Lot had it right). And I hope it's not a one time tango. At least some summer lovin'—maybe all of August? I'm coming back.
Marry: Old Fashioned
Is this a first marriage? If so, that definitely changes things, and first love goes a long way—especially on these cold winter nights. So it's gonna have to be Kentucky rye with some Ango and demerara. It's gonna have to be old school and classic, but still spicy and strong. Old Fashioned, lock down.
Kill: Martini
Now I've got love for Bond—Lazenby and Moore—and no problem with a stir over a shake,  olives or lemon, dry, whatever. But this night is young, and I'm trying to stick around long enough for my Negroni-stand and trying to hold off just long enough on that Old Fashioned lockdown. Timing, it's everything. I'm sorry Martini, you're walking the plank.
Lee Zaremba
F**k: Martini
Do you know how sexy a beautifully made Martini is? Mostly base spirit, a touch of vermouth here, or a secondary spirit there. It's boozy and softened by your own choices. A truly interesting bedmate.
Marry: Old Fashioned
Nothing can last forever like the marriage of spirit, water, sugar and bitters.
Kill: Negroni
"Lee how could you!? The most popular drink of the modern cocktail canon?!" Yes, murder it. Kill it already. Normally I'd have one and enjoy it, but four years of making 10,000 variants has me ready to move on. Cue the lights, ready the gallows.
Roux Toner
F**k: Old Fashioned
For my ideal one night stand, I'm not going for just any Joe Shmoe. My brown-out, sloppy hook-ups with Mr. Don Julio, Captain Morgan and Gordon's are long behind me. I'm a lady now and ladies love to f**k the old fashioned way—slowly, savoring every bitter, sweet, spicy moment. The Old Fashioned, tried and true, never leaves you unsatisfied.  
Marry: Negroni
A cocktail with nothing but character. Who wouldn't want to spend the rest of their life with a classic, sexy, playful, Italian bombshell? The Negroni is the Sophia Loren of the cocktail world—stunning and bodacious with no fillers, no nips, no tucks. Pure woman, oozing of sex. Spend the rest of my life with that? Yes, please!
Kill:The Martini
I don't care if James Bond made it sexy. Shaken, stirred, up, down, in, out, left, right—it's over-done and boring. I'm sure there's a mixologist out there saying to herself, "well she hasn't had my Martini!" No, I haven't and I don't care to. Give me a cocktail with character or nothing at all.
Shaun Gordon
F**k: Negroni
I want to f**k a Negroni, and I mean f**k. If this was "make love" I might have had to reevaluate my answers, but I'm talking f**k. A Negroni is simple, bold, and bitter, so I feel like she can definitely get down in bed and show me a good time. And because she is bitter, she might be a little kinky and like it rough. Plus, I know she would be able to handle my sarcastic, abrasive, Northeast demeanor.
Marry: Martini
I'm talking a stirred Martini here: gin, vermouth, orange bitters—definitely not shaken! I would love to marry a Martini; she is elegant, sophisticated, has class and most likely has money—maybe she would even pay my bills. And because I'm a whiskey and beer guy, it probably wouldn't work out in the long run. Let's just hope she doesn't make me sign a prenup.
Kill: Old Fashioned
I've wanted to kill the Old Fashioned ever since I watched Mad Men. Awesome, thank you for helping the resurgence of the classic cocktail scene, but there is more out there. Stop being so f**king old fashioned and try ordering a Last Word.
Spencer Elliott
Pilot, Brooklyn, NY
F**k: Martini
There's something about a dirty, shaken Vodka Martini that embodies a one night stand. She's strong, focused and always slightly surprising. She's the kind of cocktail that takes you home to her Icelandic yet minimalist apartment, and pulls out a [sex toy]—for you.
Marry: Negroni
The Negroni is all I'll ever need in life. She's balanced and pure. Just bitter enough to challenge you, strong enough to keep you on track, and sweet enough to smooth out your rough edges.
Kill: Old Fashioned
The Old Fashioned needs to die. Between Cocoa Pebble variations and pig sweat fat washing, this cocktail is probably already dead and just doesn't know it—please, for god's sake, know it.