Like Vanessa and Nick from The Bachelor, meat and cocktails don't seem like a good fit. But unlike Nick and Vanessa, they are—in the right hands, of course. Creative mixologists from New York to Portland are finding ways to mix meat and booze. You'll find takes on the Old Fashioned, Manhattan and the Bloody Mary, along with cocktails that are a little more out there. Calling all omnivores and carnivores: These are the best cocktails for die-hard meat lovers.
Recommended Video
Thrillist's Best (and the Rest): What You Actually Need to Know About Natural Wine
Pecan Smoked Bacon Infused Manhattan
5280 Burger Bar
Denver, CO
Manhattans are undeniably delicious, but adding bacon to a Manhattan gives it that certain (French phrase alert) je ne sais quoi. Not wanting to waste any precious, bacon-y goodness, bartenders at this Denver burger joint repurpose the fat from the pecan smoked bacon that tops the Boss Hog burger (which also comes topped with a beef patty, cheddar, pulled pork and barbecue sauce) to make their signature Manhattan. They fat-wash Four Roses Yellow Label Bourbon with the bacon fat, then mix the meat-infused whiskey with Angostura bitters and both dry and sweet vermouth. Then they garnish the whole thing with even more bacon, along with a cherry and an orange twist. Expect a smoky, silky sipper that's perfect with a burger (preferably one topped with bacon, of course).
Wagyu Cocktail
Sushisamba
Multiple Locations
This ultra-luxe take on an Old Fashioned features ingredients more often found on a plate than in a glass. A liquid expression of the restaurant chain's Japanese and Brazilian influence, it's made with Japanese whisky that's been fat-washed with marbled wagyu beef, which lends a buttery mouthfeel to the cocktail. Salted caramel, an ingredient found in many Brazilian desserts, and maple round it out. We can't dictate your exact order, but if you don't pair this cocktail with the wagyu sliders or gyoza, we're gonna get so mad.
Sumo Mary
Sunda
Chicago, IL
Bloody Marys are brunch staples, right up there with sunglasses and weary faces. But few can bring you back to life like this massive $40 brunch drink. This is not one of those 'tails with a tiny bacon garnish—there's enough meat in this drink for you and a friend to walk away from the table full. It provides plenty of porky sustenance, including tocino (aka fatback) grilled cheese, crispy pork belly and applewood smoked bacon. And it doesn't stop there: The drink also includes a crab hand roll, lumpia and a steamed duck bao bun.
Swillin' Swine
24 Carrot Bistro
Erie, CO
Denver and Boulder are chock-full of nationally recognized cocktail bars, but the Colorado town of Erie? Not so much. But nestled in that small town about 30 miles north of the Mile High City sits a tiny gem of a cocktail bar. One of the more popular 'tails on the list is the Swillin' Swine, which bucks the meat cocktail trend by being neither a take on an Old Fashioned nor a Manhattan. Instead, bartenders fat-wash bourbon with bacon fat, giving it that splendidly silky, buttery taste, then mix it with peach black tea syrup accented with tarragon.
Yardbird Old Fashioned
Yardbird
Las Vegas, NV
Not content simply crushing it in Miami, this fried chicken spot recently spread its wings (literally) to Sin City's Venetian hotel/casino. Its gut-busting Southern fried food fits right into the storied city of excess, as does the Yardbird Old Fashioned, which is made with bacon-infused Wild Turkey 81 bourbon, Angostura and orange bitters, and maple syrup, poured over a two-inch ice sphere. Don't expect this cocktail to taste like a plate full of bacon. Those familiar, comforting flavors of bourbon, orange and bitters still reign supreme, as they should in any Old Fashioned. But as you swirl the perfectly clear ice sphere in the glass, bacon notes sneak up on you and turn this drink into something out of the ordinary.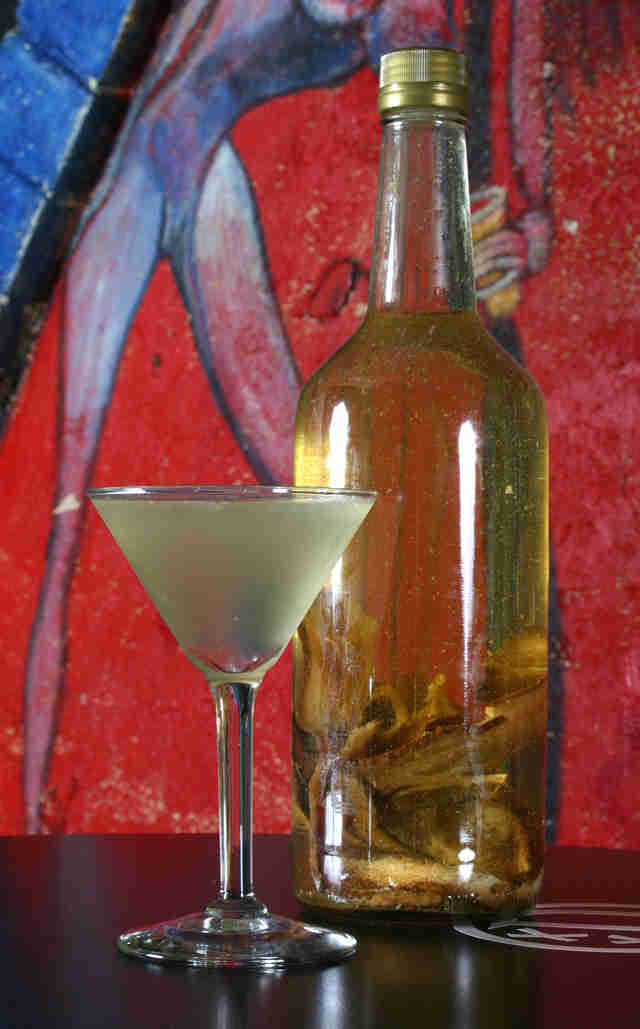 Original Bacon Martini
Double Down Saloon
New York, NY
Just like the word "literally," the word "original" is rarely used as it was intended. But in the case of this cocktail, the name doesn't lie. It is, indeed, the original Bacon Martini. P Moss, the owner of this loud and proud dive with locations in both Vegas and New York, says he invented the drink in the late '80s. He was inspired by the fruit-infused vodkas of L.A., but chose to infuse vodka with bacon instead. Why? Because he's a genius. Moss infuses vodka with three crispy, fried strips of Gatton Farms bacon from Kentucky, letting the smoky, meaty spirit sit for 48 hours. To make the Martini, he simply shakes the vodka with ice and strains it into a glass. Bacon booze at its purest. So when you grab a seat on the graffiti-filled patio at the Double Down and order a Bacon Martini, know you're drinking a true original.
Wet Your Whistle
White Horse Lounge
Pasadena, CA
A coffee and whiskey cocktail is a fantastic way to start the day—as long as that day falls on a weekend—but it's even better when made with another breakfast staple: bacon. The upscale White Horse's WhistlePig-heavy cocktail is a treat even after the sun sets. It all starts with the Vermont distillery's 10-year rye whiskey, then continues with whiskey barrel-aged maple syrup and Guatemalan coffee (both from WhistlePig). Then come black walnut bitters and a house-cured bacon garnish, of course, because you can't have a cocktail with so much "pig" in it and not include bacon. Strained into a glass that's been washed with Yellow Chartreuse, the cocktail boasts sweet notes from the maple syrup, bold coffee flavors and a touch of earthiness from the black walnut and Chartreuse. They call it Wet Your Whistle. We call it Brunch in a Glass.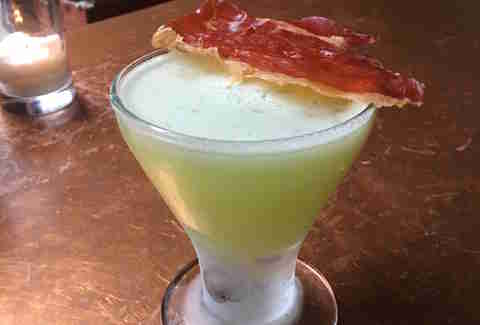 Melon vs. Meat
Hamlet
Portland, OR
This PDX eatery puts the ham in Hamlet. Case in point: speck, Iberico ham and 20-month prosciutto are featured on the focused menu. Ham even makes an appearance in one of the restaurant's most popular cocktails. The Melon vs. Meat gets an air-dried prosciutto garnish, which compliments a mix of Martin Miller's Reformed Dry Gin, honeydew and lemon juices, clover honey syrup and orange bitters. Protip: Dip the prosciutto garnish into the melon-accented cocktail, and enjoy that salty and sweet combination. Don't worry, plenty of people do this. The restaurant staff won't judge.