While some Millennial drinkers are sucking up the world's supply of rosé and drinkstagramming their way through Coachella, others are revolutionizing the liquor industry from the top echelons of distilleries. These young master and assistant master distillers (all born after 1980) are taking charge of brands old and new, embracing new technologies, and creating new flavors. We talked to three youngsters about what it's like to be millennial distillers.
Felix, Clarice, Cicely and Digby Elliott-Berry
Ages: 26, 24, 22 and 19, respectively
Positions: Master Distillers of Sibling Distillery
It's no surprise that the Elliott-Berry siblings ended up in the alcohol industry, having grown up around their parents' brewery. What is surprising is how quickly the quartet found success. Going beyond brewing to tackle distillation, the siblings developed the totally untraditional Sibling Gin, which quickly won accolades like 3 stars at the the 2015 Great Taste Awards, while they were all still under the age of 22.
After getting a taste of the alcohol business by selling homemade sloe gin at the farmer's market, the siblings launched the distillery six years ago, just as sisters Clarice and Cicely prepared to graduate from school. Felix, who had been working at a brand agency, took charge of Sibling Distillery sales to major and international clients, and handled the distillery's branding. Clarice took on finances, while Cicely was put in charge of events and independent sales. All of the siblings oversee the gin as master distillers and develop new products together.
Unlike some millennials whose idea of hard work is posting a whole Instagram story, the Elliott-Berrys decided to make gin the hard way, by first creating their own wash before distilling. "We didn't want to just rectify and distill a ready made alcohol. We wanted to brew our own alcohol as well. So we do the whole process within one building, which in the U.K. is relatively rare," Felix says. Bucking trends further, the young distillers opted for a sugar cane base in order to produce a cleaner spirit, and flavored their gin with unique botanicals like blueberries. He goes on, "When we started out, because we challenged the norms a little bit, [the reaction] was mixed from people within the industry, partly down to our age, partly down to the fact that we were doing things very differently. We were doing things that challenged what people had traditionally done."
While other distillers didn't know what to make of the new distillery, drinkers loved the flavor of Sibling Gin. As they developed their first product, the young siblings decided to throw out any preconceived notions of what a gin should be, instead letting customer feedback guide their process. That customer-led ethos hasn't slackened as the distillery has grown more popular. "We try to get as many people involved as we can when developing new flavors," Felix explains. "We're not secretive at all. We want people to give us their feedback before we launch everything." With a mountain of feedback from blind taste tests and the approval of all four siblings required to move forward on any new product, Felix adds that sibling discussions of product development can get a bit "fiery."
Even with all of the success, the Elliott-Berrys' age has come with its challenges. The Advertising Standards Authority (ASA) prohibited the siblings from advertising themselves on the website because they were under 25. While this certainly frustrated the quartet, Felix explains, "It's just made us reliant on the quality of our product instead of the backstory really. That's no bad thing."  
Elizabeth McCall
Age: 33
Position: Assistant Master Distiller of Woodford Reserve
Barreling her way into the upper ranks of one of the most respected bourbon brands in Kentucky, Elizabeth McCall learned to be open to most anything. "Always saying yes to things is what got me to where I am," she says.
McCall began at Brown-Forman as a sensory technician, testing spirits across the company's portfolio, but she longed for a position where she could speak to consumers directly about the brand, and she voiced that desire. She pushed to be included in the internal educational seminar Spirits Academy, which mostly served her peers in sales and marketing. She showed up early, helped set up and asked lots of questions. Woodford Reserve master distiller Chris Morris led the seminar himself, and it was there that he noticed McCall, and her potential. When he asked her to become master taster for Woodford and Old Forester, she said, of course, yes. "I didn't even know what I was saying yes to when I said I'd train to be master taster," she admits. "I don't think Brown-Forman or Chris Morris knew where it would go, but I think they had hopes of where it would go." McCall would go on to focus entirely on Woodford Reserve, and eventually to become assistant master distiller.
As a young woman in an industry dominated by older men, McCall faces the patriarchy with a laugh. When male distillery tour guests underestimate her based on her gender, she says, "It really doesn't bother me. I was self conscious about it first, but now I know that as soon as I start talking, I can answer any question they have. I can back up anything they throw at me. Knowledge is power."
McCall doesn't have to look far for a female role model in the industry. "My mom worked at the old Seagram's plant. She was manager of bottling operations there, which was unique for a woman to have that role back in the late '70s/early '80s," she says. "I didn't realize growing up, when my mom would talk about it, that it was so significant. And I don't think she realized, honestly, the significance of it." McCall's mother eventually left the industry because there was no maternity leave policy in place to support her continued growth. While technology and flexible work plans have changed that, McCall says she remains cognisant of the challenges older generations faced. "The women who went before us fought hard to make it [so that] women now are a no-brainer. I've always been surrounded by amazing women at Brown-Forman in great leadership roles," she says. "I have to remind myself too that my position of being a woman in this role and carrying this title tells young women that they can have this title too. … It's about continuing to pave that road."
McCall's technical background also influences her approach to the job and indicates another way she may break with expectations. For her, it's all about data. "Data is very powerful. If you can monitor your outputs and look at any changes and notice trends in your practices throughout the production process—color trends, dump proof points—there's so much you can gather from that," she explains. She's helping move Woodford from paper-based data to digital, which will not only make product development easier, but will also break the brand away from its reliance on informal, oral traditions. She says, "The industry has been all about 'my old grand-dad's way of doing it' but if you're going to continue the way your grand-dad did it, or the way that we make Woodford today, we have to document what we're doing in order to pass that along to future generations."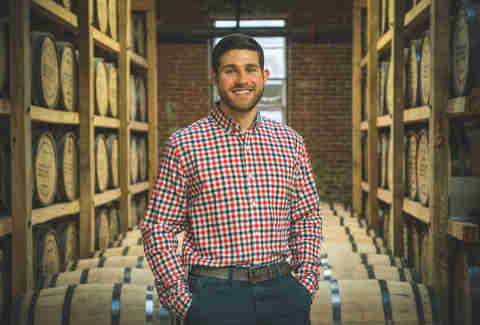 Caleb Kilburn
Age: 26
Position: Head Distiller of Kentucky Peerless Distilling
Unlike McCall and the Elliott-Berrys, Caleb Kilburn doesn't come from an industry family. Having grown up on a dairy farm in Kentucky, he knew no one in distilling and didn't have any connections. While studying chemistry at Morehead State University, Kilburn began shadowing distillers and cookers, and pestering tour guides for any information about the business. He eventually forced his way into Moonshine University, the teaching arm of the Distilled Spirits Epicenter, where he could learn from master distillers directly. "Pretty much everyone who went through that [program] were already affiliated with a distillery, or were distillers in training, or were new employees," Kilburn says. "I was the only one to graduate freelance."
A quick bond with his teacher, Pete Kamer (a veteran of Barton Distillery), led to an apprenticeship of sorts, which was followed by more tutoring from Rob Sherman (president of Vendome Copper & Brass Works and a vendor for Moonshine U.) and from Randy Allender, a retired Jim Beam distiller-turned-consultant. Kilburn explains that this trio of mentors taught him the ins and outs of the industry, from distilling best practices and management to manufacturing and engineering of new distilling systems. They also gave him access to fellow distillers across the region, whom he could study to learn a wide range of philosophies and methods.
His mentors then connected him with Peerless Distillery founders Corky and Carson Taylor. The Taylors needed someone with Kilburn's broad experience, but the young hopeful distiller didn't jump right into distilling. He started at the bottom, sawing lumber for construction. When Kamer just happened to come in to consult on building the distillery's mechanical systems, Kilburn was there to help—and eventually take over construction of the site's boilers and chillers. Kamer's accidental consult led to Sherman's sudden appearance as a consult on the instillation of distilling equipment. Once again, Kilburn was perfectly positioned to take over construction, building out the cooker, fermenters, beer well, and entire distillation system. "What I've come to find out long after the fact," Kilburn says, "my mentors had no intention of just sending me to any distillery. They played matchmaker." Kilburn's growth within Peerless was plotted from the beginning by his mentors behind the scenes. He would go on to spearhead the distillery's computer automation system and program it himself after a 2-hour course on the software (and a number of calls to tech support).
As Kilburn prepared for his final semester of college, the Taylors asked him to become head distiller, so he worked double duty as distiller and student. "I would go to school Monday through Thursday, and then Friday and Saturday I would be on-site in Louisville with the contractors," he explains. "I had cleared it with all my professors. They knew that it didn't matter if I was in the middle of the final exam to end all final exams, if I got a call from a contractor, I had to step out and take it."
Yet, Kilburn doesn't think someone at his age holding his position is all that strange. "I like to consider myself an old soul," he jokes. Instead, he says he differs from other distillers more in terms of the route he took to his position. Typically, distillers move up from within a company, joining when they're young and assuming more duties as elder distillers retire. "Generally you have someone who has learned how to do the job one way, who has learned one set of philosophies, and they're in a position where success for them is to continue exactly what your predecessor did," he explains.
Kilburn credits his unorthodox entry into the industry for his quick mastery. "The unique thing for me is I've been able to study under multiple people and cherry pick the practices and philosophies of each that I feel go into making the best product. I like the way this distillery makes their cuts, or the way that distillery distills at a low proof, or I may like the char that this distillery uses," he says. "Because I was at a new startup distillery, I was able to really craft Peerless' product line in the image of my choosing. I was able to innovate and start from scratch."