7 Exotic Bars That Will Make You Feel Like You're on Vacation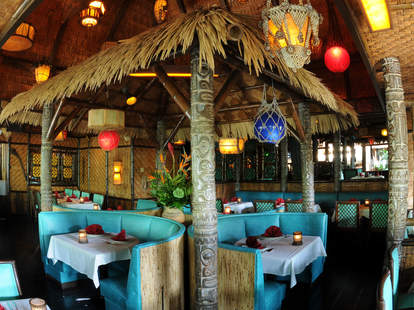 Step into a neighborhood bar and you'll feel good. But step into these bars, and you'll feel like you've teleported to a remote faraway land. Between the decor, the cocktails and the service, drinking at these exotic haunts is like taking a mini vacation away from the doldrums of everyday life. From a luxurious Prohibition-era Cuban spot to a tropical oasis under a waterfall, these are our favorite exotic bars to visit in America right now.
This Bay Area mainstay has been slinging top-notch tiki drinks since it opened in 2009 and shows no signs of slowing anytime soon. The theme here is exotic nautical, which you'll quickly realize as you look up to see hundreds of knickknacks like buoys, wooden mermaids and fishing nets dangling from the ceiling. Cocktails like the Port Royal—made with multiple
rums
, jerk-seasoned simple syrup, fresh lime and homemade Hellfire tincture—will instantly transport you to a faraway land.
Hawaii's Grand Wailea resort is surrounded by breathtaking natural beauty, and the property is a far-flung dreamland in and of itself. But we'd spend most of our time sipping tropical libations underneath a waterfall at the
swim-up
Grotto Bar. Tucked inside a rock formation and surrounded by native flora, guests can take a seat on one of the sunken stools and sip a refreshing cocktail, like a classic
Rum Punch
or a frozen Mango
Mojito
.
The
talented bartenders
at this Portland tiki oasis are slinging
delicious drinks
in a carefree castaway environment. The colorful bar is lit with mismatched vintage lamps and illuminated puffer fish while tiki totems keep watch over patrons as they sip Hale Pele's potions. Classics like the
Mai Tai
and Jet Pilot abound (and many come flaming), but make sure to try a signature like the award-winning Secret of the Lost Lagoon, made with rum, lime, pineapple, vanilla, ginger and cold brew.
Inspired by the early days of Prohibition, a time when thirsty New Yorkers fled to carefree Cuba for their cocktail fix,
BlackTail
evokes the luxurious Havana days of yore. The opulent interior is done up with a stained glass ceiling and tropical plants in every corner, and artwork, like vintage photographs and illustrations, covers the walls. The drinks are strong and elegant with tropical ingredients in the spotlight, but don't miss bartender Jesse Vida's luxe take on the
Rum & Coke
, which takes the classic
Cuba Libre
to a new level with the addition of Champagne.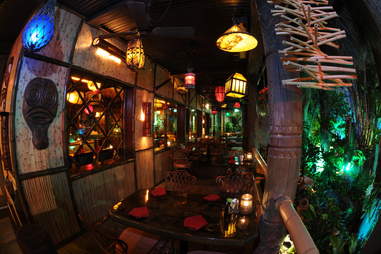 Courtesy of Mai-Kai
Mai-Kai, Fort Lauderdale, FL
Stepping into Mai-Kai is like entering a tropical fantasy land full of fire-breathing entertainers, endless
pu-pu platters
and lip-smacking tiki drinks. Each section of the dining room has a different theme, and the restaurant's garden is an exotic oasis of lush greenery, footbridges and waterfalls. If you can't stay for dinner and a show, Mai-Kai's Molokai bar features more than 50 tiki cocktails, from a Martinique Milk Punch to their dangerously smooth and potent
Zombie
.
"We were tiki before it was cool" seems like an appropriate slogan for this authentic spot outside of Chicago. Hala Kahiki first opened in Bucktown, Illinois, in 1952 and moved to their current location by 1964, so they've had plenty of time to build their impressive collection of tropical furniture and decor. They have a huge selection of tiki classics from the
Blue Hawaii
to the
Dr. Funk
, and some of their signature libations have remained unchanged for five decades.
While you won't find a sea of tiki torches at this Los Angeles
mezcal
bar, you will find more than 400 premium agave spirits in an elegantly exotic setting that'll instantly transport you south of the border. Vibrant, colorful artwork adorns the walls, and the backlit bar shows off their best bottlings of
tequila
, mezcal, sotol and
raicilla
. If you're in the mood for a cocktail, spring for the Poblano Escobar (which has been a hit since Las Perlas first opened in 2010), made with a blend of cumin-spiced pineapple and poblano peppers that's shaken with Vida Mezcal.