8 Crazy Cocktails That Will Cost You Your Entire Savings Account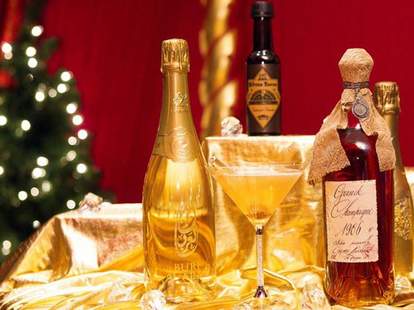 How much should a drink cost? That question is the source of much debate, with some willing to pay $16 for a craft cocktail, others refusing to pay a cent more than $10, and still others happy to shell out over $20 for a drink made with vintage spirits or tippy top shelf liquor. But there is a limit to what a sane person is willing to spend at a bar. These cocktails venture into that region of insanity, ranging from $100 to $10,000. From Dubai to London to Las Vegas, here are eight of the world's most expensive cocktails. We'd tell you not to blow all your money in one place, but with these, you'll probably have to.
Baby Darling ($100)
Milk Room, Chicago
Milk Room is a small, eight-stool speakeasy in Chicago know for using rare and vintage spirits in its drinks. One of these is the Baby Darling, made with Neisson 15 Year Rhum Agricole, Alessio Vermouth Chinato and 1980s Isolabella 18 Amaro. Those three ingredients will cost you $100, which is a steal when you consider that it's the cheapest drink on this list.
Nacional ($332)
Beaufort Bar, London
The menu at the Beaufort Bar in London's Savoy Hotel features two pages of vintage and rare cocktails, all made with hard-to-come-by spirits. Their take on a Nacional includes 1970s Cuban Bacardi and 1960s apricot brandy, along with the traditional lemon, pineapple juice and sugar. Those vintage spirits don't come cheap. You'll need a cool £250 ($332) to snag one.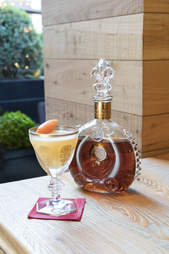 Courtesy of Baccarat Hotel New York
Sidecar Royale ($450)
The Bar, New York City
Pull up a stool at The Bar in the Baccarat Hotel & Residences in NYC and drop some cash on the Sidecar Royale. For $450 you'll get a version of the classic brandy cocktail crafted with Louis XIII Cognac, Grand Marnier Quintessence, lemon and, of course, gold leaf. While the glitzy gold certainly looks pretty, you're mostly paying for the Louis XIII, Remy Martin's high-end Cognac that can retail for thousands of dollars per bottle. Sip it very slowly.
Courtesy of Canon
Vintage Sazerac ($650)
Canon, Seattle
Seattle's Canon isn't messing around when it comes to vintage spirits. Their extensive menu includes 10 drinks that retail for over $200, all created with rare bottles. The Vintage Sazerac is made with either 1935 Cognac or 1945 Monticello rye, bitters and Pernod absinthe from 1940. All that vintage rarity is hopefully worth the $650 price tag.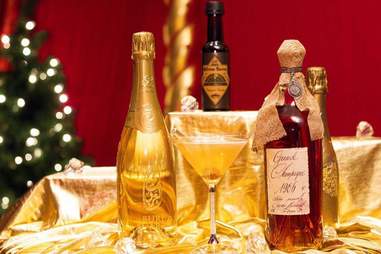 Courtesy of Skyview Bar
Diamonds Are Forever ($1,380)
Skyview Bar, Dubai
Of course one of the world's priciest drinks comes out of Dubai. The Diamonds Are Forever cocktail can be found at the Skyview Bar in the city's famous Burj Al Arab hotel. As you gaze out over the desert from the 27th floor, indulge in a combination of L'Héraud Grande Champagne 1906, Champagne Luxor, TBT Jerry Thomas Bitters and brown sugar. It'll only set you back approximately $1,380.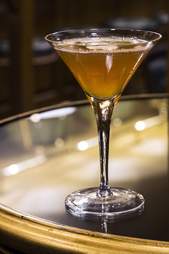 Matthieu Cellard
Ritz Sidecar ($1,792)
Bar Hemingway, Paris
Bar Hemingway, in Paris' Ritz Hotel, famously created the Ritz Sidecar, a pricier version of a Sidecar. Invented by former head bartender Colin Field, this rendition includes Cognac from the 1800s, typically a 1834 Cognac that was made with pre-phylloxera grapes. The other ingredients are simply lemon juice and Cointreau. The bar's menu has shifted and evolved in the past two years, but the Ritz Sidecar remains available for about $1,792.00 if you've got it.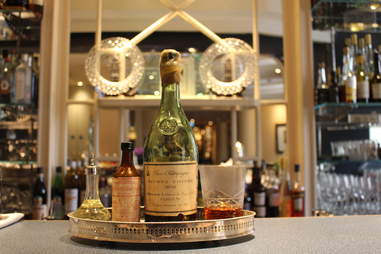 Courtesy of American Bar
Sazerac ($6,600)
American Bar, London
Got a spare 5,000 pounds lying around? Why not spend it on a drink at one of the world's best bars? The American Bar at the Savoy Hotel in London serves up a vintage Sazerac for 5,000 pounds (approximately $6,600). It's made with extremely rare 1858 Sazerac de Forge Cognac, 1950s Pernod absinthe and 1900s Peychaud's bitters. This may sound overly indulgent, but the drink has actually been ordered 14 times so far. With the right savings account, you could be lucky number 15.
Courtesy of XS Nightclub
Ono ($10,000)
XS Nightclub, Las Vegas
The saying, "What happens in Vegas, stays in Vegas," is also true for the money you spend on drinks. The Ono, a secret cocktail at the Wynn's XS Nightclub, is one of the city's more indulgent orders. Served in a Baccarat crystal-encrusted Champagne glass, the cocktail contains Remy Martin Louis XIII Black Pearl Cognac, Charles Heidsieck 1981 Champagne Charlie, fresh-squeezed orange juice, Sence rose nectar and apricot puree. It costs $10,000, but drinkers also receive an 18-karat white gold necklace with a Tahitian black pearl pendant and XS logo, as well as a pair of 18-karat gold Mont Blanc cufflinks with genuine stingray leather and solid gold XS logos. Worth it? Your call.