The 8 Most Romantic Bars in the Country
Nick Vorderman / Slowly Shirley
The right bar can ignite romance in all the right ways. When you're looking for that perfect date spot, you need a bar that's cozy and intimate without being tacky, sleazy or overly sexy. That could mean fireplaces, fine wine and leather-bound seating, or it could mean an inventive cocktail list and views for days. We did the searching for you and found the most romantic bars in the country, from San Diego to Rhode Island and everywhere in between.
Newport, Rhode Island
Romance is all about location, location, location. The Bar at The Chanler checks that box with a location that gently whispers intimacy at every turn. Not to mention it's housed in a vintage Newport mansion-turned-luxury-boutique-hotel. Dark wood, restored leather bar chairs and art set the mood, while nearby ocean views remind you that a walk on the beach can be yours if you want it. Too cold? Stay cuddled up and chat with your significant other (or hopeful significant other) over an original cocktail at the bar.
Austin, Texas
Péché may mean sin in French, but it has the ambiance of amour. Corner booths act as a private getaway for you and your date (or double date) to enjoy an original or classic cocktail. The drinks are lovingly created and artfully crafted, with contemporary French comfort food on the menu for dinner to share. The cherry on top, though, is the Adult Milkshake. Whether you go with the eponymous Péché made with absinthe, cherry liqueur and vanilla ice cream, or a classic Bananas Foster, you can finish your date sharing a milkshake like the best Hollywood cliché.
Washington D.C.
Church and State is not a church (although it has lots of church furniture), and it's not located in a state (D.C. is a federal district). It is romantic enough to make your dream of a little white chapel come true, though. The cocktail menu focuses on U.S. spirits, while stained glass windows and seating separated by old church pews sets the tone. One trip to Church and State and your date will be singing hymns of love.
San Diego, California
If being close in close quarters isn't your preferred style of romance, then how about being close in the great California outdoors? The Pony Room in the Rancho Valencia Resort & Spa has plush outside seating next to fire pits that overlook the large lawn. Blankets are provided, of course, and cocktails from the elevated bar are never far away. If you'd rather stay indoors, the equestrian-inspired bar features leather seating, low lighting and a cocktail menu that draws from more than 100 varieties of tequila.
Brooklyn, New York
The French know romance, and Le Boudoir knows French. The craft cocktail bar achieves its romantic sensibilities with decor inspired by Marie Antoinette's private chambers. Bold plush red seats make a statement, while a lounge couch in the corner is more relaxed and open. You'll feel as if you're secluded in the private chambers of someone royal, only with ready access to French Revolution-themed custom cocktails and delicacies like charcuterie and frog legs.
Denver, Colorado
Dates don't have to be a one on one solo affair, and livening things up with a double (or triple) date doesn't mean you have to settle for a less romantic setting. The Fire Terrace on the roof of the ART hotel in Denver is proof. Each private-feeling lounge area has a romantic fire burning in the middle, and striking views of downtown are everywhere you look. If you choose to stay indoors, you'll be rewarded with classic and original cocktails in the connected, modern looking lounge.
Los Angeles, California
The Varnish opened in 2009, and has been a beacon of cocktail culture in Downtown L.A. ever since. The speakeasy-style bar is secluded without being too exclusive, and the seating is intimate without feeling lonely. It's easy to get lost in the mood here after making it through the secret oak door, but the award-winning cocktails will bring you back in.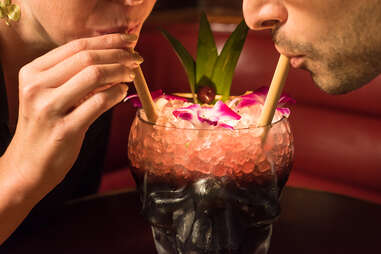 New York City
You want dim lighting, close seating, thoughtful cocktails and a feeling of accessible exclusivity? You need to take your date to Slowly Shirley. Decorated like the 1940s, the bar is located underground beneath The Happiest Hour. Choose table service and you can have nothing between you and your date but a candle and a drink, like the Perla Negra (pictured) or Tahitian Coffee that's designed for two. What's more romantic than sipping with your sweetheart like your names are Lady and Tramp?