These Bartenders Now Make Bank Designing Playlists for Bars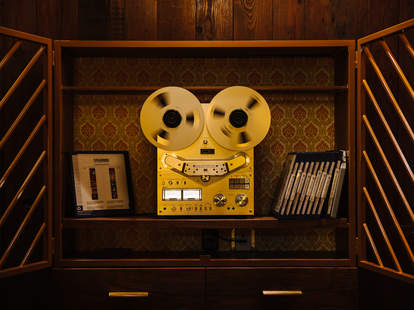 Courtesy of Golden Eagle / Muchacho
You walk into a bar and it instantly feels good. Ambiance, attentive staff and a good crowd all distinguish a bar as a great place to drink, but there's something else you may not immediately notice, something so integral to the drinking experience that it can make or break your entire outing. And then it hits you: This place has killer music. If you find a bar stool at certain spots around the U.S., you may even be listening to a playlist designed by an expert bartender-turned-DJ, aka the guys with total dream jobs. Here's a look at how three music experts ended up creating playlists for some of the country's best bars and restaurants.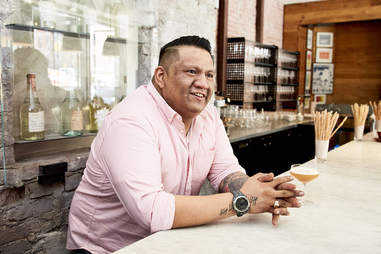 Kendall Mills
Charlie Reyes of Audio Culture
Charlie Reyes has loved music his whole life. Since he was a kid listening to Motown while cleaning the house with his mom in Spanish Harlem or old Spanish music as his dad worked on the family car, Reyes has been musically inclined, but his passion especially grew for New York hip-hop.
After working his way up the front of house ladder up to bartender, Reyes joined the Delicious Hospitality team in 2013 as they prepared to open Charlie Bird. Delicious founders Robert Bohr and Ryan Hardy are major hip-hop fans themselves (their restaurants, including Charlie Bird, are known as much for their soundtracks as their food and drinks), and they discovered a kindred soul in Reyes. One night they gave him a shot at creating a playlist for the bar. It was a rounding success, and Reyes has been in charge of tunes there ever since.
"Just like there's a genuine, cohesive thought process to conceptualizing drinks behind the bar, that's the same way you should approach creating a playlist," Reyes says. "Drinking is such a personal thing, especially when you're drinking with friends, that the wrong song, the wrong beat that you put on, can totally kill that mood. … You have a hand to play in how the night will turn out for everyone in the room. There's a lot more to putting together a playlist than just looking up what's hot on the radio and hitting shuffle."
At Charlie Bird, the music focus is on golden era '90s hip-hop, with hit after hit by Jay-Z, Wu-Tang and Nas. With these familiar artists in his toolbox, Reyes controls the pace and mood of the dining room and bar. For example, he can hit especially high notes when the crowd needs some energy. "Jay, Tribe and Outkast … all have something that you can drop, and everyone in the room will be able to relate to it. I know that anytime that I play 'Spottieottie' by Outkast, it doesn't matter who you are, if you've ever listened to any Outkast, if you've ever gone to college, if you've ever hung out with friends and had a drink, you've heard 'Spottieottie.' The brass in that song is unmistakable. The minute anyone hears that bad-duh-dut-duh-deh, everyone knows that song,"
Looking a bit deeper, Reyes' mastery for musical flow reveals itself further. "A dining room has about three turns of about two-and-a-half hour intervals. From beginning to end that's the length of someone's meal," he says. "What I do is set up three different peaks of energy, reflected in the BPMs or the tone of the music I'm playing to round out the individual experience and reset the room for the next wave of guests coming in." Not only does Reyes' music make guests feel good, but it subtly provides queues to pace their dining experience. Like an appetizer, salad course, entree and dessert, Reyes builds playlists with lighter tones to welcome guests, upbeat tracks to raise the energy level during the peak of their meal, and finishes with happy, nostalgic songs to, essentially, show them the door. He adds, "The last thing you want to do in a restaurant is make the music too good, so people don't want to leave. It's a tightrope. It's a balance. It's about giving enough energy and nostalgic motivation to enjoy the moment and value it, but then want to move on."
While he remains loyal to old school hip-hop, Reyes was excited when Delicious Hospitality recently opened a new restaurant Legacy Records, where they would focus on contemporary music. "As much as I loved that, I wanted to play contemporary stuff because I'm a huge fan of music today. I love Jay but I also love Kendrick. I love Nas but I also love Cole," he says. At Legacy Records, Reyes pulls together tracks from major label artists with lesser known underground artists releasing mixtapes and tracks on Soundcloud. He's especially enthralled with producers like Apollo Brown and Statik Selektah, whose sounds emulate the style of the '90s. Younger artists like Aminé, Abhi the Nomad and Little Simz make appearances as well.
After producing killer playlists for the Delicious Hospitality restaurants and bars, Reyes launched Audio Culture to expand his business to other venues. He's worked with both other restaurants like Quince in San Francisco and exceptionally cool brands like Verve wine stores launched by sommelier Dustin Wilson. Even as his client list and his reputation grow, Reyes stays humble and wants to keep Audio Culture fairly constrained. "I tend to like the personal touch to the music I put out, and I pride myself on the fact that I know where a song is being played, and why it's being played, and how long it's going to play in that space," he says, so he's cautious about growing a team or outsourcing any of the work.
Reyes simply hopes to keep designing music that's personal, soulful and absolutely integral to the experience it accompanies. And you'll still find him behind the bar at Legacy Records.
Courtesy of Mark Pallman
Scott McNiece and David Allen of Uncanned Music
When Scott McNiece started working at Gilt Bar in Chicago, owner Brendan Sodikoff learned he was a musician and tasked him with creating a playlist for the bar. After a couple successful playlists, Sodikoff began paying McNiece for his DJing services. What began as a few hundred dollars on the side of McNiece's bartending gig expanded into a full-time job, and from there into a business as other restaurants began requesting similar services. McNiece invited his old friend and fellow musician David Allen to partner up in the venture they named Uncanned Music, adding Allen's skills as an audio engineer to his own music knowledge.
When asked what makes a good playlist for a bar, McNiece says simply, "Something unique. That's it. Something unique." Uncanned Music isn't a background music company. "We're more interested in providing a musical atmosphere that's interesting and helps the restaurant have a defined personality. I don't think of a perfect playlist as one that's not invasive or accommodating. The perfect playlist is the one that most expresses the personality of a restaurant." Allen adds that the duo never come into a project with preconceived notions, instead taking inspiration from the environment and mood of the venue. Open minds and blank slates are the rule.
Perhaps the best known name on Uncanned's client list came early in the history of the business: the famed Au Cheval, another Sodikoff venue. "That was where we originally had the idea of the reel-to-reel tape machine," McNiece says. The vintage system has become Uncanned Music's trademark, immediately garnering them a reputation and attracting attention for its throwback feel. McNiece describes it as a magic machine that gets everyone excited to hear whatever music comes out of it. And at Au Cheval they complemented the tape deck with a massive sound system. "The idea was that it was like riding in the backseat of your friend's Chevy Cavalier in high school and you have really big bass speakers in the trunk. The first handful of tapes for Au Cheval were all bass-heavy '90s hip-hop."
Allen and McNiece have gone on to design the music program for a number of bars, but every project is unique. "Each of the tape reels is a different playlist with a different concept behind it," McNiece says, "like a mixtape that you would make for your friends." For Sacred Beast in Cincinnati, they designed each mixtape to evoke a different mythological creature. The "Mermaid" reel, for instance, contains all music by female artists. "Chupacabra" is all '70s psychedelic Latin songs. At Sportsman's Club in Chicago, Uncanned created a mix to honor the Polish heritage of the neighborhood, compiling Polish music from the '60s and '70s that captured the grittiness and age of the space, while mixing it with the musical tastes of the bartenders reviving the historic bar. "We distilled their spirit into the space and the space of the neighborhood," Allen explains. Cocktail bars followed, like Jim Meehan's Prairie School and the Hong Kong location of Employees Only.
Uncanned also offers clients custom sound systems to take advantage of their beautiful reel-to-reel tapes. "The sound system and the acoustics of the space are so crucial to the music program translating in the way you intend it to," says Allen, who handles most of the technical installation. "In the beginning [of a new project], it's just, 'How can we make this place sound as good as it can.' … I imagine the end experience I would want and then work backward from there."
Uncanned Music gives bars the chance not only to show off an impressive sound system, but gives them a concrete music collection as well. "It's a cool way for them to store a library of music," Allen explains. "Every day they get to experience this very tactile process of selecting and putting on the tape to set the mood they want." The standard offer is seven tapes lasting three hours each, but Uncanned also updates collections with a new reel each month to keep things from getting stale.
This full-spectrum musical approach—reel-to-reel tape deck, a sound system custom designed for the bar, playlists that perfectly execute the system's capabilities and capture the essence of the bar, and monthly updates that allow a bar to build a longterm music collection—separate Uncanned from companies that just fill in background noise for so many bars. And the duo isn't satisfied resting on its laurels. "We just invented a kind of sound," McNiece says. "It's called triptophonic sound." For their newest project at the Marz Brewing tap room in Chicago, they built three giant speaker cabinets, each with three large drivers, and triangulated them in the space. "Go to Marz. Hear the triptophonic sound. Feel the triptophonic sound. And buy three beers," McNiece laughs. "And you'll achieve infinity," Allen adds.