Light up Your Night With This NYC Neon Pub Crawl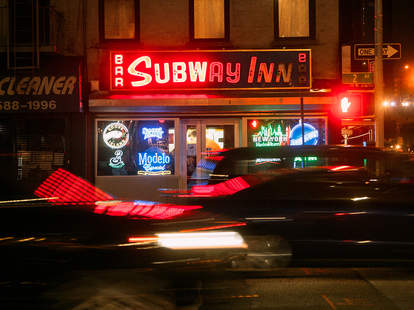 As quintessentially American as it seems now, neon was actually discovered—and first made into lights and signs—in Europe. The ultra-bright placards didn't make it across the pond until several years after they first came glowing to life in Paris in 1910. But once Americans got ahold of the stuff, they made up for lost time—and New York City led the way. Between 1916 and 1960, according to Thomas Rinaldi, author of New York Neon, there were more than 100,000 neon signs lighting up bars, clubs, restaurants and marquees throughout the five boroughs.
The city hit its neon peak in the 1930s, when, as Rinaldi writes, neon was "almost inescapable" and epitomized "the popular image of New York as a glamorous metropolis." Yet within three decades of that peak, the lights had dimmed considerably. Most of the city's vintage signs had gone dark.
Fortunately, a handful of those Golden Age signs have survived, and, like several other cities around the country, New York is experiencing a neon renaissance at the moment. The upshot is if you stroll the city's streets nowadays, you'll find much more "liquid fire" than you might expect, including a wealth of neon bar signs, both vintage and new. Here, a sampling of some of New York's must-see neon bar signs.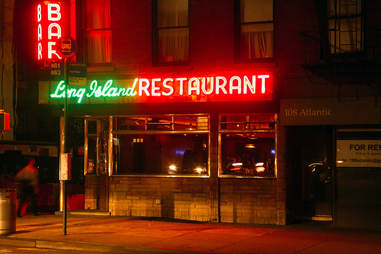 Eric Helgas
Brooklyn
The stunning red-and-green neon atop this misleadingly named Brooklyn bar went dark in 2007, after more than 50 years of serving dockworkers from the nearby waterfront. Six years later, a pair of beverage-industry vets reopened it, wisely keeping (and restoring) the original sign, as well as the old-school interior featuring striped, red-leather booths and Formica table tops. The clientele has changed (it's more Brooklyn hipster now), but the atmosphere and sign retain their original glory, which must be pleasing for the original owner, who still lives a block away from the bar.
Eric Helgas
Queens
They have a full bar at this Elmhurst, Queens, institution, so you can sip the cocktail of your choice while you navigate the menu that's so huge it should come with a search function. And the spectacular neon sign out front—with its green-leaf stem, detailed peach slices, and textured pit—more than makes up for the pedestrian view of Queens Boulevard out front.
Manhattan
Another survivor of the city's on-again, off-again (pun fully intended) relationship with neon, the fabled dive bar Subway Inn opened on East 60th Street in 1937. After 77 years of serving New Yorkers of every stripe, including Marilyn Monroe and Joe DiMaggio, the place lost its lease in 2014. Its signature neon sign, featuring red letters in a sky-blue field, looked set to join the city's vast neon graveyard—until the owners found a new home for it just a few avenues east of its original location. The hiatus lasted less than a year, and everything about the original—including the entire bar, and of course the classic sign—was restored in the new spot, which looks out on the aerial tram to Roosevelt Island.
 
Eric Helgas
Manhattan
Taverns don't get more legendary than the Old Town Bar. The stylish Flatiron joint has been in continuous operation since 1892; it contains the oldest dumbwaiter in New York City, and has been featured in two famous music videos, five feature films, two sitcoms, and an iconic late-night talk show. Even its urinals, giant, floor-based numbers, are famous: they've been there since 1910. As for the bar's classic neon sign, that made the scene in 1937, a few years after the end of Prohibition (during which, according to Rinaldi, the place went incognito as 'Craig's Restaurant'). The red-green-red beacon underwent a complete renovation in 2008.
Eric Helgas
Manhattan
The latest wave of New York City neon often takes the form of stylishly rendered, witty, or irreverent turns of phrase. There's a Lower East Side lounge with a sign demanding, in lowercase neon-orange script, "Lie to me and tell me you love me." A nearby bar and restaurant promises "Everything is going to be F****** amazing," in stylized pink neon script by the artist Lauren Baker. Several blocks north, at the East Village bar The Garret East, three simple words convey a similarly reassuring message—"No Bad Days"—in bright pink neon next to a swooshing arrow and sprightly palm tree. This one's an Instagram star.
Eric Helgas
Manhattan
From the new wave of neon in the East Village to a vintage sign in the West Village: The White Horse Tavern at Hudson and 11th Streets. Conceived by Charles Karsch, a Russian immigrant who also designed the late, lamented P & G Cafe sign, the White Horse placard features dramatic Germanic lettering, a horse's head, and the block-lettered ᴛᴀᴠᴇʀɴ. Pass under its multicolored glow and tip the wrist at a bar that's been in business since 1880 and has hosted the likes of Jack Kerouac, Hunter S. Thompson, Dylan Thomas, Bob Dylan, and Jim Morrison.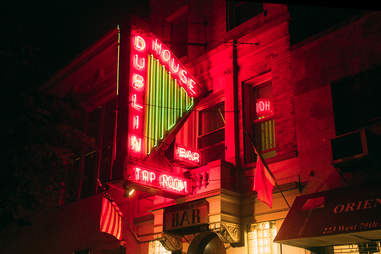 Eric Helgas
Manhattan
A subway ride up the West Side from the White Horse Tavern stands the Dublin House, bedecked with one of the city's most impressive neon signs. Casting its glow on West 79th Street since 1933, the enormous, double-sided beacon was devised by the E.G. Clarke company. It features a massive green harp and the words "bar" and "tap room" flickering on and off in red-orange neon.