On a busy night, drinking in any bar can get...cozy—especially if it's a popular local hangout. But close quarters drinking in some bars is a nightly occurrence, thanks not only to their popularity, but also their size, with only a few square feet of space available at any given time. All around the world, there are bars that boast spaces so small you can reach across the bar and touch the opposite wall. Though these watering holes probably aren't the right choice for anyone with claustrophobia, their ultra cozy atmospheres are part of their charm. From a tiny corner pub in London to miniature craft cocktail bars in Tokyo, Milan and San Diego, here are seven places to drink around the world if you're sick and tired of elbow room.
Recommended Video
'Last Week Tonight' Writer Josh Gondelman Takes Shots, Talks About Working For John Oliver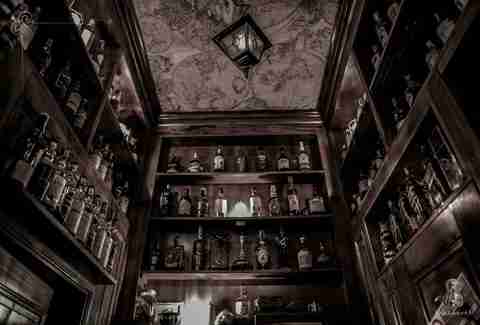 With nary a barstool in sight and only about three feet of bartop to work on, this tiny bar in the heart of Milan is the smallest bar in Italy—and possibly even in the world. Its focus is on craft cocktails—just watch this video and tell us you don't want to stop by for a drink—and intimate conversations with your barmates.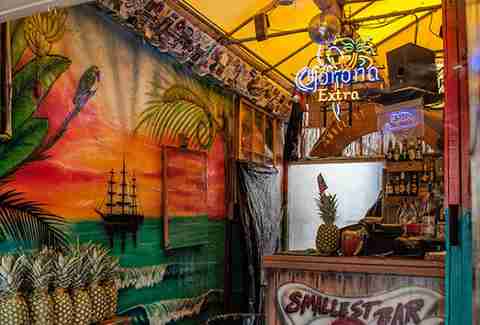 This tiki-style Florida bar is the tiniest bar in the area, with only a couple of bar stools for thirsty patrons. The bar itself claims it has merely 72 square feet of space ("about the size of a jail cell"). It can fit a surprising number of people, however, but just be sure you're okay with getting up close and personal with your fellow drinkers.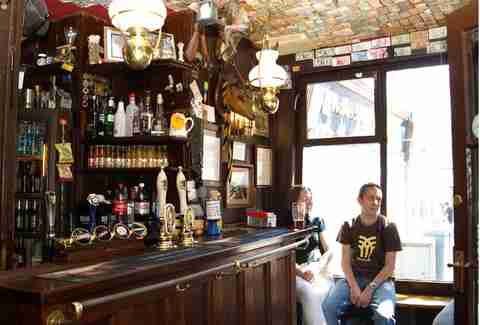 From the outside, The Nutshell looks like any other respectable British pub, situated on a corner framed with dark wood panelling and showcasing years of odd collectables. Step inside, however, and you'll immediately see the difference: While a typical pub might be lined with tables and bar stools, this one is standing room only. It measures a meager 15 by 7 feet, with just enough space to stand, order a brew and gawk at the mummified cat hanging above the bar.
Named the "smallest bar in the world" by the Guinness Book of World Records in 2007, this miniature watering hole boasts a handful of seats and an impressive 247-bottle whiskey selection. Connected to a whiskey shop, whiskey museum and a distillery, it's safe to say you'll find exactly what you're looking for here (as long as it's whiskey).
Bar Piano, Tokyo, Japan
Visiting a cocktail bar in Japan is an experience—not only will you get a beautifully made drink, but you'll also be in for a show, watching some of the most skilled bartenders in the world. And at this Tokyo bar, you'll get a front row seat to the action—as long as you can get in. There's only enough space for three people at the downstairs bar, which is fashioned from an upright piano—but you can head upstairs to hang out and sip your cocktail with some elbow room.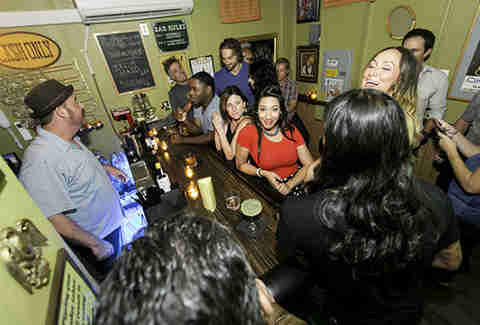 This itty bitty San Diego cocktail bar has space for 12, but be prepared to stand shoulder-to-shoulder while sipping your drink. Be sure to reserve your bar stool ahead of time to ensure that you'll be able to get in. Once you do cozy up to the bar, we recommend trying Pop's Cocktail of the Month, which is currently The Last of the Oaxacans, a twist on the Last Word that includes mezcal, lime, maraschino liqueur, Chartreuse and a serrano chile for garnish.
The Signal Box Inn calls itself "The Smallest Pub on the Planet" and is situated on the grounds of Cleethorpes Coast Light Railway, a train that runs two miles from the Cleethorpes Kingsway to Humberston. Serving booze, beer and cider from around the world, the cider box in has only eight-foot by eight-foot of space for its customers to come in, order and then scoot right back out onto the spacious patio. It's set smack dab in the middle of the train line, so if the journey proves too arduous, you can get off halfway for a drink.