One of NYC's Oldest Bartenders Shares His Secrets to Success
New York is known for its many opulent hotels with swanky bars. But only one has legendary barman Norman Bukofzer.
Bukofzer has been a mainstay of the Ritz-Carlton for 35 years. He started out as a bartender at the Jockey Club in 1981—the bar at the Ritz's now defunct 112 Central Park South address—and moved up the block with the hotel to its Central Park location in 2002, where he's head barman at The Star Lounge. Celebrities, fellow bartenders and enthusiastic drinkers alike seek out the 73-year-old bartender for his unshakeable hospitality, as well as his killer Manhattans and Martinis, poured freehand and served nearly overflowing.
Ever the welcoming host and humble barman, Bukofzer has as much enthusiasm for his job now as he did when he started out. In a bright yellow tie dotted with ladybugs and flowers—what, winking, he calls the "Ritz-Carlton standard"—Bukofzer sat down with Supercall to share his thoughts on bartending and his secrets to a successful career behind the stick.
Supercall: What was the Ritz like when you started bartending?
Norman Bukofzer: When we first started in New York there wasn't all these hotels. The Ritz-Carlton motivated them to get to the level that they are. They're all great hotels now, but the Four Seasons wasn't the greatest. They had to elevate themselves to come to the standard of the Ritz—with the service, remembering customer's names, allergies—everything.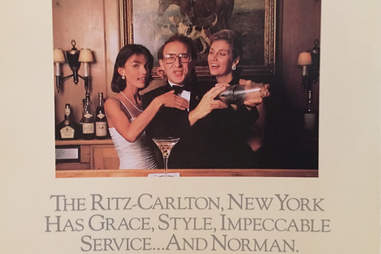 SC: How did this promotional card (above) come about?
NB: The marketing team decided to do something because I used to go around [as a host]—not making drinks—drinks weren't really much a part of it, even though they were very good. It's hospitality. You're going to get a nice drink. You're going to get good food. But what makes you come back? People [come back because they] know you. It's fun.
SC: Still, you're known for making a mean Manhattan.
NB: Sure, but it's not so much about the drinks. We can construct a drink to anyone's preference. To me, you're going to get nice service here. You're not going to wait. The drinks are well prepared, well made. They're constructed perfectly, garnished perfectly, and nobody's going to stand over you saying, "Do you love it? Is it nice?" That's what they do now in the bars—get out of here.
SC: What's your secret to success?
NB: First of all, you've got to be yourself and enjoy the person in front of you. And don't talk too much about yourself. The [customer is] here to see you, but they're not here for your life story. People try to overstep their bounds and think they can say something, but you can't—they're your customer first. You don't go home with them. You don't go on vacation with them. And that's the way it is. Never get too close or you could say things inappropriately. That's where people make the mistake. They're your customer. They're friendly, but they're not really your friends.
SC: But you've made plenty of real friends over the years here.
NB: I've met a lot of good friends—actors that became really good friends. Garry Marshall was an old dear friend of mine. He put me in a movie. His family was here last night. Liam Neeson is an old friend. But we're not supposed to talk about [the celebrity customers] at the Ritz-Carlton. What's dear to me is over the course of the years, you have customers calling to say hello, and they have to speak to you before they die. Their wives call me up and say, "Can you please call so-and-so because they're not doing well." To me, that means more than anything else. Not that they're passing away, but that you're entwined with their lives. Their grandchildren now come and see me—that to me is the best part.
SC: Did you have a mentor when you started out?
NB: No. I watched people—and I watched for what not to do. What not to do, what not to say, what expressions not to use. Well, that was part of the Ritz standard—you're not supposed to say "OK." It's changed a little bit over the years.
SC: Any other words of wisdom for today's bartenders?
NB: [Bartending is] a career. You can make a darn good living, and it's so rewarding, and you can meet so many new people, and it broadens your horizon every day. Somebody's going to tell you something and it will stick with you. If you're a little shy—I was shy, I didn't talk to anybody—it opens you up a little bit. The bartenders of today are knowledgeable. They're smart. They're very interested in it. But they're taking it to another level where it's a quarter of this, a tablespoon of this syrup. A drink should take [a maximum of] three minutes. But if you get a drink in 20 seconds, you know it's not a well prepared drink or else they make it in batches—which they do a lot now.
SC: Bars are serving cocktails on tap now.
NB: I guess if I was 25 years old I would appreciate that more. Now, come on and have a drink.