How To Make Cocktails Out of Nothing at Your Office
Matthew Kelly / Supercall
Unless you work behind a bar, you probably don't have access to much in the way of cocktail ingredients at your 9 to 5. But that doesn't mean you can't have a delicious desk drink at the end of the day. These six hacks will teach you how to make the best cocktails with the most basic office supplies. From spiked, simplified Irish Coffee to an office Old Fashioned, here's how to make cocktails out of nothing at your office.
Matthew Kelly / Supercall
Pack a DIY Brown Bag Cocktail Kit
If you want to be prepared for any 5 p.m. cocktail craving, pack this instant-cocktail kit with your daily PB&J. Throw together enough mini-bottles for the week ahead and fresh citrus for any cocktail garnishes you might need. For a full mini-bar, pack at least three bottles of whiskey—one bourbon, one rye, and one Irish—and one of each of the following spirits: vodka, rum, brandy and tequila. Underberg, a German digestif in-miniature, is our secret go-to mini-bottle that we keep for emergency situations—i.e. hangovers and stomach ailments—which also happens to be the perfect replacement for Angostura bitters. It's important to remember that liquor never goes bad, mini-bottles are ridiculously cheap (they also fit easily into any desk drawer) and you can never have too much alcohol. Just don't be surprised if your office liquor cabinet garners jealous oohs and ahhs from your coworkers.
Matthew Kelly / Supercall
Use Cups to Make an Improvised Shaker
Most of us don't have a proper bar at the office—or the tools to stir or shake a drink the way that a bartender would. To get by with the bare essentials of your office kitchen (if you have an office kitchen) all you actually need to mix cocktails is a couple of pint glasses (or plastic cups) and a sandwich knife. For a cocktail that has any sort of juice in it, which would traditionally require a shaker tin, use two plastic cups or two pint glasses. Build the cocktail in one of the cups, add ice, and toss back and forth between the two glasses to incorporate. For stirred cocktails, build your cocktail in a plastic cup or a pint glass, add ice, and stir with any silverware that you can find (knives or plastic straws work best). To strain, flip one of the cups over and nestle it into the top the cup containing the cocktail, then use it to hold the ice back as you pour it into a fresh glass (or Garfield mug).
Matthew Kelly / Supercall
The Easy Hack for Simple Syrup
Simple syrup is probably the easiest cocktail ingredient to concoct at your office. All that's required is equal parts boiling water (or as close to boiling as you can get it in the microwave) and plain white sugar. Mix the two together and stir until the sugar dissolves. To make yourself the perfect office-ready Old Fashioned, mix one mini-bottle of whiskey (the choice of rye or bourbon is up to you) with a splash of simple syrup (taste to see if it needs more sugar) and stir with any random silverware that's available (if you have ice at your disposal, drop a cube or two in there). Your simple syrup will keep indefinitely, so once you've made a batch, you can stash it in your office fridge for future imbibing. Just remember to mark it with your name, or it'll wind up like your last salad—stolen by Todd in accounting.  
Matthew Kelly / Supercall
Add Complex Cocktailian Flavors with Tea
Every day can be Friday with a Boozy Arnold Palmer at your desk. One of the most versatile ingredients to have on hand, tea can be made cold (catch some rays and be that person making sun tea in the office window) or piping hot. You can mix it with just about any liquor that you have available (vodka, whiskey and rum work the best) and you don't necessarily need any other ingredients—like citrus, fresh fruit or simple syrup—to make a satisfyingly delicious drink. One of the best and easiest 5 p.m. sippers is a heady mix of iced chamomile tea (drop a bag into a glass of water at 10 a.m. and refrigerate while you work), lemon slices and a mini-bottle of rye. Even though you'll still be planted in your seat in front of that computer screen, one sip of this tasty libation and your spirit will be at the golf course.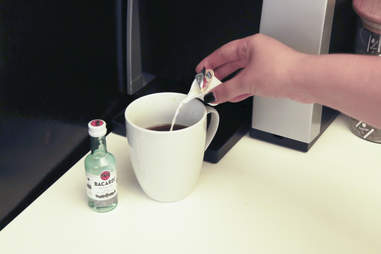 Matthew Kelly / Supercall
How To Use Office Coffee (and Actually Make It Taste Good)
Even if your office coffee is overly dark, bitter or stale (has that burner been on all day?) it can still be used to create tasty caffeinated cocktails. For a simplified Irish Coffee, dump a full mini bottle of Irish whiskey into a cup of hot coffee, add a package of non-dairy creamer (if you want to get fancy, give that creamer a hard shake before you open it) and a splash of simple syrup for a touch of sweetness. If you're lucky enough to have cold brew at your office, you can make yourself something that resembles a Caucasian, by mixing equal parts cold brew, vodka, coffee creamer and simple syrup in a glass with ice. Next thing you know you'll be wearing a Pendleton cardigan and jellies to the office with your aviators and making bowling references. The you abides.
Matthew Kelly / Supercall
Optimize Your Office Microwave
Besides being ugly sweater season at the office, November through January is the perfect time to cozy up to a big mug-full of Mulled Wine or a Hot Toddy. For some Mulled Wine, pack an airplane-sized bottle of red wine (or a full one, we won't judge) and a small stash of fresh fruit (put that apple you always promise to eat but never do to good use). To concoct, cut up said fruit, add it to a coffee mug of red wine and microwave for one minute. Let the bubbling, mini-cauldron of wine cool, add a dash of simple syrup, a mini-bottle of brandy (or Cognac if you can find it) and stir. For the perfect microwave Hot Toddy, add a spoonful of honey to a coffee mug, squeeze in some fresh lemon, and fill the mug three quarters of the way to the top with tap water. Microwave for a minute and dump a mini-bottle of your favorite whiskey into the mug. With these hot-tails, you'll finally be able to unplug that illegal space heater.