This Orgeat Liqueur Is Our New Cocktail Obsession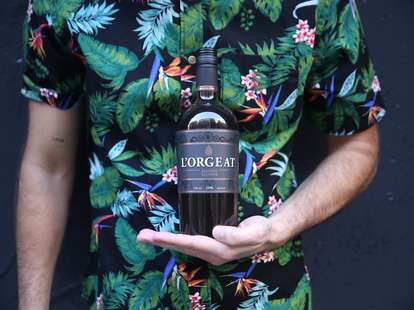 Making your own orgeat is a pain in the ass—no ifs, ands or buts about it. You start by making your own almond milk, which takes at least 24 hours. Then, you gently cook it with sugar until it becomes a homogeneous syrup. Then, you finish it with either rose water, orange blossom water or a combination of both. And, no matter how good you get at creating the syrup, it is never really 100 percent consistent.
But the most frustrating thing about orgeat is that nothing comes close to the homemade stuff, which is exactly why bartenders insist on making their own and why most store-bought orgeats aren't worth buying. Until now. Meet L'Orgeat, the first ever orgeat liqueur.
The problem with most craft orgeat syrups (and commercial cocktail syrups in general) is that in order to be shelf stable and certified sellable by the government, they must contain artificial preservatives, which ultimately take away from the flavor of the syrup. The creators of L'Orgeat, however, figured out another way. "We asked ourselves, what can we do to make a better orgeat without compromising the integrity of the ingredients?" says Jen Baker, one of L'Orgeat's creators. The answer was to turn the syrup into a liqueur, which made the orgeat shelf stable and kept it 100 percent natural. "It was my [business] partner's aha moment," she says.
Made with toasted California almonds, L'Orgeat is completely different than any almond-flavored liqueur (or any orgeat) that we've tried. It's soft and velvety and rich and almondy. There's floral notes from the rose and orange blossom water, with a touch of brown butter, toffee and sea salt. This is partly due to the fact they roast the almonds rather than blanch them, and leave the skin intact when they maccerate them in alcohol. "California almonds are very delicate when it comes to macerating them and capturing their flavor," says Baker. "The skins preserve the flavor of the oils and they give the spirit that toasted hint on the end."
The liqueur's base is distilled from fresh sugar cane juice, and it's sweetened with organic cane sugar. "We really wanted to get it perfect," says Baker. "We wanted to stay as true as possible to the [original] syrup. My partner Kevin [Saharin] was adamant about that. We went through all the classic specs to make sure it would work [in any cocktail with orgeat]: If it's in a Mai Tai, it's going to work. If it's in a Cameron's Kick, it's going to work. If it's in an Army and Navy, it's going to work."
While it would be natural to assume that an orgeat liqueur could only be used for tiki cocktails, L'Orgeat works with pretty much any spirit. It is the perfect foil to whiskey (especially in a Whiskey Sour), and it also works wonders with Cognac, tequila and mezcal.
One unusual thing about L'Orgeat: It doesn't louche when mixed with water like traditional orgeat. It blends completely. This allows the liqueur to be used for a number of new applications behind the bar. Not only can cocktails made with L'Orgeat be batched, kegged and put on draft, but cocktails made with the liqueur can also be combined with seltzer or Champagne without becoming opaque, and it can be used in stirred cocktails. "We didn't even realize it was a possibility until after we made the liqueur," says Baker.
Although L'Orgeat is currently only available in Los Angeles and New York ($34 for a 750-ml bottle), Baker and Saharin want to expand throughout the country. "So far we've kept it a craft, premium product (we make only about 300 bottles at a time), but we're ready to take it to the next level and get broader distribution," she says. "No matter how big we get, we'll try and keep it the same craft product."