The Best Amazon Buys for Outdoor Drinking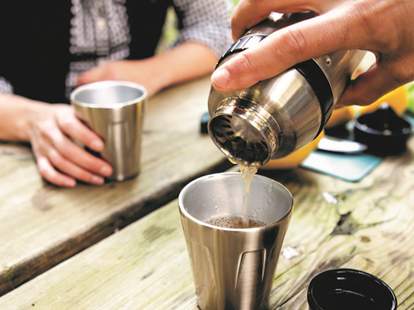 The arrival of summer divides us into two groups: those who confine themselves to the frosty comfort of an air-conditioned room, and those who spend every minute outdoors, barbecuing, pool floating, and drinking as many frozen slushies as possible. If you fit in with the al fresco types, you need some (or all) of this essential outdoor drinking gear from Amazon.
Amazon
Every outdoor space needs a tiki bar—especially one this cool and kitsch. Made from bamboo, this bar is as cute as it is practical. If you treat it with weatherproof sealant it can even survive the winter. Permanent summer is our favorite kind of summer.
Amazon
If you plan on drinking Daiquiris in your yard this summer, these durable, plastic coupe glasses are a must—and way classier than your usual Solo cups. Dishwasher safe, they can be re-used for any outdoor festivity, whether it be a Champagne pool party or a punch-fueled competition.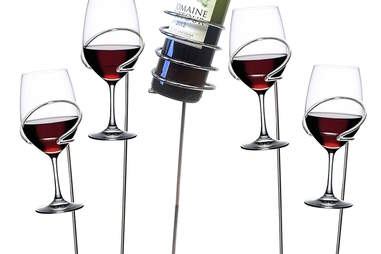 Amazon
No summer picnic is complete without a bottle of wine—or three—but nothing is worse than accidentally spilling Pinot Noir all over the blanket when you shuffle for that last slice of salami. Keep your glass safely upright with these "stake-able" wine bottle and glass holders. Great in grass or sand, you'll wonder how you ever lived without them.
Amazon
If car camping is your summer adventure of choice, this travel cocktail kit is for you. Complete with a juicer, shaker tin and two aluminum drinking cups, this heavy duty, all-in-one kit is perfect for off-the-grid drinking. If only we had some way of making giant ice cubes on the go.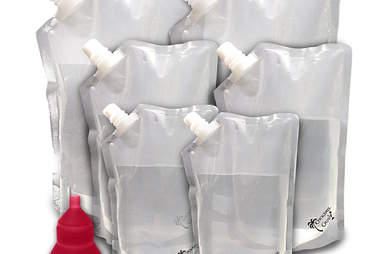 Amazon
Whether you need to stash Rum Punch for the beach or a bottle of whiskey for a trip to the mountains, these travel pouches are the perfect way to store your alcohol. Reusable and available in a range of sizes, the puncture-proof flasks are easy to store, easy to fill (the set comes with a funnel) and leak proof, ensuring your booze will make it to your final destination—no matter how you decide to get there.
Amazon
You can't have an outdoor party without good jams—so why not make your own? This portable PA system will not only provide the music; it also comes with a microphone and Bluetooth compatibility for karaoke apps on your phone. Now, all you need is the guts to get up and sing.
Amazon
If you plan on serving punch at your party (and you should), serve it in style. Not only is this cocktail fountain illuminated (it comes with an LED base), but it's also made from plastic, meaning it won't break if things get too crazy.
Amazon
This inflatable cooler turns any pool into a swim-up bar. Best of all, when all the booze is gone, you can dump the ice and use it as a pool float.