There's a standard image of the bartender that goes all the way back to the days of Jerry Thomas, and extends into today. You can picture it: white guy, maybe a mustache and suspenders, standing behind a rich, mahogany hotel bar. The reason the image is so iconic is simple: guys fitting that profile played a huge role in setting the foundation for drinking culture, not only in the U.S. but also around the world, and they continue to make a big impact today (though suspenders are kind of on the outs again).
But that's not the whole story. They didn't—and don't—do it alone, not by a long shot. There's a whole galaxy of lesser-known mixology stars without whom cocktail culture would not be what it is today. And we are talking about stars here, not bit players.
With that in mind, here are 10 overlooked cocktail heroes, five from the old-school, five from the here and now, in alternating order.
Cato Alexander, 1780–1858, New York, NY
Why we're singing his praises: Alexander ascended from slave to independent businessman, hosting playwrights, actors, and New York City's "fast crowd" at Cato's, his hugely popular "road tavern" about four miles northeast of Manhattan's City Hall.
Testify: "Who has not heard of Cato Alexander?" author William Dunlap wrote in the New York Mirror in 1835. "Not to know Cato's is not to know the world."
Behind the Bar: Cocktail historian David Wondrich reports that Alexander was the first bartender to become widely known for his mint julep and his "cock-tail" (spirits, bitters, sugar, and water). His hospitality and expertise made him one of the foremost tavern owners of his day, helping to solidify drinking culture in the U.S.
Top off: According to Wondrich, Alexander regularly attended to none other than George Washington, helping the father of the country on and off his horse outside the hotel where Alexander worked as a youth. The former slave maintained Cato's for several decades, enduring—and possibly even fending off—sporadic attacks from racist whites resentful of his status.
Kate Gerwin, Bismarck, ND
Why we're singing her praises: "She's singlehandedly creating and shaping the cocktail scene in North Dakota," says Pam Wiznitzer, President of the New York chapter of the United States Bartenders' Guild, and a cocktail hero herself as creative director of spots such as Seamstress and Belle Shoals. Gerwin's work extends way beyond the bar, too: her efforts transformed the state's laws regarding alcohol, helping to bring new spirits into the state for distribution. She runs a multi-venue operation in town that features a rooftop bar, an event space, a cocktail-supply retail store, a speakeasy, and a "small plates tavern."
Testify: "She created a platform for bartenders in North Dakota," says Wiznitzer, "and now has her staff competing in national and world competitions."
Behind the Bar: Gerwin won a global bartending competition with a concoction she calls Brown Chicken, Brown Cacao. It's a riff on the Smith and Curran, a drink invented in Bismarck, and it features some surprising complementary ingredients, including yogurt, cardamom seeds, and black walnut bitters. Her venues are sprinkled with similar, expertly made, pleasantly surprising drinks such as Everybody Loves Ramos, Thai Whon Awhn, and Can't Dutch This.
Top off: You might be thinking, Bismarck, really? But the place has a legit drinking history: one of its leading joints during the 1950s was the Blue Blazer lounge in the downtown Prince Hotel, which took its name from one of Jerry Thomas's most famous drinks. It was there that two wildcatters came in one night and asked bartender Gebert "Shorty" Doebber for a hair of the dog. Their names? Smith and Curran.
Dick Francis, 1850s–1920, Washington, DC
Why we're singing his praises: Born free in the slave state of Virginia, Francis rose from humble beginnings to become manager of the bar at the U.S. Senate. He was never taught to read, but he left his family a fortune in real estate and saw his son graduate from medical school.
Testify: The Washington Post published an obituary for Francis in 1888, writing that he made cocktails for and conversation with senator Henry Clay and two-time U.S. Secretary of State Daniel Webster, among other notables, and that "with all of them, Francis was a person of consequence."
Behind the Bar: Francis and his colleagues at the legendary Washington, DC, saloon Hancock's specialized in "'Hell and Blazes' cocktails served in glasses frosted with sugar, juleps in the mint season, hot toddies, and 'buttered rum,'" wrote the Washington Post after the building housing Hancock's was demolished in 1931. "In no other place in the country was the art of mixture so thoroughly developed as it was by the colored artists who served behind Hancock's bar."
Top off: Francis's son, John, became one of the most prominent African-American doctors of the late 19th and early 20th centuries. A close associate of Booker T. Washington's, he sat on the Washington, DC, school board, was a professor at Howard University, and worked tirelessly to improve the lives and neighborhoods of DC African-Americans, often treating patients for free in his practice or at the private sanitarium he developed for the community.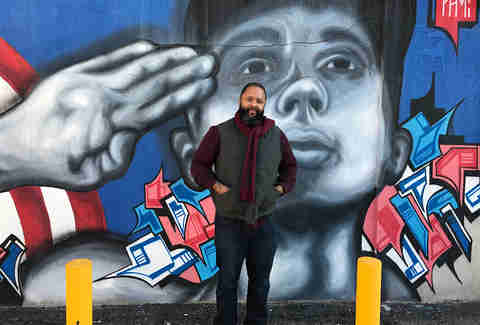 Torrence Swain, Washington, DC
Why we're singing his praises: After hiring on as a server at Farmers Fishers Bakers in Georgetown, Swain jumped to the bar team and steadily worked his way up to Head Bartender. From there, he was invited to apply at Bourbon Steak, celebrity chef Michael Mina's modern steakhouse inside the Four Seasons hotel. He's currently Head Bartender at the upscale spot, running a team of seven and overseeing a high-volume, high-quality drinks program. He says he feels connected to the legacy of African-American bartenders who helped found drinking culture in the U.S., especially Tom Bullock (see below).
Testify: "Torrence Swain is the Jay Z of cocktails," writes food journalist Rachel Nania. She was describing his improvisational style in developing new cocktails: "When I get that creative juice flowing," Swain told her, "I'll just stand in the bar and keep working on it until I get something."
Behind the Bar: "Right now I'm doing multiple flavor-profile cocktails," Swain says. "I might infuse a spirit, and then add citrus fruit, and then a spice. So you have an herbal element, a spice element, a fruit element."
Top off: Swain says he's seeing a surge in African-American bartenders joining the craft cocktail boom, and he personally has mentored a half-dozen or so, including Kapri Robinson at Dirty Habit in DC's Penn Quarter, and Kelvin Williams at Farmers and Distillers in the Market Square North area of the nation's capital.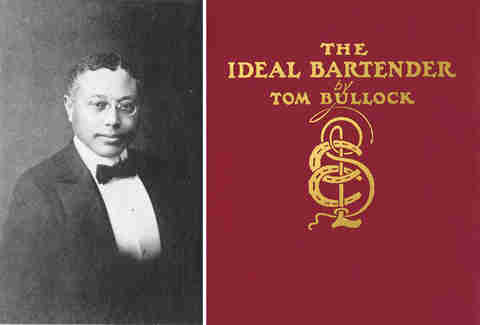 Tom Bullock, 1870s—1964, Louisville, KY; St. Louis, MO
Why we're singing his praises: He published The Ideal Bartender, the first cocktail manual written by an African-American, in 1917. Bullock also served mint juleps and Curacao Punches to the likes of Teddy Roosevelt and George Herbert Walker, grandfather of former president George H.W. Bush.
Testify: After Roosevelt declared in a libel suit that he'd only had a few sips of one of Bullock's Mint Juleps at the St. Louis Country Club, the local Post-Dispatch printed an editorial calling the former president's testimony into question, writing, "Who was ever known to drink just a part of one of Tom's [cocktails]?"
Behind the Bar: The recipes in Bullock's book "capture a flavor of pre-Prohibition American drinking culture and trends, a style that is replicated in many cocktail bars around the world even today," liquor consultant and rum expert Ian Burrel told the New York Times.  
Top off: Prohibition short-circuited Bullock's career just three years after he published The Ideal Bartender, but Cocktail Kingdom reissued the book in 2008.
Tonia Guffey, Brooklyn, NY
Why we're singing her praises: Guffey is the Beverage Director at Dram, one of Brooklyn's top craft cocktail bars, and she also mixes things—delicious, creative things—up at Basik, and Bushwick Country Club. In addition to her relentless work ethic, she brings vast knowledge and an uncanny knack for the craft. Numerous folks who've worked for or with her have gone on to great success on their own.
Testify: "She's good, and she doesn't need to crow about it," says Francine Cohen, Editor-in-Chief of INSIDE F&B. "Being able to flex her creative muscles, and her natural curiosity, allow her to expand her own horizons and share her depth of knowledge with like-minded people. That's what seems to keep her going. No bragging necessary—she has the chops."
Behind the Bar: Guffey rotates Dram's cocktail selection regularly, re-setting new gems every season. You can also walk in and go with the Bartender's Choice: name your spirit, choose "stirred and spirit-forward or shaken and refreshing," sit back, and wait to be wowed.
Top off: Her superior mixing skills aside, don't call Guffey a mixologist. She hates the term. Bartender suits her just fine.
Ada Coleman, 1875–1966, London
Why we're singing her praises: She was the head bartender at the Savoy Hotel's legendary American Bar from 1903 to 1925, and is one of only two women to hold that position. According to cocktail historian Ted Haigh, Coleman was the first barkeep to bring a little flair and personality to the Savoy, making the place famous in the process. Her clientele included Mark Twain, Charlie Chaplin, Marlene Dietrich, and British royalty.
Testify: Upon her retirement, drinks expert Gary Regan reports, the Daily Express wrote that Coleman "is known to thousands of men all over the world, Britons who are now roughing it in various parts of the Empire, Americans who think of her every time they remember their own country's dryness [due to Prohibition]."
Behind the Bar: "Coley," as she was nicknamed, invented the Hanky Panky cocktail. For the record, the phrase "hanky panky" meant black magic and trickery in 1920s England, not… getting busy. In his book, Vintage Spirits and Forgotten Cocktails, Haigh writes that Coleman made the drink for a famous British actor, who took one sip and said, "By Jove! That is the real hanky panky!"
Top off: Coleman's legacy was interrupted in 2007, when the Savoy closed for a multi-million-dollar renovation. It reopened three years later, in gloriously improved condition, so drinkers can once again raise a glass to Coley in her old stomping grounds.
Megan Deschaine, Charleston, SC
Why we're singing her praises: She started tending bar in Baltimore to make ends meet as a student, and caught the craft-cocktail bug during a quest to make the perfect Manhattan. Today, she's bar manager at 492 on King St in Charleston, and the creator of the wildly popular Disco Sour cocktail (more on that in a minute).
Testify: Deschaine told The Everygirl that being a woman caused many to doubt her credibility when it came to spirits recommendations or the ability to make quality classic cocktails. "I would get quizzed frequently about mash bills, or told, 'I bet you don't know how to make this or that.' " All that did was fuel Deshchaine's commitment to expanding her already vast barroom knowledge. "I have more books on cocktail history and technique than I do pairs of shoes—and I have many pairs of shoes."
Behind the Bar: Back to that Disco Sour, which Deschaine lamented to the New York Times may "be on my tombstone." It's a drink that changes color—from yellow to purple—as you drink it, and that hook has ensured it's been on 492's menu for years. But Deschaine is about much more than the Disco Sour. Her technique ranges expertly across all spirits, her pun game is on point, too (witness her drink Oaxacan on Sunshine), and she once gave us a black-belt level Moscow Mule variation featuring chocolate, ginger liqueur, and habanero tincture.
Top off: At 492, Deschaine keeps the quality high, but her feet—and the bar's vibe—planted firmly on the ground. Her philosophy is "anti-stuffy," as she told The Everygirl. "Besides, I look terrible in a bowtie and waxing my mustache just isn't a good look for me."
Constante Ribalaigua Vert, 1888–1952, Havana, Cuba
Why we're singing his praises: At age 16, Ribalaigua went to work at Havana's La Piña de Plata (The Silver Pineapple). He bought the joint in 1918, eventually renamed it El Florida, and stayed there until his death in 1952, working the entire time, and transforming the place into one of the most celebrated bars on the planet, frequented by Ernest Hemingway, Spencer Tracy, and Graham Greene, among others.
Testify: According to Wondrich, Ribalaigua was a relentless tinkerer who invented "a new cocktail practically every day," and was "a master of proportion," each of his drinks engineered to balanced perfection.
Behind the Bar: Ribalaigua created more than 200 cocktails during his astounding career.
Top off: The man who did as much for the barman's craft as arguably anyone before or since was himself not a drinker.
Nicole Battle, Pittsburgh, PA
Why we're singing her praises: Known in Pittsburgh bartending circles as "Mama," or "Mom," for her nurturing leadership skills, Battle recently became President of the Pittsburgh chapter of the United States Bartenders' Guild. Now she gets to expand her natural capacity for mentorship. "Mentoring is what keeps me going," she told Pittsburgh magazine. "It's my favorite part of the job right now."
Testify: "Nicole not only supports her other bartenders in Pittsburgh," says Wiznitzer, "but she also runs a great program at täkō."
Behind the Bar: Battle cut her bartending teeth at Spoon, in Pittsburgh's East Liberty section, soaking up knowledge from two of the city's leading lights in the field, Sean Enright and Heather Perkins. Her vibrant, creative menu at täkō reflects her decades of immersion in the craft.
Top off: "Megan Deschaine and I were roomies on a full scholarship to Portland Cocktail Week two years ago," Battle says. "Small world!"