Palomas Are the Next Moscow Mules So You Better Get to Know Them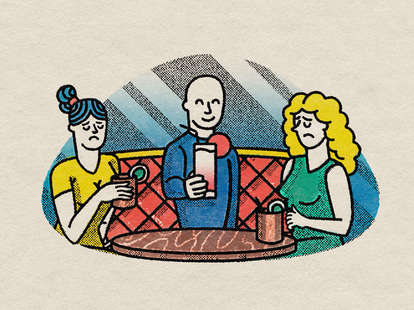 At the Highball'R industry event on the waterfront in Brooklyn this June, celebrated bartenders served up Moscow Mules, G&Ts and Palomas.
And they ran out of Palomas, says Jordan Silbert, founder and CEO of Q Drinks, which sponsored the event.
"I think it's going to be the next it cocktail," says Silbert. "When I started Q (in 2007), I went around to all the fancy schmancy bars in Brooklyn, and they all had Mules and Mule variations on their menus. Last summer, I started seeing Palomas or Paloma variations at these same places."
Like the Moscow Mule, the Paloma at its essence is a three-ingredient cocktail. Also like the Mule, it contains lime juice. But instead of vodka, it uses tequila, and instead of ginger beer, it uses grapefruit soda. Also unlike the Mule, which has a definite origin story and signature branding (hello, copper mugs), the Paloma has none. "It doesn't have that back story, and no one even ponders where it comes from," says Jaime Salas, national brand ambassador for Milagro Tequila. "It's just somebody came up with this, and people don't question it."
Carolyn Kelleher, branding manager for Dripping Springs Distilling, which makes Paula's Texas Grapefruit Liqueur and Republic Spirit Blend non-alcoholic mixers, including a grapefruit-lime, says she's seeing more and more Palomas on tap at bars and restaurants.
"Everyone's familiar with Margaritas so the Paloma is something they can jump to pretty easily, as it has familiar enough ingredients," says Kelleher. "Thinking about the appeal of Palomas, tequila's just been going crazy, as it's just growing and growing, and grapefruit's trending. But also, color-wise, the millennial pink is kind of everywhere, and that probably has something to do with its popularity, too. I always think, when I see a pretty drink go across the room, 'I want that drink.' Palomas look refreshing in addition to being refreshing."
When Dripping Springs Distilling launched its non-alcoholic mixers this past year, the grapefruit-lime proved more popular than expected—because of the growing popularity of Palomas. "We anticipated it would be in the number four spot, but it's already at number three and coming up on number two," Kelleher says, adding that it's just behind the classic lime and jalapeño-lime, and head of the the prickly pear.
"The Paloma's a simple but elegant drink," says Mary Pellettieri, co-founder and president of LaPavia Beverages, maker of Top Note tonics and sodas, which just started selling a grapefruit soda designed specifically for Palomas. "I think it's going to be the next Moscow Mule."
David Alan, manager of trade education and mixology for Patrón tequila, isn't sure that it's going to be the next Mule, but he does believe it's becoming a mainstay on menus. "It may have already jumped past that level of trendiness and established itself as an essential classic for bartenders and consumers alike," says Alan.
Like the Mule, the Paloma's nearly impossible to screw up. "It's a lot more fail-proof than people realize," says Salas.
"It is delicious, and it is impossibly easy to make," Alan says. "Even an 'average' Paloma is still tasty, and it isn't difficult to make a good or great one."
A great Paloma starts with fresh—not bottled or sweetened—lime juice, a good quality tequila—typically blanco or silver, but añejo can also be nice—and a good quality grapefruit soda. Though, in Mexico, where the Paloma is more popular than the Margarita, it's made with either Fresca or Squirt (or sometimes Jarritos). Alternatively, you can also make a Paloma with a mix of grapefruit juice and soda water in place of the grapefruit soda. "If you're going with the grapefruit juice and soda method, use fresh grapefruit," Alan says. "They are in season virtually year-round, and there are some refrigerated grapefruit juice products that knock the socks off the old tin-can juices."
Salas says that besides using the three basic ingredients, you should try adding a touch of salt. "A little bit of rock salt—it helps to open the palate and let all the flavors sink in," he says. "For a Margarita, the salt is just an accompaniment or garnish, but for the Paloma, in particular, it just adds that last bit of oomph or brightness to pick up the flavors."
Like the various spin-offs of the Mule, bartenders are now starting to riff on the Paloma, adding mangos, switching out the tequila with mezcal, infusing syrups with rosemary, cinnamon, hibiscus or peppercorns, and stirring up spicy variations with either peppers or pepper-infused liqueurs like Ancho Reyes. Some bartenders are even switching out the grapefruit juice with grapefruit lagers. "While you'll see riffs on the Moscow Mule, riffs on the Paloma come across better," Salas says. He explains that while riffs on the Moscow Mule all tend to be quite similar, the riffs on the Paloma can be quite diverse—and extremely tasty.
The Palomas are starting their move out of craft cocktail bars and into more mainstream restaurants and bars. Morton's steakhouses are serving them, the Omni Hotels are shaking up mango Palomas, and perhaps most telling, Chipotle is trying out a frozen Paloma.
Silbert has such faith in Palomas that he reformulated his grapefruit soda last year just so it would mix better in the cocktail. He was first turned on to the cocktail three summers ago by his wife, Jenn Proulx, who loves mixing Palomas up with mezcal and adding a spicy rim.
"I changed the recipe, making it much stronger, more bitter and tarter than the original," Silbert says. "Palomas feel a lot like what the Mules were eight years ago. It's not the Mule yet, but it's getting there."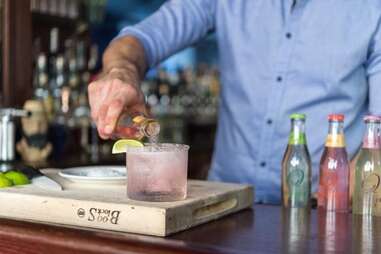 My Wife's Favorite
From Jordan Silbert
2 oz mezcal (Montelobos goes well)
6 oz Q Grapefruit soda
1 fresh lime
Jalapeño salt, for the rim (or Halo del Santo)
Lime wedge, for garnish
Mix salt and diced jalapeño, and spread out on a plate.
Run a lime along the rim of a highball glass, then dip the rim into the salt mixture.
Fill the glass with ice.
Pour in the mezcal, and squeeze in the juice from one lime.
Pour in the Q Grapefruit, gently stir and garnish with a lime.