These 9 Hilarious Bar Signs Know How Much You Need a Cold Drink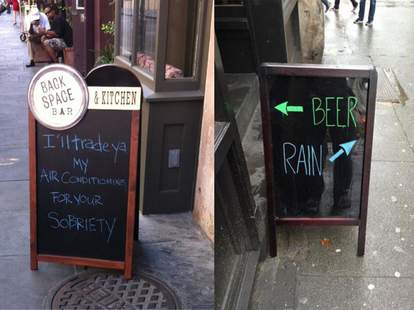 FunnyBarSigns/Instagram + DuckDuckGrayDuk/Twitter
On a hot summer day, it doesn't take much convincing for us to indulge in a refreshing, chilled beverage. Bars have clearly caught on. They know how to woo us off the sweltering streets and into their establishments with enticing drinks and, of course, funny bar signs. We love their hilarious puns and sarcastic observations in general, but when the temperature is creeping into the 90s, a witty bar sign is the quickest way to get us out of the heat and onto a bar stool. Here are nine of our favorites for the summer.
Whiskey never sounded so dazzling.
For when the wave of summer breakups begin.
Take my money please.
There's nothing better than drinking al fresco...
...Until a summer storm hits.
UVA and UVB protection.