The Keurig of Beer Is Now the Keurig of Whiskey, Kombucha and Almost Everything Else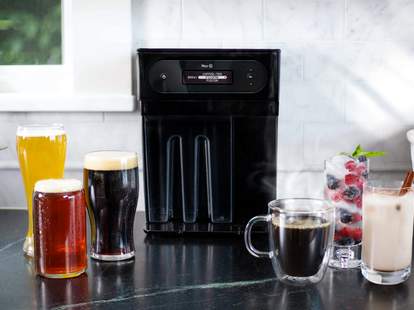 The Pico line of machines first came on the scene as a Kickstarter curiosity. The plug and play brewing apparatus, almost universally referred to as "the Keurig of homebrew," shattered crowdfunding records with its first campaign bringing in over $600,000. Its latest campaign in 2017 brought in over $1.8 million. And all the while, the company has expanded the capabilities of its machines. First, Pico formed partnerships with breweries around the country to broaden its brewing options and then, late last year, it announced you could use your Pico as a still to make (where it is legal) vodka, gin or even whiskey (barrel not included). The newest Pico is the smallest, but most versatile one yet. With it, the Keurig of beer is now the Keurig of, well, almost everything.
In a statement, PicoBrew CEO Bill Mitchell said, "[With the PicoBrew] we had to ensure incredibly precise process control to accurately produce great beers from around the world. We realized this technology also enabled the most precise brewing of coffee and tea and began exploring a broader world of brewed beverages." Now, the PicoU (the U stands for universal) is the realization of that project. It can brew and distill an entire day's worth of drinks. It starts in the morning with your cup of coffee—it can do single servings with fresh beans or an entire pot—then moves on to make your lunchtime soda or horchata, followed by your afternoon tea or kombucha, a beer with dinner and a shot of whiskey when you're done. And the PicoU is much smaller than its predecessors. It's not much bigger than an actual Keurig and takes about as much room as a stand mixer on the counter. Although, with a smaller body, you need to use extra attachments to brew larger quantities of beer or to distill spirits. But even those attachments are easy to pop on. Plus, because this is 2018, the whole thing can connect to your phone so you can monitor your progress wherever you are.
Courtesy of PicoBrew
The results are quite impressive for something that takes so little effort to use. Supercall got a chance to taste the horchata, kombucha and spirits that the PicoU can make. Everything was compared favorably to other homebrewed concoctions we've been subjected to. It's also relatively quick to make. Vodka comes off the still within one to two hours from the time you load in the ingredients, and beer and kombucha brew in about two hours (plus fermentation time, which will take another 7-10 days).
Besides expanding the Pico's capabilities, the company is also dropping its price point. For early adopters the base price for the PicoU will be $169 ($249 retail) and for the expanded package it'll be $189 ($299 retail), which includes the larger attachments. The PicoStill is $249 as well.
PicoU will initially be available through Kickstarter, where they begin taking pre-orders today, with delivery expected in the early part of 2019.