The Ultimate Guide to Pairing Pizza with Cocktails
Beer and pizza have a long-standing relationship that few are willing to disrupt. Some may flirt with a glass of wine, but only the rare, daring imbiber chooses to sip a cocktail alongside a slice. But enjoying a mixed drink with pizza is not something to fear—you just have to make sure the flavors of your drink go well with the toppings of your choice. So we've taken the mystique out of this complicated endeavor by giving you 12 foolproof pairings of the most popular pizza flavors with some of our favorite classic cocktails.
Cheese + Manhattan
Pair a traditional slice of cheese pizza with an equally classic cocktail—the Manhattan. Not only is the name particularly apropos (the iconic New York slice is the superior cheese pizza, after all), but the round, bittersweet flavor of the whiskey and vermouth cocktail goes wonderfully with the acidic tomato sauce and salty cheese.
Pepperoni + Cuba Libre
There's no better childhood treat than a greasy slice of pepperoni pizza with a tall glass of Coke to wash it down. Recreate those nostalgic flavors the grown-up way with a Cuba Libre. The sweetness of the cola balances out the saltiness of the pepperoni while the carbonation and tart lime juice cut through the grease.
White + Aperol Spritz
A white pizza is an exercise in simplicity, one that'll have you veering away from the temptations of more exciting toppings—and sauce itself—to truly appreciate the buttery taste of the crust and dollops of soft ricotta. Pair this pie with a light Aperol Spritz, which brings bittersweet opposition to the simple flavors of the pizza without overpowering them.
Sausage and Peppers + Daiquiri
A meat-heavy pizza like a sausage and peppers pie requires a tart cocktail to balance out its hearty flavors. A classic Daiquiri is ideal for highlighting the brightness of the peppers and complementing the sausage's powerful flavor.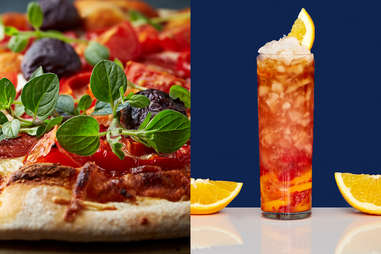 Olives + Sherry Cobbler
The brininess of olives melds beautifully with the umami notes of a dry sherry, which makes the Sherry Cobbler a well-balanced option for this pie. Go for a fino or manzanilla sherry—which are especially briny themselves—or an amontillado variety for a richer, more savory taste.
Margherita + Negroni
The simple Margherita pie is pizza done the true Italian way (we're looking at you, Flamin' Hot Cheetos pizza). Put the light trio of toppings—fresh mozzarella, basil and tomato—in the spotlight by pairing it with another ultra-Italian, three-ingredient masterpiece: the Negroni. Both herbaceous and refreshing, the Negroni and the Margherita pie were made for each other.
Onions + Martini
A dry, gin-based Martini is a natural fit for an onion pie's bracing, astringent flavor. Play up the saltiness of the pizza by making the Martini dirty, or opt for an onion-garnished Gibson for an even more on-the-nose cocktail pairing.
Mushroom + New York Sour
Mushrooms and red wine are a match made in heaven, so a red wine cocktail is a must for a mushroom-topped pizza. Whiskey and wine can stand up to earthy mushrooms (especially if you use a full-bodied vino like a tempranillo), which makes the New York Sour a fungi pie's soulmate.
Broccoli or Spinach and Artichoke + Paloma
Vegetal tequila and vegetable pizza is a complex but well-suited combination, and our go-to pairing is the Paloma. Subtly bittersweet grapefruit soda adds an interesting layer of flavor to the mix without overpowering the tender taste of greens.
Bacon + Lion's Tail
Bacon and bourbon are a no-brainer. And while you can't go wrong with any bourbon cocktail (or even bourbon neat) when eating a bacon-topped slice, the lesser-known Lion's Tail is an exceptional match. Allspice dram adds a bit of tiki sweetness and spice that will cut through fatty bacon, while bright lime juice keeps the combo light.
Hawaiian + Jungle Bird
Hawaiian pizza is certainly divisive—the president of Iceland even floated the idea of banning pineapple as a pizza topping altogether—but we think you can bring pineapple pie lovers and haters together with the Jungle Bird cocktail. The tropical drink has a little something for everyone—tart pineapple juice, caramelly blackstrap rum reminiscent of ham's sweet and smoky flavor, and a touch of bitter, fruity Campari to control the sweetness.
Buffalo Chicken + Bloody Mary
Go big or go home with this expert-level pizza and cocktail pairing. Practically a meal in itself, the Bloody Mary is a hefty partner for a game day Buffalo chicken pie. Spicy hot sauce and rich tomato juice complement similar flavors in the pizza. But if you really want to get serious, go all in with our Buffalo Bloody Mary, which uses Frank's Red Hot Sauce and fried blue cheese cubes. Feel free to skip the Buffalo chicken wing garnish and chase the Bloody with a nice big slice of pizza instead.