This Tomato Cocktail Is Better Than Any Bloody Mary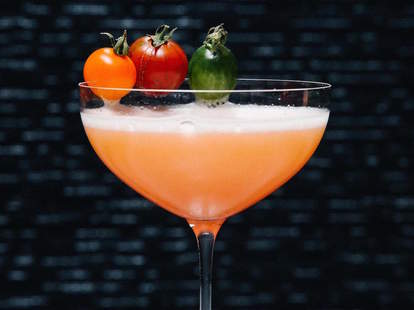 At the Pool Lounge, the lavish, seafood-themed cocktail bar attached to the recently revamped Four Seasons in Midtown Manhattan, bar director Thomas Waugh is serving his most audaciously delicious cocktail yet. Simply named the Tomato Cocktail, the drink manages to breathe new life into what a cocktail made with tomatoes can be.
Inspired by last summer's tomatoes—which Waugh was lucky enough to have an abundance of in his walk-in at the restaurant—the Tomato Cocktail manages to harness a tomato's sweetness and vibrancy, rather than its savory qualities. "To be perfectly honest, I don't like Bloody Mary's," says Waugh. "I'm not really fond of chunky drinks or spicy cocktails. I find that alcohol and spice don't work well together. People love it, they love their spicy mezcal margaritas, but they just don't vibe well with me." Instead, the cocktail is built around the structure of a basic sour—booze, sweetness, and lip smacking acidity—and relies heavily on the fresh fruit he was inspired by.
"The drink is really simple actually," says Waugh, "there's a tomato-infused vodka, a little bit of tequila—to bring out those vegetal notes—muddled tomatoes (with a touch of sea salt), fresh lemon juice, elderflower liqueur, and a teaspoon of cane sugar. I add a minute amount of sugar because the elderflower liqueur is actually not sweet enough to balance the acidity of the tomato and the lemon. If you add too much elderflower liqueur the cocktail just ends up tasting like elderflower. You need to still taste the tomatoes as the main ingredient. The elderflower should sit at the back [of your palate], helping bring out more of those floral, aromatic components out of the tomato," Waugh reveals.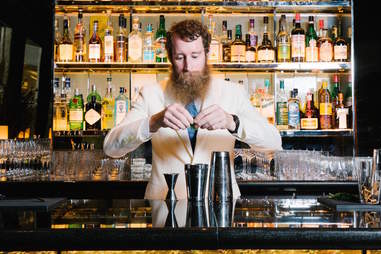 Matt Taylor-Gross / Thomas Waugh At The Pool
Most tomato cocktails don't represent the true essence of a tomato. Bloody Mary mixes often taste like muddied pasta sauce, or a concentrated, cooked-down version of a tomato. And tomato water cocktails taste diluted and lack any of the fruit's inherent sweetness. Waugh's Tomato Cocktail is the complete opposite. The drink has layers upon layers of tomato flavor, a beautiful brightness, and an almost grassy freshness. To achieve this, Waugh relies on multiple different tomato varieties and different methods for extracting their nuances.
"Most people don't realize that the skin is so flavorful. That's why I do an infusion and muddle [fresh tomatoes]," says Waugh. "When you chop up tomatoes and let them sit in vodka for 24 hours, you extract a ton of the pectin and sweetness of the fruit, and you get some of that tomato seed flavor—the nuttiness of crunching on a tomato seed. Then when you muddle a fresh Sungold cherry tomato, you get that juicy sweetness and the flavor from the skin into the drink. When you shake with that, you get more extraction from the skin into the drink, and you really end up tasting the way a tomato smells when it's super ripe, that herbal quality."
We recommend stopping by the Pool Lounge and having the always dapperly dressed Mr. Waugh mix a Tomato Cocktail up for you. Its uniqueness is the direct byproduct of having someone that understands what a ripe tomato looks like, tastes like, and how to use it. "The care that we take makes the drink as complex as it is, and is reason enough to come to the Pool," says Waugh. If there wasn't already a hundred reasons to book a plane ticket to New York—now there's another.