5 Bars That Are Doing Pumpkin Spice Right
Tanya Isaeva / South House
It's completely understandable why people have a deep hatred for all things pumpkin spice. Foods and drinks (including the latte-that-shall-not-be-named) that claim to taste like pumpkin and spice, usually don't actually taste like either. It's also deeply upsetting how quickly, and rampantly, the autumnal flavor combo has spread. From coffee drinks, to Oreos, to cereal, to Doritos (okay, we made that one up), it's getting out of control. There's even pumpkin spice pizza.
But there are a select few individuals who are treating pumpkin and spice with dignity. Around the country, bartenders are experimenting with the flavors of pumpkin and the rich, spiciness of clove, cinnamon and allspice—and they're coming up with great things. These creative, new pumpkin cocktails not only taste like the gourd, they also have a robust depth of spice to back it up. Here are five bars that are doing pumpkin spice the right way.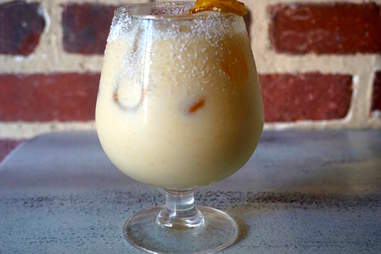 Danilo Simic / Baba
Pumpkin Delight at Baba
Clarendon, VA
At Baba in Washington DC, mixologist Danilo Simic used the classic
Brandy Alexander
as inspiration for his pumpkin-flavored cocktail. The appropriately named Pumpkin Delight is made with a base of Balkan plum brandy (rakija), pumpkin purée and unsweetened coconut milk infused with cinnamon, anise star and allspice. As a garnish, Simic makes his own sweet potato chips by soaking thinly sliced sweet potatoes in a sugar syrup before dehydrating them. Who needs pumpkin pie?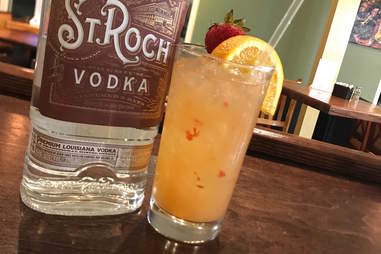 Spotted Cat Food & Spirits
New Orleans, LA
Created by bartender Kelly Murray at the Spotted Cat Food and Spirits in New Orleans, the Rusty Rainbow Sunset (best cocktail name ever?) is made with St. Roch vodka, homemade orange syrup, fresh muddled strawberries and a dash of a locally made bitters infused with pumpkin, pecans, apples and sweet potatoes. Named after an arched, rust-colored pedestrian bridge in a local park with spectacular views of New Orleans, the cocktail highlights the fall season and local distilleries. Served on the rocks, it's poured so that the layers remain intact and give the drink a "sunset vibe."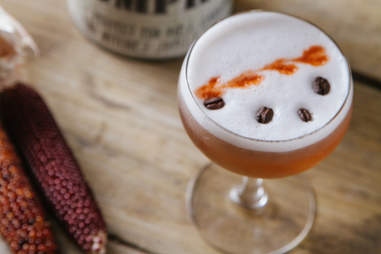 Tanya Isaeva / South House
Jersey City, NJ
Bartender Michael Smith's Hey Punkin' is a delicious, crisp
whiskey cocktail
that's perfect for the colder months. Made with a base of Slow & Low Rock N' Rye, a housemade espresso pumpkin spice syrup,
aquafaba
and fresh-squeezed lemon juice, it's not only 100 percent vegan, but it also has a beautiful frothy (egg white-free) head. Smith says that the inspiration for the cocktail came from "the natural richness and depth of flavor in fresh pumpkin." Unlike most "pumpkin spice" drinks, this cocktail has an abundance of both.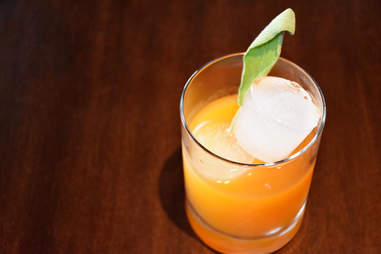 Destination Hotels
Isle Of Palms, SC
Created by the General Manager of
Coastal Provisions
(inside the resort) Nick Jonjevic, the Bulleit With Butterfly Wings marries the fiery flavor of ginger with savory pumpkin and peppery rye whiskey. Jonjevic says that his cocktail was inspired by his youth in the Midwest, eating pumpkin treats every fall—as well as his deep love for the Smashing Pumpkins (hence the name). It's made with Bulleit rye, triple sec, ginger bitters and a house-made pumpkin
falernum
—which Jonjevic infuses with pumpkin purée, star anise, whole cloves, ground ginger, lime juice and maple syrup. Garnished with sage, the cocktail is intensely aromatic and borderline savory—a far cry from that saccharine pumpkin spice-a-chino.
Wake Up Call at Top Of The Standard
New York, NY
From New York mixologist William Day—the mastermind behind the Top Of The Standard's bar program—comes this ingenious pumpkin cocktail. Made with a butter-infused rye whiskey (made using a process similar to
fat washing
), pumpkin purée, fresh chilled espresso, a touch of vanilla and a gentle dusting of freshly ground espresso as garnish, it's shaken to a frothy consistency. It's as if a pumpkin spice latte went to art school and became fabulously rich and cultured. This milk-hued beauty is one of the classiest pumpkin cocktails that we've ever encountered.