If you're in your late-20s or early-30s, then you know that summer is peak wedding season. You're probably going to a wedding next weekend. Maybe it's your wedding. Whatever the case, weddings involve gifts, all kinds of gifts for all sorts of separate occasions that build up to and are part of the actual wedding weekend.
But here's the thing about gifts: gifts are hard. Good gift-givers are born with the skill. It is (pun completely unavoidable, sorry) a gift. The rest of us are left scrambling on the eve of the occasion, desperately trying to find something that matches the person and the event and also comes from the heart—and usually falling well short of that lofty mark. It's not pretty.
But we can help. As festive occasions, weddings invariably involve spirits—in both abstract and bottled form. Regarding the latter, most people involved in a wedding will appreciate a quality bottle of craft spirits. We launched a hunt to find the right one for just about any wedding occasion that comes up. Here's what we found:
For the Best Man's Toast
Public speaking routinely ranks among people's worst fears, right up there with flying, spiders, and commitment (which, hey, way to go on overcoming that one, Brad!). So for all the Best Men out there preparing their toasts, we recommend opening with a joke, keeping it short, and pairing it with a bottle of Oban Single Malt Whisky, which itself can provide material for your toast: As you hand over the bottle, tell the groom it's one of the last "single" things he can enjoy now.
(Unrelated factoid about Oban single malt: It's pronounced like "open" with a 'b' in place of the 'p', not "oh-BAHN," as many in the States say it. The more you know.)
For the Groomsmen
A quick Google search will yield all kinds of gift options for your groomsmen. Unfortunately, most of them—with the exception of bobble-head groomsmen dolls—will fall short of an ideal expression of your gratitude. Your groomsmen are your best friends, so why not get them the best? Crown Royal Northern Harvest Rye is just that—it was named 2016 World Whisky of the Year in an internationally renowned whisky guide. The Canadian rye received 97.5 out of 100 points, and was heralded as a masterpiece. Match this bottle with an embroidered bag like the one above, and things may just get a little misty during the bro-hug exchanges.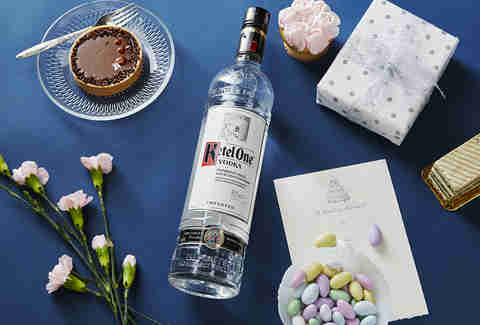 For the Bridal Shower
More often than not, bridal showers are held over brunch. It's not a law, but it is a pretty solid unwritten rule, like always stand to the right on an escalator if you're not walking up the steps, and leadoff hitter must be a base stealer. So what's the best drink to go with brunch? A Bloody Mary, of course. And what's the best vodka to mix into a Bloody Mary? If you consult Drinks International's 50 Best Bars Annual Report of 2016, you'll find Ketel One voted the No. 1 vodka for the classic brunch staple. Gift this at next month's bridal shower and absolutely no one will be disappointed as they sip their spicy, savory tomato-red concoctions.
For the Bachelor Party
Whatever MPAA rating your bachelor party would get, chances are it will have one thing in common with every other bachelor party ever. There will be golf involved. Even for non-golfers. And it'll be fun. Even for non-golfers. So whether your next round of golf will be your first, or you broke 80 last week (we believe you; really, we do), pick up one of Ketel One's Arnold Palmer commemorative bottles and bring it along as a gift for the party. It's a classy tribute to the iconic golfer, and it'll come in handy on the 19th hole.
For the Rehearsal Dinner
Rehearsal dinners are all about getting to know the family on the other side of the aisle. Done right, a rehearsal dinner could have the Hatfields and the McCoys joining hands and singing "Kumbaya" by the end of the night. But they'll never get there if there are oversized floral arrangements or bottles forming literal obstacles to their interaction across the dinner table. This was something Don Julio Gonzalez, founder of Don Julio Tequila, knew all about. He replaced the tall, unwieldy tequila bottles of his day with an elegant, low-slung new vessel that allowed guests to converse freely and enjoy each other's company over a delicious meal. With that spirit of resourcefulness and bonhomie in mind, a bottle of Don Julio Tequila makes an ideal gift for a rehearsal dinner—both for the evening itself and as a prelude to a marriage, which, after all, can never have enough resourcefulness and good cheer.
Please drink responsibly. Diageo, Norwalk, CT.