What to Drink If You're Obsessed with the Royal Family
If you're a fan of the royal family (because "fan" is the more socially acceptable way of saying obsessive internet stalker), this is your year. Netflix's The Crown has returned for its second season, the Duchess of Cambridge is pregnant with her third child, Prince George and Princess Charlotte continue to be the cutest heirs to ever walk the face of the earth, and Prince Harry has finally been wrangled from his former wild ways to marry Meghan Markle this spring. All of this royal family news has us in a tizzy, and we need a stiff drink to calm our excitement back down to inside voices. Thankfully, the royal family are drinking icons. Here are the favorite drinks of all the main figures of the new Elizabethan era, so you can properly drink along with all the upcoming royal festivities.
Queen Elizabeth II
Much has been written about the Queen's legendary drinking habits, with many articles claiming she drinks as many as six glasses of booze a day. Insiders have disputed this rumor, saying that she "would be pickled" if she drank that much, but we all know that the queen is a creature of habit, and probably does enjoy these drinks fairly regularly. Her all-time favorite cocktail is the Dubonnet Cocktail with a lemon twist, which is gin mixed with the sweet French fortified wine the drink is named for. Her staff always carries the two bottles and lemons wherever the queen goes in case she gets thirsty. Additionally, Queen Elizabeth II is said to drink wine with lunch, the occasional Dry Martini in the afternoon, a glass or two of Champagne with dinner, and some port wine after dinner. For someone that looks 91 years young, this monarch seems to know a thing or two about the secret to a long life.
Prince Philip, Duke of Edinburgh
While his wife loves her gin tipples and wine, the Duke of Edinburgh just fancies beer—and none of that fancy craft stuff. His lifelong favorite brand was Boddington, a regional brewery in Manchester. Unfortunately, the brewery ceased operations in 2005, forcing Prince Philip to drink other, still unassuming, beers. He is even said to have muttered, "Get me a beer. I don't care what kind it is. Just get me a beer!" when he was offered fine wine by former Italian Prime Minister Giuliano Amato while dining in Rome.
Charles, Prince of Wales
The long awaiting king-to-be enjoys a wide variety of stiff drinks. His favorite whisky is a peaty Islay single malt, Laphroaig 15-year. Prince Charles also helped produce his own whisky, Barrogill; HRH personally selected the single malts for the blend, which was distilled by Inver House Distillers and North Highland Products. The bottle features a watercolor of Barrogill Castle that was painted by Prince Charles himself. Additionally, Prince Charles is said to enjoy plenty of wine with his wife Camilla, along with his go-to cocktail, a 50/50 Martini made with equal parts gin and dry vermouth.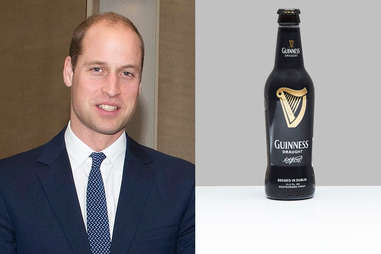 Prince William, Duke of Cambridge
Prince William seems to take after his grandfather when it comes to drink preferences, opting for straightforward beers over cocktails or rare wines; His two favorite beer brands are said to be Stella Artois and Guinness, but he occasionally also enjoys shots of Sambuca. He didn't always have such simple tastes, though. In his youth, the Duke of Cambridge was said to have ordered (on more than one occasion) the "Treasure Chest" from Piccadilly club Mahiki, which is a $180 cocktail consisting of brandy, peach liqueur and a bottle of Champagne, served in a smoking treasure chest with tons of extra-long straws, flowers and ignited sparklers.
Catherine, Duchess of Cambridge
Nowadays, you'll find the Duchess of Cambridge publically drinking whatever is served at the many events she attends with her husband (when she's not pregnant, of course), from Guinness at the St. Patrick's Day parade in London to wine at a vineyard in New Zealand—where she exclaimed she was "really enjoying being able to drink again" after the birth of Prince George. But in her pre-duchess days, according to sources, Kate enjoyed fruity cocktails like Piña Coladas and the "Crack Baby," which was served at Prince Harry's favorite (now-defunct) nightclub, Boujis, and consisted of vodka, raspberry liqueur, passion fruit and Champagne. Rumor has it the future queen also still enjoys her go-to whiskey, Jack Daniel's, from time to time.
Prince Harry of Wales
The once infamous party boy may be settling into married life soon, but we reckon he'll still enjoy his favorite drink, Cîroc Ultra-Premium Vodka, from time to time. Hopefully his bride-to-be Meghan will curb his questionable cocktail of choice, a Red Bull Vodka, and encourage him to try her far more interesting drinks of choice.
Meghan Markle
The name on the tip of everyone's tongue this year is Meghan Markle, Prince Harry's beautiful betrothed and an American former-actress to boot. Because Markle was famous prior to her engagement, she gave decidedly down-to-earth interviews, including one with The New Potato where she said, "God, do I love wine—a beautiful full red or a crisp white. But if it's cocktails, I love a spicy tequila cocktail, Negroni or good scotch (neat)." Markle also named her former lifestyle website, The Tig, after Tignanello red wine. If that wasn't enough to make her your new drinking hero, Markle also once told Delish, "French fries and vino are my vices," going on to say that she'd "forgo a gooey, chocolate dessert for a 'big, beautiful red' just about any day. … In the summer, though, when I'm out with my friends, it's rosé all day." A future duchess after our own hearts.
Camilla, Duchess of Cornwall
The Duchess of Cornwall is said to be a big fan of wine, having once said she was "brought up as a child drinking wine like the French." But Camilla was also rumored to have exasperatedly said, "I really need a Gin & Tonic" after exiting a conversation with Prince William over the nature of her relationship with his father, Prince Charles, back in 1998.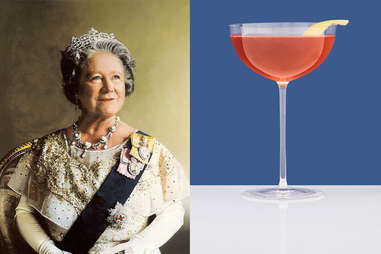 Queen Elizabeth, the Queen Mother
Queen Elizabeth II gets her proclivity for Dubonnet from her mum. The late Queen Mother was much heavier a drinker than her husband King George VI, who didn't imbibe much during wartime due to nationwide rations and his unfortunate love for cigarettes instead. Elizabeth would allegedly start at noon with a cocktail that was one part gin and two parts Dubonnet, garnished with a lemon or orange twist (some people actually refer to the Dubonnet Cocktail as the Queen Mother Cocktail). Then at lunch, she would drink red wine and a glass of port after the meal. A biographer wrote that if people asked for water, Elizabeth would ask, "How can you not have wine with your meal?" At around 6 p.m., the Queen Mother would enjoy a Martini, and at dinner she would have some Veuve Clicquot. Other drinking-related quotes attributed to her include: "I couldn't get through all my engagements without a little something," and, after being told by a host that they heard she liked gin, "I hadn't realized I enjoyed that reputation. But as I do, perhaps you could make it a large one."
Princess Margaret, Countess of Snowdon
Princess Margaret is enjoying a posthumous fan obsession, thanks to her fiery, scene-stealing portrayal in The Crown. The show never depicts Margaret without a cigarette in hand, but the princess loved scotch almost as dearly. Her favorite drinks were neat scotch with a drop of water and a Scotch & Soda, both made with The Famous Grouse and Highland Spring mineral water. Her staff instructed those within her circles to always keep bottles of both on hand, in case she stopped by for an informal visit. A staff member claimed that "if you didn't serve Famous Grouse, she could identify exactly what was in its place." Allegedly Princess Margaret even asked for the scotch while visiting The Macallan distillery in the 1980s. A decanter of The Famous Grouse was always present at Margaret's apartment, and though she was "always a delight," according to a friend, "there could be unpleasantness with staff if her glass wasn't kept full or if the ice melted. That was one of her tiny weaknesses." Today, the royal family continues to support the whisky brand; the Duke and Duchess of Cambridge opened The Famous Grouse Experience at the Glenturret distillery in 2014.
Diana, Princess of Wales
The late, beloved Princess of Wales wasn't much for imbibing; she opted to skip the booze in favor of maintaining her iconic radiant skin. But when she did drink, she preferred something light, like chilled white wine, Champagne or a peachy Bellini. She is said to have ordered a Bellini on her infamous night out on the town with Freddie Mercury when she disguised herself as a man.