The Rules of Buying Duty Free, According to Someone Who Worked in Duty Free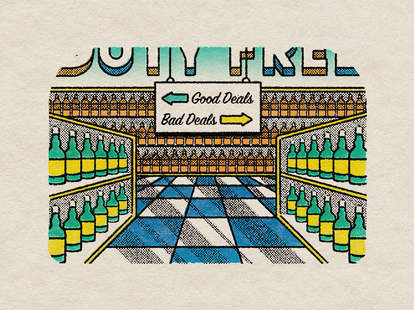 You're traveling out of the country and you pass the duty free shop. Do you go and stock up, or do you pass it by? Since duty free stores are not something that many of us regularly see, we might pause in indecision, unsure if it's worth it or not. While a bottle will be cheaper than it is in the country that the duty free shop is in, it might not be cheaper than it is in the country that you're traveling to.
To get some answers, we got in contact with José Chao, a travel retail executive with almost 20 years experience, who is currently the vice president of U.S. sales for Imperial Brands. He's worked extensively with duty free in past roles, including as the vice president of global duty free for Bacardi Global Brands. Here are Chao's tips when buying duty free.
Buy High End Spirits
Duty free stores sell products without adding local import taxes. For example, if you buy a bottle of Cognac from the duty free store at the airport in Berlin, you don't end up paying the taxes that Germany normally puts on imports from France. You also avoid paying local sales taxes that you'd pay outside the airport, which are often based on the price of the product and can get pricey when you're buying an expensive spirit.
"The higher the price of the brand in foreign countries, the higher their local taxation, so the greater the value to buy in duty free," Chao says. "That's why high end spirits such as aged Cognacs and whiskies are the best deals to look for in duty free."
Look For Duty Free Exclusives
"When Americans are coming home from foreign lands," Chao says, "the best things to buy are spirits that are not available in America, or local specialties that are not widely distributed in America."
Americans generally get less savings than residents of other countries, Chao says, because "our taxes and duties in general are very low, especially with the recent lowering of the Federal Excise Tax."
So rather than look for pure value, look for something that you can't get anywhere else, like a specialty duty free bottle of Tito's or fancy whiskey not imported to the states.
Buy Things That are Around 25-Percent Off
"A general rule of thumb for duty free overall is that they try to offer a net savings of at least 25 percent lower versus the local market," Chao says. "But, as America is one of the cheapest places to buy liquor in the world, this impacts us much less than Europeans or Asians, for example."
Buy Your Alcohol in Southern Europe, Not in Northern Europe
"From a U.S. point of view, avoid Heathrow (London) as prices are higher there; same for Charles de Gaulle (Paris)," Chao says. "However, not all of Europe is bad. All Spanish and Italian airports are not that bad. The reason is because the taxes and duties in those countries are lower, so the duty free pricing has to compete accordingly. A general rule of thumb for Europe is that the northern countries have higher taxation, while the southern countries have lower."
Always Buy Spirits in the Caribbean
"The Caribbean offers incredible values to Americans (even better for Europeans, due to the reasons above)," Chao says, adding that Panama, Mexico and Argentina generally have good deals as well.
If you're traveling to the U.S., you can also bring back more alcohol from the Caribbean than you can from other countries. Only one liter up to $800 can normally be brought back duty free, whereas five liters up to $1,600 can be brought back from the Caribbean.
Always Double Check the Prices
It can be more expensive to buy alcohol in a country's duty free shop than it is in the U.S. For example, it's better to buy scotch in the U.S. than in a Scottish duty free shop. A bottle of Ardbeg 10 Year is around $69 at the Edinburgh duty free, and an average of $55 in the U.S. America's low duties, as well as the currency conversion rate, are both factors. Liquor will be more expensive when the currency, like the euro or pound, is stronger than the dollar. So at the end of the day, Chao says, it's always best to use your phone to check the prices in your final destination.