How a Little City Came to Have America's Second Biggest St. Patrick's Day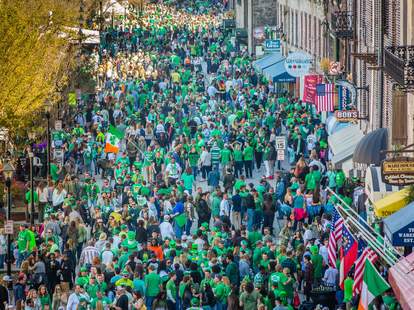 Courtesy of Visit Savannah
When it comes to raw numbers, New York might have the biggest crowd, but a little city on the Georgia coast has been punching well above its weight every St. Patrick's Day. This year, Savannah, Georgia, will put on its 194th St. Patrick's Day parade. It's a very big deal, even though you've probably never heard about it.
Savannah began its march towards St. Patrick's Day fame in 1814 when the oldest Irish society in America, the Hibernian Society, organized a procession to the town's Independent Presbyterian Church. Today, the parade itself is, by some counts, the second biggest in America after New York. But the total number of marchers, revelers and visitors has grown to more than 350,000—more than double the population of the entire city. Guests from Florida and the Carolinas, as well as from some of the big St. Patrick's Day hotbeds like New York and Boston, flock to Savannah.
It's not entirely clear how Savannah came to swell so much during St. Patrick's Day, but it's likely some combination of the city's centuries-old Irish heritage, its good weather and the fact that Savannah has some of the laxest open container laws in the country. As long as you're carrying a plastic cup of 16 ounces or less, you can enjoy your St. Patrick's Day drinks outside in the gorgeous 70 degree weather. It couldn't be more ideal for an extended bar crawl. But the party in Savannah is more than that. While people in Boston or New York have to hustle from O'Leary's to O'Reilly's to get another pint of Guinness, in Savannah, the good times follow you out into the street. Local food vendors, live music and a massive outdoor dance party are just a few of the things you'll find down on River Street and at the huge outdoor City Market from 10 a.m. until midnight both Friday and Saturday. Plus, the city's Irish pubs will be pouring until 3 a.m., so you can extend the festivities as long as you can stay awake.    
Savannah is also one of the only cities in the U.S. committed enough to hold its St. Patrick's Day festivities on St. Patrick's Day every year, lending it additional authenticity. For example, back in 2016, thousands of revelers downed their green beer on Wednesday and got up to go to work on Thursday. Fortunately, St. Patrick's Day falls on a Saturday this year, so everyone will be able to fully recover on Sunday.
If you're looking to catch Savannah's famed St. Patrick's Day Parade, it kicks off at 10:15 a.m. on Saturday, March 17 on the corner of Gwinnett and Abercorn Streets and lasts for about four hours. But after a full Friday night spent drinking in the street, we don't expect you to be up that early.