8 Super-Secret Cocktail Menus You Need to Know About
Just like In-N-Out and Chipotle, some of the country's hottest bars have secret menus. Though you may not be able to order your Daiquiri "animal-style," you can order these under-the-radar libations with a wink and a nod to the bartender. Here are a few of our favorites.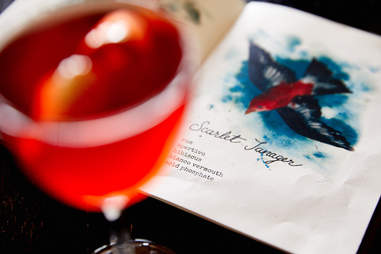 Aubrie Pick
The Field Guide to Birds at Beretta
San Francisco, CA
You won't need binoculars or a spot-on warble to catch any of the bird-themed cocktails at Beretta. All you have to do is ask the bartender for the Field Guide to Birds, the upscale pizza restaurant's secret drinks menu. Bar manager Dominic Alling crafted each of the eight drinks featured in the leather booklet to match the personalities of eight different avian species. The first half of the menu is dedicated to sketches and descriptions of each feathered specimen along with the drink's components, followed by a small selection of other drinks. This being San Francisco, of course there's a drink with Fernet Branca, though the inky spirit comes in jelly cube form at the bottom of a flute filled with orange and ginger juice.
The Yakuza Menu at Pabu
San Francisco, CA
The Japanese organized crime ring known as the yakuza aren't contained to their East Asian homeland, but have spread around the world, including to San Francisco, where we expect they do their dirty work in the shadows. At Pabu, an izakaya in the city's FiDi, the bar team acknowledges the town's unspoken bond with these Japanese gangsters with a secret menu of six cocktails named for various yakuza figures and their samurai forebears. The menu is written on a scroll and stashed appropriately in a bottle of Hibiki Japanese whisky. Each drink consists of a Japanese whisky base, tea and a modifier. The Mr. Fingers, for instance—named for the doctor who supplied yakuza members with prosthetic fingers used to replace those chopped off as punishment—is made with Iwai blended whisky, rooibos tea, Campari and Aperol.
Themed Drinks at Disney California Adventure's Cove Bar
Los Angeles, CA
The well-connected elite over at Club 33 in Disneyland may be able to indulge in drinks in an otherwise dry park, but at the neighboring California Adventure, all it takes to acquire exclusive drinks is an inside scoop. There are eight unlisted drinks at the panoramic Cove Bar, but once anyone orders any of the oversized, flashy concoctions, the secret is pretty much out. Some are Disney-themed, like the Black Pearl—a Pirates of the Caribbean-themed Long Island Iced Tea with Chambord and Sprite—or the rainbow-layered Fun Wheel—essentially an AMF with layers of pineapple juice and passion fruit-flavored vodka on the bottom—named for the park's ferris wheel. Others are just plain boozy, like the bar's take on a Zombie, or the Earthquake, which comes with a floater of 151.  
Los Angeles, CA
Tasting Kitchen, one of countless hip eateries lining Abbott Kinney Boulevard in Venice, is fairly nonchalant about its semi-secret menu. Abandoning the mystique of the leather-clad ledgers and stained scrolls, the bar hands out a menu printed on the back of a vintage postcard to pretty much any deserving patron. "If you're excited or if you come in a lot, we'll hand it out to you, and you can check out what we're excited about right now," bartender Justin Pike told Serious Eats. Using the postcard to gauge popularity, bartenders will sometimes move a drink from the secret menu to the permanent one, as happened with the Harvard Yard—a mix of Sazerac rye, Fernet Branca, Bitter Truth apricot liqueur and Dolin dry vermouth.
Multiple Locations
It's disheartening to see people go to a bar just to surf Instagram on their phones instead of making conversation—unless those people are bringing up a post from North Italia that gives them access to an exclusive drink. Using the hashtag #northsecretcocktail, the pizza restaurant offers digital-first cocktails at locations across the country. While you could walk up to the bar and outright ask a bartender for one of the secret libations, we find the wordless gesture to a smartphone screen to be satisfyingly discreet.
Cambridge, MA
Green Street offers a condensed 16-cocktail list to everyone who walks in the door, but if you ask for the A-Z list, you'll get a tome of over 100 drinks to choose from. If you're looking for a quick pick from the overflowing options, try the Deja Vu in Delhi made with Old Monk rum from India, lime juice, St-Germain and tiki bitters, or The Widow's Kiss with Laird's applejack, Bénédictine, Yellow Chartreuse and Angostura bitters
Brooklyn, NY
If you always fancied yourself a secret agent at heart, then Yours Sincerely's black light menu will make you feel like you're gathering intel on a covert mission. After receiving a black light flashlight from a bartender, you can peruse a secondary light up menu hidden within the main cocktail list. If your tablemates fail to praise you sufficiently for your boozy detective skills, the menu will step in with a happy message, "You found me! Congratulations!"
Courtesy of The Speakeasy
San Francisco, CA
The Speakeasy is a live, interactive performance space where actors and guests mingle in a Prohibition-era setting, a la New York's Sleep No More. Don your best period wear, turn off your phone and follow the House Rules to a T, and you can lose yourself in the act. But if that's not enough speakeasy glamor for you, you can whisper a request for the secret menu to your mustachioed barkeep.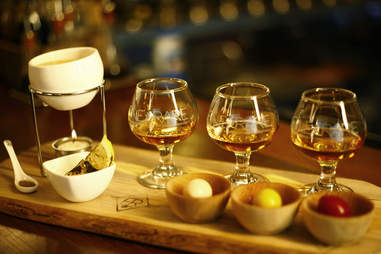 Courtesy of Fine & Rare
The Private Menu at Fine & Rare
New York, NY
Fine & Rare owner Tommy Tardie didn't give his restaurant and bar that name for nothing. Even the regular menu highlights some of the rarest spirits, finest foods and most delicious cocktails we've had in New York. But Fine & Rare's super luxe private menu takes it to the next level. Take the Light as a Feather, for example, a cocktail made with a Glenfiddich 21 Year-spiked egg drop soup that's served alongside three additional Glenfiddich drams and a trio of pickled quail eggs. Or try our personal favorite, From Russia With Love, a mix of Beluga Gold Siberian Vodka and Lillet Blanc served with a spoon of black caviar. And don't forget the food—a cool $250 gets you pan-seared wagyu beef and poached Maine lobster, both cooked in truffle sauce and served with a gold-covered pomme souffle and Petrossian caviar.