The Best Undercover Booze Gifts to Give on the Sly
Even if you've learned the joy of bringing incognito booze everywhere you go, your friends and family may not be so wise. Show them the light (and earn some gift giving cred) by gifting them one of these sly boozy gifts.
Books can be tough gifts to give. Between the risks of getting someone something they already read, something they have no interest in or something with way too many words for a habitual Instagrammer, there's a very narrow window for success. So just think how happy your giftee will be when they open that boring old book to find a flask full of booze. Hemingway makes for an excellent book-bound sneaky drink container, given the author's own boozy habits. Fill the flask with a premade a Hemingway Daiquiri for that special touch.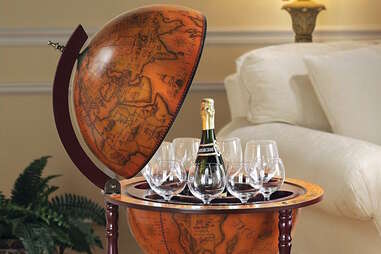 Having a globe in your study makes someone seem worldly. Having a globe filled with booze in there, though, makes them seem like a debonair globetrotting fancy-pants. Give this old school globe bar to someone who has drunk all around the world and can stock the hidden bar with their favorite liquors smuggled back from faraway lands.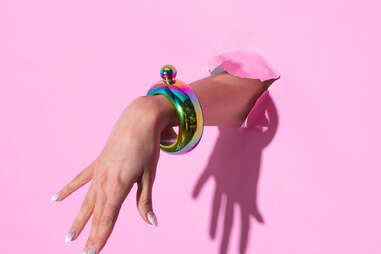 Jewelry is a pretty lazy gift, so go above and beyond for a liquor-loving fashionista with this blinged out flask. The accessory pulls double duty with fashion and function, keeping your recipient well hydrated on the runway. Constructed from stainless steel brushed with an attractive rose gold hue, it packs plenty of liquid into its sleek minimalist form.
AM Florence specializes in converting vintage steamer trunks (among other items) into functional works of throwback art. We're especially fond of this made-to-order suitcase-turned-bar, and we bet your favorite drinker would be pretty fond of it too. It's pricey for sure, but you can't overpay for custom luxury like this.
A beach trip is a prime opportunity to break out a flask, especially this shimmery, nautical mermaid carry-all—by which we mean it contains all of life's essentials: booze and sweet, sweet swagger. Unlike other hidden flasks, this purse doesn't go for subtlety. It's flashy and brilliant and will immediately bring the party to whoever carries it. Good thing it's full of refreshments.