9 Brilliant Ways to Display Your Shot Glasses
One of the best souvenirs to take home after a fun vacation or cool event is a shot glass. They're compact for easy packing, look awesome, and make for great ice-breakers when you're doling out shots at your pregame or party. But having a killer collection is a waste if you don't have a cool way to show them off. Here are nine of the best display ideas for your shot glasses, so they're not just gathering dust in the back of a kitchen cabinet.
The United Shots of America
If your goal is to visit and grab a shot glass from all 50 states, this is the only way to put your finished collection on display. This awesome custom-made shelf—featuring a map of all 50 states in the center, including Hawaii and Alaska floating nearby—is a solid way of showing your patriotism. Make a round of red, white and blue jello shots to make things even more festive.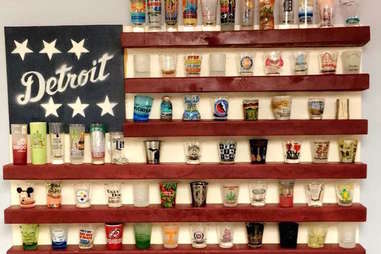 For Liberty, We Drink
Not to be outdone by the map display, this American flag shelf makes full use of the stripes that represent our country's 13 colonies. And thank Uncle Sam there were so many colonies because that makes for a lot of shelf space to stock all those shot glasses.
A Little Bit Country
For more of a laid-back, country feel, nail together a few off-color planks of wood for a homey backboard, frame it out, and add thicker boards as shelves for your shot glasses. It gives the kind of woodsy vibes that let guests know to expect a hearty glass of bourbon when they enter your home.
Hang 'em High
This wooden shot drying rack has a low-maintenance feel with an added layer of function. A thick wooden frame and some sturdy pegs are all you need to dry those freshly cleaned shot glasses in style. We'll leave the encouraging quote up to you.
Your Shots, Sir
Don't just display your shot glasses to your guests; show them what's on the menu. This awesome wooden display holds four glasses and has a slot in the middle for your bottle of choice. Be sure to knock those shots back with your pinky up.
Spiral Down
If downing shots is practically in your DNA, make it official with this spiral shot glass display. It's mobile, so you can actually serve full shots in it (bonus points if they're all different colors).
Five Displays Are Better Than One
Don't limit yourself to just one shelf for your shots. Savvier builders can construct multiple sets of floating shelves that form an intricate design. It might take a lot of measuring and cutting, but for your shot glasses, it's worth it.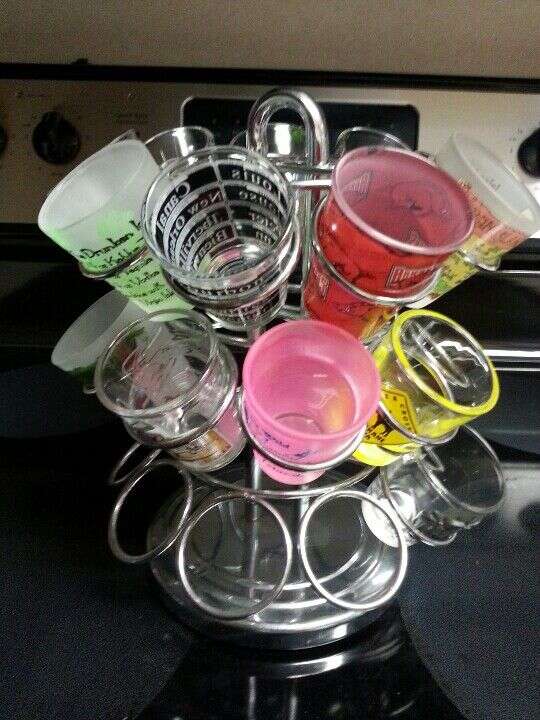 Drunk and Lazy Susan
If you have a Keurig at home, you're in luck. One innovative Pinterester repurposed her Keurig plastic cup holder to create a fancy Lazy Susan for her shot glasses. Plus, what were you really going to do with that thing anyway?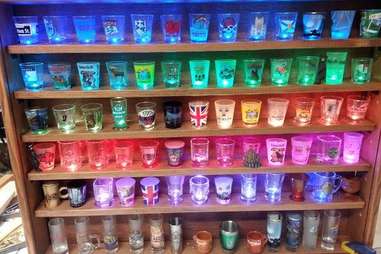 Shoot the Rainbow
Illuminate your life with these shot glass shelves that are outfitted with tiny, color-changing LED lights. You may feel less inclined to hit da club when your shot glass display is already giving off positive club vibes in the comfort of your own home. Save some money on the cover charge and bring the club to you.