8 Hot and Spicy Bottles of Booze, Ranked by Spiciness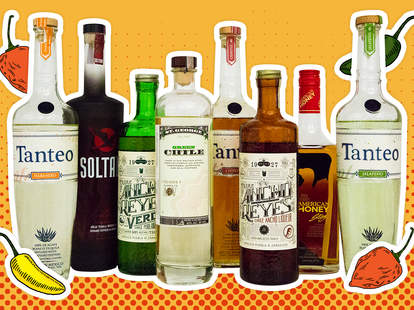 Marisa Chavetz / Mark Yocca / Supercall
Heat seekers once had to put in hard muddling hours to get spicy pepper flavors into their cocktails. But now there are plenty of brands making spicy spirits that span the range of the Scoville scale. Here, eight bottles to try, ranked from least to most sweat-inducingly spicy.
Made with a blend of five different peppers, ranging from bell peppers to serranos, along with lime peel and cilantro, this craft California vodka is vegetal and green with some sweet notes (thanks to the bell peppers) and a soft but persistent bite at the end (thanks to the hotter peppers). It won't send you running for a glass of water, but you will get a nice kick at the finish. It's delicious sipped on its own over ice, but it also makes for a vibrant take on a Vodka Martini or a refreshing aperitif mixed with soda water or tonic.
Silky and sweet, this high-proof liqueur (which clocks in at 71 proof) is the logical next step for Fireball fans. Upon first taste, the honey is the undeniable star, but then the bourbon sneaks in and finally gives way to a back-of-the-tongue bite courtesy of ultra-spicy ghost pepper. If those words strike fear in your heartburn-prone heart, don't worry. The distillers use the notoriously hot pepper with a lot of restraint, so you don't have to worry about searing your esophagus after taking a shot.
Ancho Reyes' chile liqueurs have captured the hearts and imaginations of bartenders across the country, and it's easy to see why. Both bottlings perfectly distill the essence of their respective chiles into shockingly versatile spirits. The Verde smells like fresh corn, but tastes like fresh green poblanos. It's sweet and velvety with a spicy burn that settles in your chest. Try it in this green juice-inspired Margarita or a Mexi-Cali Mule.
While the Verde's spice settles in your chest, the Ancho bottling doesn't bury the lede. It has a quick heat that explodes in your mouth along with caramel, smoke and coffee flavors. While you still won't be turning a cartoonish red or dunking your head in a bucket of ice, you will feel this liqueur's heat on your lips and the sides of your mouth. So be prepared. Like its verdant brother, the Ancho is also great in Margaritas—but it's particularly good paired with carrot juice in this springy recipe.  
Infused with roasted and dried chipotle peppers from Mexico, this full-bodied tequila brings the smoke. It's savory and filled with barbecue flavors, and it has a pleasant spice that's quick but certainly noticeable. Drink it alone or pair it with tropical flavors like pineapple or coconut. Or pair it with both fruits in this tequila-based Piña Colada.
Tanteo's original offering is smooth and filled with lots of green, jalapeño flavors. Its spicy and tingly heat focuses on the tip of your tongue and refuses to disappear even after a few minutes. You'll find yourself going back for sip after sip, though, especially if you mix it into a classic spicy Margarita (made with muddled jalapeños) or simply stir it together with some tonic.
Aged for 28 months, this spicy tequila is infused with serrano peppers and cinnamon for a dry, extra-spiced heat. Both the cinnamon and the pepper lead the way, creating a sinus-clearing level of heat. While it lacks the fruitiness and fresh pepper flavors of Tanteo's offerings, Soltado makes up for it with straight spice. It's the perfect shot for that middle of the night lull when you need an eye-opening pick-me-up.
Hot heads, take note. This insanely spicy (but also crazy tasty) offering from Tanteo might smell harmless with fresh, fruity notes, but just you wait. One sip and you'll start sweating. It's filled with lots of fresh, tropical flavors, which are elevated by the seemingly everlasting spiciness. It just keeps going and going. If you are at all nervous about heat, make sure there's a cold glass of milk nearby.