the bar.com
Sponsored By

12 Spirited Stocking Stuffers
Sponsored By

If you're down to the wire and scrambling for gift suggestions this holiday season—or even if you're ahead of schedule—here are a few cocktail-gift ideas that don't require much of your money or your time, yet still count big in the creativity and thoughtfulness departments. Whether you're shopping for your SO, roommate, Dad, or coworkers from Happy Hour, here are some ingenious stocking stuffers—all featuring convenient, portable airplane bottles of classic spirits.
Matthew Zach/Supercall
These handy 2 oz cocktail bitters fit snugly inside a stocking, and would be hugely enhanced by an airplane bottle of Crown Royal Fine De Luxe Whiskey following them into that oversized sock pinned to the mantelpiece. Speaking of enhanced, the cherry bitters here make a delicious variation on the conventional Manhattan when swapped in for traditional aromatic bitters.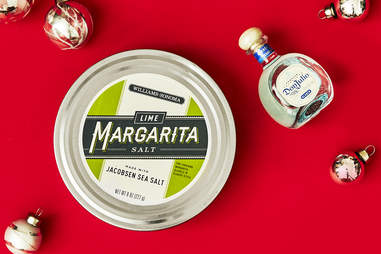 Matthew Zach/Supercall
Margarita season is year-round, as far as we're concerned. Surprise your giftee with the makings of a next-level Marg featuring world-class Don Julio Blanco Tequila and artisanal lime-infused salt—ideal allies to make the Margarita shine.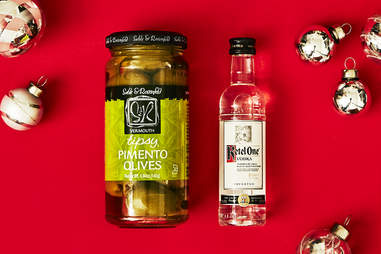 Matthew Zach/Supercall
Do you have a friend who likes her Martinis extra dry? With these vermouth-washed olives, she can skip adding the vermouth altogether, and still get a nice jolt of flavor alongside the airplane bottle of Ketel One Vodka you add to her present. The result is a tasty spin on a classic Vodka Martini.
Matthew Zach/Supercall
Perfect for camping and outdoor enthusiasts, these stainless steel shot glasses are cool, sleek and smooth, just like a sip of Smirnoff No. 21 Vodka. They come with a pocket-sized leather traveling case as well.
Matthew Zach/Supercall
Help your budding cocktail-geek pal step up their game by replacing plain their wooden tooth picks with this classy set of garnish pins, perfect for spearing the lemon twist garnish in their Rusty Nail made with Johnnie Walker Red Label. Which you will of course also provide, in the handy form of a cocktail-ready 50 ML airplane bottle.
Please Drink Responsibly. © 2017 Diageo, Norwalk, CT