The Perfect Gift Guide for the Person Who Has Everything
It's probably safe to say that the more adult you get, the harder you are to find a present for. Despite the questionable syntax of that sentence, I swear by its essential meaning. Adults don't spend weeks in December putting together wish lists. Many of them are highly successful, too, and they have literally everything they need, along with pretty much everything they want.
To find the right gift for those people, you have to zero in on things out there that they just don't know they want. That's where we come in. We rounded up five bottles that any well-established, wanting-for-nothing, spirits-loving adult would be delighted to receive this season.
Pick up one of these for that person (or persons) on your list and take satisfaction in the knowledge that they will put it to use instead of tucking it in a closet to gather dust, like approximately 94.7% of the gifts they'll get this year.
Developed by Johnnie Walker Master Blender Jim (Yes, That's My Real Surname) Beveridge, this is the first in a series of special releases from the fabled Johnnie Walker Blue Label reserves. Composed of only eight rare whiskies (blended scotches typically contain between 20 and 50 whiskies), it draws from three distilleries—Cambus, Pittyvaich, and Brora—that have been out of operation for years, but still possess hundreds of casks, many of them highly prized and sought-after. The Brora distillery is a Highland single-malt producer dormant since 1983, meaning the whisky selected from there is at least 34 years old.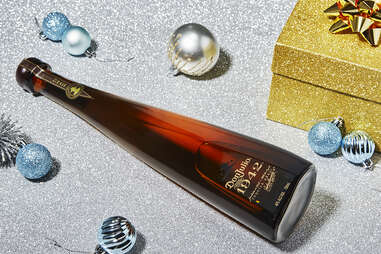 Pair this gift with the incredible true story of Don Julio Gonzáles, the man who created it, then have the bottle engraved with a personal message, and chances are it'll be your hard-to-please recipient's most memorable gift this season. Don Julio 1942, named for the year that Don Julio Gonzáles launched his life's work, is a sipping tequila of eyebrow-raising character and complexity. With oak, caramel, and vanilla notes alongside roasted agave accents, it's one to linger over, perfect for spirits aficionados who recognize an underappreciated classic.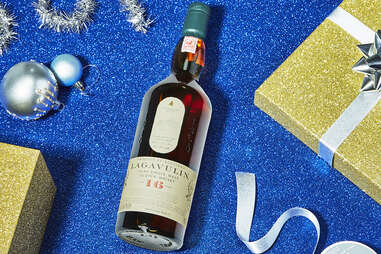 A classic Islay single malt, Lagavulin has plenty of peaty notes, but they're balanced by sweetness and an uncommon depth of flavor that includes salty maritime accents, hints of fruit, and wet wool (that's right). It's uncompromising, intense, and a favorite of a certain manly sitcom character with a solid mustache game. Truth be told, the scotch-lover who has everything probably has a bottle of Lagavulin 16 Years Old—their scotch collection would be incomplete without it—but they would most definitely appreciate another one.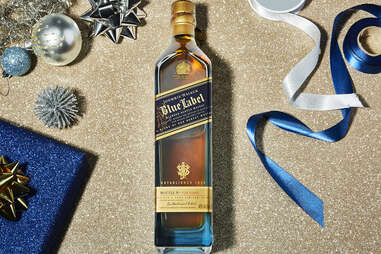 Whisky reviewers routinely tie themselves in knots trying to describe the amazing flavor profile of this legendary blended scotch. Unleashing long, comma-heavy sentences, they loop in comparisons to kumquats and sandalwood, hazelnuts, honey, oranges, and dark chocolate, with many stops in between. You get physically tired reading these descriptions, but you also sympathize with their authors, because the stuff really does send an orchestra of flavor notes across your palate. According to Johnnie Walker, "only one in 10,000 casks has the elusive quality, character, and flavor" to make it into a Johnnie Walker Blue blend. That's pretty singular, and you can make your gift even more unique with a custom engraving.
While Oban's 14-year-old expression makes a terrific introduction to the category of quality single malt due to its seamless blend of Islay smokiness and Highland richness, the limited-edition 18-year-old is a luxury scotch—a nuanced, dynamic, and worthy representative of one of Scotland's most venerable distilleries (founded in the Western Highlands in 1794). Hand it to the person on your gift list who has everything, and watch their face light up. Bonus Oban factoid: The distillery name (and town in which it's located) is pronounced like "open" with a 'b' in place of the 'p', not "oh-BAHN," as many Americans say it.
Please Drink Responsibly. © 2017 Diageo, Norwalk, CT