I Found the Best Hangover Cure Waiting in Line at a Wyoming Bagel Shop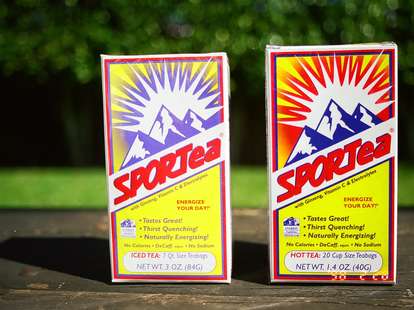 For coffee addicts (errrr, enthusiasts), hangovers can be slightly more brutal. Meaning, if you imbibe too much, it may prove challenging to stomach a cup of coffee the morning after—even if that coffee is ice cold and refreshing. Coffee's acidity is one thing, but even more than that, coffee is very dehydrating. Add milk into the equation and it's a recipe for hangover disaster. You know, the one where you have heavy liquids sloshing around in your stomach at work. Not cool, not cool.
Recently, I popped into Pearl Street Bagels in Jackson, Wyoming, in search of something to knock me back on my feet during an excruciating hangover—something that wasn't coffee or a latte or anything in that genre, when a mysterious, retro-like packaging that read, "energize your day," stood out. While the decaf part was a slight turnoff, a sporty gentleman in front of me disclosed that SPORTea was no doubt the best hangover cure out West. Turns out he was not wrong.
The magic stuff was developed by an herbist in Colorado three decades ago and is a bit like an amped up and natural form of Gatorade, sans the added sugar. It's a blend of imported black and green teas, Siberian eleuthero root, ginger, mate, Vitamin C and electrolytes. If that Siberian eleuthero root looks unfamiliar to you, you may see it elsewhere as Siberian ginseng.
"It's like good engine oil in your car," says SPORTea owner Keys Allan, who disclosed it took two years for the herbist to perfect the recipe. "It makes the body run more efficiently, helps the parts last longer, and you get more mileage—without changing anything or souping up the car."
Two versions exist: hot tea and iced tea. For summer, for the ultimate hangover cure, an ice-cold cup of this tea is where it's at. "Coffee is a diuretic, so SPORTea is a better choice when needing to hydrate, for whatever reason," says Heather Gould, owner of Pearl Street Bagels. "We go through 5-6 gallons or more per day in each location in the summer," she notes, of the chilled beverage.
If you're one of the lucky ones to witness the miraculous tea firsthand, welcome to the club. It's refreshing and reviving and citrusy in all the right ways. And even without caffeine, it will snap you out of hangover purgatory. Allan notes that it's a legitimate weekend warrior drink for active lifestyles and athletes--it's been used as a power drink for seven climbs up Mount Everest by American teams and as an endurance training beverage by the American Women's swimming teams in the Olympic games, for starters. But when it comes to hangovers, he agrees it's a solid contender.
Going a step further, it settles the stomach. "The ginger warms the blood and creates a better blood flow; it replenishes vitamin C, and it energizes and promotes a better wellness feeling without the associated boom bust syndrome that you get with any heavily caffeinated or sugared beverage," says Allan. "We have testimonial after testimonial coming to us about how SPORTea helps the morning after to balance the system and promote 'feeling better.'
Even professional drinkers are turning to it. "As a person who drinks for a living, SPORTea is so amazing and much more satisfying than water when you are hungover," says Maggie May, a sommelier who works for Jackson Hole Winery. "It takes less time to become hydrated and back on your feet." There are no negative attributes and you can drink it like water all day long, which is wildly beneficial when feeling subpar.
The tea is served up at select coffee shops (with San Francisco, Colorado and New York City being biggest market players) and even some restaurants across the U.S. But if you want to drink it at home, it's not hard to come by. You can pick it up at any number of shops online or from SPORTea itself. However you get it, just make sure you have it on hand before your next big night of drinking.