What to Drink This Summer, According to Your Zodiac Sign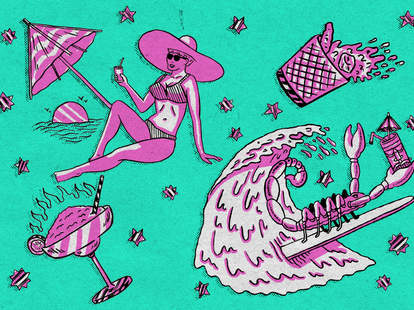 Summer brings with it a whole new breed of drinks—and just three months to slurp them all down. Understandably, you may be feeling a bit overwhelmed. To help you out, we consulted with Supercall's resident seer, who has predicted everything from every sign's ideal drinking game to their perfect booze to their preferred partying habits. Here, what you should be drinking this summer, according to your zodiac sign.  
Aquarius: Spritzes
Intelligent and inquisitive, an Aquarius needs to keep their head clear in order to maintain stimulating conversation with friends over bottomless brunches, and avoid becoming overly heated in a debate. Opt for low-ABV summer sippers, like an Aperol Spritz, to keep your wits about you during a marathon session of day drinking.
Pisces: Ice Cream Cocktails
Forget the beach-bod diet; Pisces recognize the importance of treating yourself and giving in to indulgent cravings. Try creamy, decadent spiked milkshakes or ice cream floats, or these cocktails inspired by ice cream truck classics. The perfect balance of comfort food and boozy beverage, nostalgic Pisces will be transported back to those summer days chasing after the ice cream man.
Mark Yocca/Supercall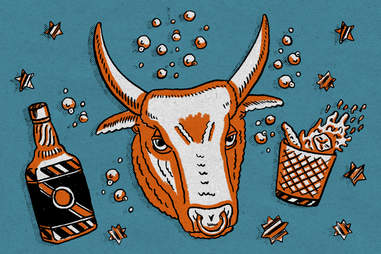 Mark Yocca/Supercall
Gemini: Energy Drink Cocktails
Social Gemini need to keep their energy up for long nights of bar hopping from hotspot to hotspot. Prepare for the evening with caffeinated cocktails, like refreshing cold brew tiki-tails or craft cocktails made with energy drinks, like this slushy take on a Vodka Red Bull. Or, share the buzzy wealth by pregaming with these Jägerbomb Jello Shots.
Cancer: Icy Blender Drinks
Cancers are loyal and sentimental, which means they'll love classic summery blended drinks, like Piña Coladas, frozen Margaritas or Daiquiris. Cancers can often be found partying at home with a close group of buddies, and these sharable blender drinks are perfect for a casual, poolside hangout. Prep for a summer full of homefront hangouts by stocking your freezer with slushy cocktails, like this frozen Mojito, made in sandwich baggies—no blender needed.
Leo: Whatever's In
Not only are Leos creative and cheerful, they also thrive off of attention, making the biggest summer fads a must. Whether it's Frosé, popsicle cocktails or increasingly trendy canned wine, these fun drinks speak to Leo's whimsical nature. They're also excellent Instagram fodder.
Mark Yocca/Supercall
Virgo: Healthy(ish) Cocktails
Virgos have worked too hard and too long at the gym to sabotage their efforts with sugary drinks. Luckily, they can still enjoy the occasional happy hour with a healthy(ish) cocktail. Ever one for efficiency, Virgos can kill two birds with one stone, catching a buzz along with their daily fruits and veggies in a vegetable-laden cocktail, like the Kale Martini, or an updated Vodka Soda made with fresh fruit and herbs. They can even consume a superfood in a turmeric cocktail, like this cocktail made with carrot juice and honey.
Libra: Beertails
Libras have a hard time making decisions. So rather than struggle through choosing between a refreshing brewski or a delicious cocktail this summer, they should just opt for both. Try out a wide range of beertails, from summery Shandys to spicy Micheladas to innovative takes on the Mexican Bulldog, and get the best of both boozy worlds.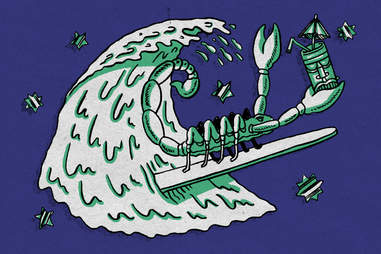 Mark Yocca/Supercall
Scorpio: Tiki Drinks
Scorpios are passionate and love throwing a dash of intrigue into every aspect of their life. In between checking out the season's pop-up speakeasies, Scorpios will be drawn to classic tiki drinks with romantic lore or seafaring history, like the Navy Grog or Rum Runner. Extra-boozy drinks like the Zombie or Fog Cutter will also satiate a Scorpio's strong tastes and intense personality.
Sagittarius: Tropical Fruit Cocktails
Sagittarius have a great sense of humor and are all about trying crazy new things. This summer, Sagittarius will love big cocktails served inside tropical fruits, from pineapples to coconuts to dragon fruit. If you're hosting a backyard bash, make a punch in a watermelon to get everyone in on the fun.
Capricorn: 'Murica Cocktails
Capricorns aren't big drinkers on the regular, but they do go all out for special occasions, like the Fourth of July. This year, celebrate with patriotic cocktails for a crowd. Mix up this Star Spangled Sangria—featuring pineapple stars—bright blue cocktails, or a layered frozen Daiquiri reminiscent of Bomb Pops. It'll be the most festive (and deliciously boozy) Independence Day barbecue ever.