After months in apparent hiding after being mired in controversy, Taylor Swift has finally re-emerged with a new album, Reputation, and an entirely new, darker persona. Though you may not be able to compare the new Taylor with the old by browsing her social media (she wiped all digital traces of her former self clean), the dramatic change in style is nothing new for her. Taylor has reinvented herself with every new album release, giving us six distinct eras, including the wicked one we are in now. And because everyone has a favorite T-Swift era, we paired each one with a cocktail for you to enjoy while reminiscing about the ol' days—or getting amped about streaming the Reputation album drop.   
Recommended Video
Thrillist's Best (and the Rest): What You Actually Need to Know About Natural Wine
In her self-titled debut, Taylor Swift was just a curly-haired, blue-eyed kid with big country dreams and a love for Tim McGraw. She had no inkling that her life would one day be consumed with endless commentary on her bad blood with fellow celebrities and long list of ex-lovers; she was as pure as this classic pale-hued cocktail. Made with gin, fresh lemon juice, orange liqueur and egg whites, the sweet and sour White Lady tastes like a creamy version of country lemonade, and is almost as bright as a pair of Taylor's bedazzled cowboy boots.
The Fearless Taylor Swift was all about fairy tales and love stories. From the sparkly dresses to her iconic surprised face for every award she received (including her first set of Grammy's), Fearless Taylor was feminine, gentle and idealistic. The Aviation has a romantic violet hue, thanks to the creme de violette liqueur—which together with gin, lemon juice and fruity maraschino liqueur, tastes light, floral and idyllic. We definitely could have used a few to get through the cringeworthy 2009 VMAs, when Kanye West infamously interrupted Taylor Swift's acceptance speech and ignited a saga that has yet to conclude, eight years later.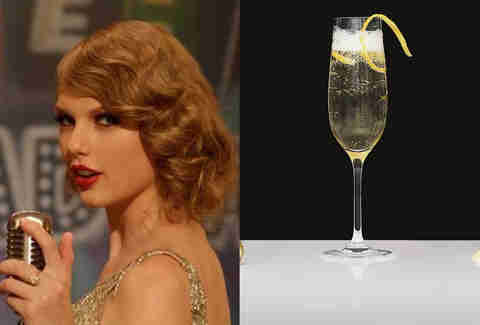 No longer innocent and naive, Speak Now was heralded as Taylor's first "adult" album, and marked the beginning of her reputation as a lovelorn woman, pining over breakups and calling out those who scorned her by name (looking at you, John Mayer). This Taylor also embodied old Hollywood glamour and a 1920's, flapper-esque aesthetic, with finger waves in her hair and sparkly golden gowns. The French 75 is the perfect cocktail for the Speak Now era: tall, golden, sparkling and elegant, with just a hint of bitterness from the gin. It's a more grown-up take on the Champagne Cocktail, one that exudes grace while still being delicate and sweet.
The age of Red included the first hints that Taylor would be moving away from country music, with her two breakout hits being full-blown pop anthems. And as the name of the album would suggest, this was the first time we saw Taylor with her signature red lips as she adopted a nostalgic, 1950's style that included A-line dresses and high-waisted polka dot swimsuits. The Cape Codder was invented around the early 1950s and features an easy-drinking mix of vodka, fresh lime and cranberry juice: simple, sweet, a little bit tart and, of course, red. As the OG Vodka-Cran, it's admittedly a little #basic, but that's okay—sometimes we just want to go back to simpler times where all Taylor needed to be happy was a circle scarf and a maple latte.
The 1989 era saw Taylor Swift fully embracing her pop star status, shaking off her country roots even if the haters were gonna hate, hate, hate. This poppy, femme fatale Taylor was hipper, more mature and more self-aware than her youthful selves, and that personality shift had a lot to do with her new home in New York City. Made with spicy rye whiskey (because 1989-era Taylor made her love for darker booze known), the New York Sour is bold, dynamic and alluring, both in taste and in its layered ombré appearance. And because this age of Taylor was also the dawn of the almighty "Squad," a float of red wine feels particularly appropriate; you know Taylor, Karlie Kloss, Gigi Hadid and co. must have had some pretty epic wine and cheese nights in with Meredith and Olivia.  
The latest iteration of Taylor Swift shirks all the Taylors of the past, literally killing them off in her music video for "Look What You Made Me Do." While the Reputation-era Taylor is still in the making, we can tell it includes a whole lot of grunge, bitter vengeance and the reclamation of the snake emoji (with which she was spammed in the wake of the Kim Kardashian Exposed Taylor Scandal of 2016). This cocktail is fittingly called the Snakebite, and features bright hard cider shrouded by a dark cloud of bitter stout. It embraces the edgier side of cocktails, unexpectedly mixing two beers and not really caring if people aren't on board for the blend—much like the old Taylor doesn't care if you don't like her divisive single or new villainous persona. Why? Because she's dead!