While the tequila we mix into an on-the-rocks Margarita is a relatively new invention, there's been some form of everyone's favorite shooter-turned-craft-spirit in Mexico for about 1,000 years. That's a long history, and it's generated a deep culture that goes way beyond what's covered in the 4 minutes and 8 seconds of "Margaritaville."
To give you an idea how far beyond, and boost your knowledge of this marvelous agave spirit, we figured we'd take a deep dive into the origins and the epic backstory of tequila. The tale casts a wide net indeed: In just these 10 factoids, there are historical figures, tricky agricultural maneuvers, and no less than 400 deities. 
Agave spirits have ancient, sacred roots
A number of fermented beverages are made from the agave plant, including tequila, mezcal, and pulque. Pulque is an ancient drink that predates the Spanish arrival in Mexico—it's a milky, fermented (but not distilled) sap from the heart of the agave plant. There have been more than 400 deities tied to the drink, including several gods credited with creating it. In pre-Hispanic times, unless you were part of the ruling class, a new mother, or sick and elderly, you weren't getting any pulque on the regular. The rest of the population could only have a few sips during religious ceremonies, and there were serious punishments for getting drunk off the stuff: think head shavings, beatings, and (for repeat offenders) death.
But the tequila we know is relatively new
Before the 1800s, tequila as we know it didn't exist. While upper-class Spaniards in Mexico at that time imported European liquors, the indigenous people sipped on pulque at taverns called pulquerias. (The rules had loosened up by then, and you no longer caught a beating for drinking the stuff.) In the 17th century, middle-class Spaniards started acquiring a taste for pulque, too. Eventually, they began distilling it, making what was called "mezcal wine"—an ancestor of modern mezcal and tequila. It wasn't until importing European liquors into the countryside of Jalisco got too expensive, even for the Spanish 1%, that people started distilling agave nectar on a production scale in the region. They gradually refined the practice until it produced a liquid very much like the tequila we know today.
All tequila is mezcal
Tequila got its Denomination of Origin (DO)—an official international recognition that only product made in designated areas can legally use the name—in 1978. Mezcal received its DO in 1995. But tequila is actually a form of mezcal. Both spirits are distilled from agave nectar; tequila is simply a specific variety of mezcal—the variety that, by law, can only be distilled from Blue Agave. Mezcal can be produced from some 30 varieties of agave (though it's most often made from Espadin). Another difference between the two concerns location: tequila can only be produced in a few places around the city of Tequila (and most of it comes from the Mexican state of Jalisco), while Mezcal can be produced in eight different Mexican states. They also have different flavors: mezcal's is smoky, because the pińa (or heart) of the agave is roasted before it's macerated in the mezcal production process. Pińas for tequila are typically steam cooked.
Women are central to tequila's history
Even though Mexican cantina owners could legally prohibit women from entering their establishments until 1980, women still played a prominent role in the evolution of tequila. In fact, most pulquerias in colonial times featured women bartenders. Laws on the books in the 1600s licensed women as purveyors of pulque and regulated where and to whom they could sell. The most prominent deity tied to agave and its distillates is the Aztec goddess Mayahuel, rendered as the personification of the agave plant. Several historic distilleries and cantinas in Mexico have sprawling murals depicting her. Finally, women make up more than half of tequila drinkers in Mexico today.
The Tequila region helped build modern-day Mexico
As the three main agave spirits grew in popularity, efforts by the government to regulate the liquids were futile. So they did a pretty logical thing, and started taxing the stuff instead. In the 1830s, there were about nine production distilleries operating in Mexico, and the taxes they paid made up 25 percent of the country's entire tax revenue. By 1918, distilleries were paying 1,000 pesos a day in taxes, equal to about $36.5 million a year in today's USD. All that revenue helped foot the bill for part of the country's basic infrastructure as well as some of its most elaborate buildings, such as Government Palace in Guadalajara.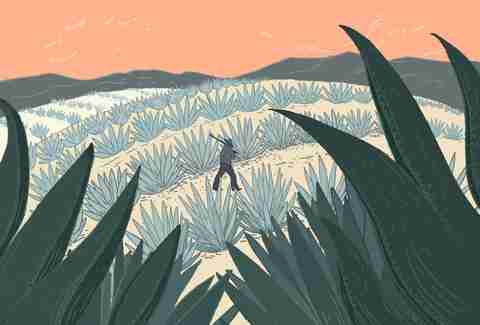 Pancho Villa, an icon of tequila, didn't drink
Pancho Villa was a general in the Mexican Revolution, who, while leading armies on the northern border of Mexico, was frequently photographed, and even had some of his battles filmed by a Hollywood movie company. He became a folk hero in Mexican culture. According to John J. Poister's New American Bartender's Guide, the original way to order a tequila at a bar was "Pancho Villa style." You may have heard of it: it's a tequila shot, served with a lime wedge and salt. There's also the Pancho Villa cocktail, a blend of tequila, brandy, rum, cherry liqueur, and pineapple juice, along with several other associations between the general and the liquid. But here's the kicker: Pancho Villa didn't drink. Quite the opposite, in fact: When he was governor of Chihuahua, he outlawed drinking completely, under punishment of—get this—death. And not just the imbiber, but their horses, dogs, and goats too. Whew! Who needs a drink?
Harvesting tequila is insanely difficult
Since colonial times, workers have harvested agave for tequila and mezcal by hand. The harvesters are called jimadors, and they use a sharp, shovel-like tool called a coa to dig out each plant, and cut the hundreds of leaves from around the pińa, the heart of the agave.The pińas can weigh up to 200 pounds, yet one skilled jimador can harvest up to 160 of them in a day. The trade is normally passed down in families. In the old days, the next step of extracting the nectar from the pińa was extremely hard work, too: after being slow-roasted, the agave hearts were crushed by multi-ton volcanic rock, using a mill powered by a donkey. Nowadays, though, most distilleries use machinery for this step.
Agave is one of the most temperamental crops there is
It takes between seven and 10 years to fully grow and harvest blue agave—which is the only agave tequila is allowed to be made from, per Mexican law. Then, after you harvest it, the plant dies, and you need to replant everything and start all over. That's not the case for a lot of other spirits and beverages: whiskey grains will continue producing after they are harvested, and so will grapevines. In short, the tequila we are drinking now is made from crops that were planted about a decade ago. Having to plan so far in advance has caused problems: for example, tequila blew up in the U.S. in the early 2000s, and it was a spike growers weren't prepared for. There wasn't enough tequila to meet the demand, so prices rose, thanks to producers having to pay about 900% more for their agave in 2000 than they did in 1999.
You can make diamonds out of it?!
In what sounds like a feat of medieval alchemy, three Mexican scientists in 2008 were able to take an 80-proof tequila and turn it into a diamond film by heating the tequila into a vapor, then heating that vapor to a whopping 1,400 degrees. The extremely hot vapor was then deposited into stainless steel trays, resulting in impurity-free diamond films. The reason tequila worked, the scientists said, was because the 80-proof variety had the perfect water-to-ethanol ratio. The films could be used in cutting tools and some electronic devices, but not for engagement rings… not yet, anyway.
There will never be such a thing as American tequila (or mezcal)
If you want to crush up, ferment, and distill the blue agave plant in the U.S., you may think you're making tequila, but, legally speaking, you're not. Unless you're in one of five Mexican states, you can't actually call the distillate of fermented blue agave tequila. That's because internationally, tequila is protected under a portion of the Lisbon Agreement that protects "origin products." Tequila was the first product from Mexico to be protected under the agreement, and only five liquids have the designation today: tequila, sherry, cognac, champagne, and mezcal. But that doesn't mean people haven't tried to make tequila outside the designated area: In 2005, a Californian named J.B. Wagoner introduced a spirit made from the blue agave he grew on his property in Temecula. He called it Temequila, a play on his location, but lawyers with the Tequila Regulatory Council sent him a letter and demanded he change the name, saying it was close enough to "tequila" to confuse people.