7 Beautiful and Affordable Bottles to Bring to Friendsgiving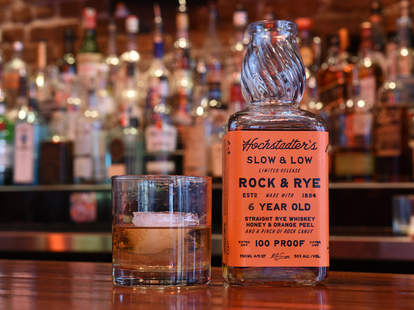 Thanksgiving is approaching, which means we're about to kick off a month of holiday parties and festivities with plenty of opportunities to partake in celebratory seasonal booze. If your holiday plans include Friendsgiving this year, it's a nice gesture to show up with a bottle of booze for your host in addition to whatever potluck-style dish you were asked to bring. So treat your host to one of these seven expressions to guarantee a repeat Friendsgiving invitation next year. Not only are these high-quality spirits some of our favorites to drink right now, but the bottles are works of art that any friend would be proud to display.
We love Slow & Low for its cool branding and fantastic price point, so we went crazy when we heard that Hochstadter's released an extra dry, 100-proof version of the spirit. Just like the original, this 6-year-old whiskey is made with raw Pennsylvania honey, Florida air-dried navel oranges, aromatic bitters and a pinch of rock candy. Not only will the bright orange label pop on the shelf, but the spirit's cocktail-like flavor will please almost any palate, even those not used to straight whiskey.
We're not sure what we love more about Mr. Black—the gorgeous bottle or the liquid itself. This cold brew coffee liqueur is a blend of top-grade Arabica coffee and straight, unaged wheat spirit, which gives it a bold but balanced flavor that even the most staunch coffee purists will love. It's delicious served over ice or in a "Cold Fashioned" with rye whiskey and orange bitters. Plus, for the design-minded imbiber, as you drink the spirit, a beautiful illustration is revealed on the bottle.
Lo-Fi has one of our favorite boozy Instagrams, and we can confidently say that their aperitifs taste as good as they look. The California brand's Gentian Amaro is one of the most versatile bottles on our shelf right now, as it pairs well with spirits, sparkling wine and even cheap beer. Aromas of citrus and ginger open up to crisp, bitter notes of cinchona bark and fruit on the palate. Design and cocktail nerds alike will go gaga for this bottle.
A label with metallic details and a trippy illustration of a goose head coming out of a still takes this already awesome gin to a whole other level of giftable. Sipsmith's London Dry Gin stays true to the style with a bold, complex flavor that starts with notes of dry juniper and blossoms into a citrusy bouquet of lemon tart and orange marmalade. For the dedicated Martini drinker, this affordable bottle is a no-brainer.
There's nothing Ramazzotti can't do. Not only can your host pull out the not-too-sweet, not-too-bitter digestivo after the big meal to settle stomachs before dessert, but it's also our go-to amaro when making a Black Manhattan to give the rich cocktail a deeply aromatic, sweet orange flavor. And anyone who's a sucker for classic Italian amari labels will love this bottle.
Not only is this bottle a steal, but it was one of our favorite new bourbons of 2016. Smooth and warm, this whiskey has aromas of vanilla bean and sweet fruit that open to tasting notes of woody spice, light smoke and nutmeg. The small-batch spirit is great to drink neat or mixed in a cocktail like the Root of All Fall, and the polished bottle is topped with a handsome wooden cap that'll bring a dapper touch to any bar cart.
Tequila snobs will love Olmeca Altos' smooth añejo expression, which is aged for 18 months in oak barrels. The round, smooth amber liquid packs a flavorful punch with notes of vanilla, cinnamon and ginger, so it's great for sipping neat but stands up well in cocktails, too. The bold, heavy bottle also makes for a great vase or planter after the liquid is gone.