Anyone who ever volunteered to go with their mom to the bank as a child has one thing in common: an unconditional love for lollipops. But now that we're adults and our days of getting away with blue-raspberry stained tongues are behind us, we need a new sucker to fill the Dum-Dum void. Thanks to these master alchemists, we can now indulge in boozy lollipops and feel like a wide-eyed kid in the candy store (or bank) again.
Recommended Video
The Best (and the Rest): Best Easy Ramen Hacks and Winter Beers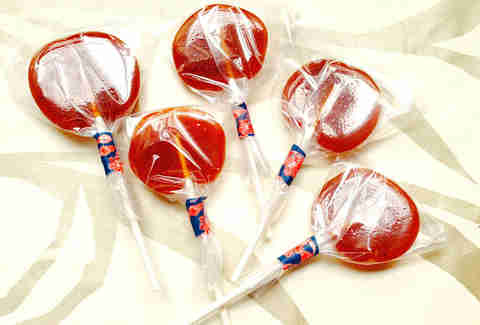 Bourbon and Ancho Chile, Pop Organic
Sweet and savory, these lollipops use ground up ancho chiles for a touch of mild heat, marrying the smoky flavors of bourbon and chiles. Pop Organic, a Minnesota-based Etsy shop, also sells Jim Beam Whiskey Cream pops, as well as Eggnog lollies (made with real Jamaican rum) for the holidays.
Flappers & Gin, The Groovy Baker
Anyone throwing a Gatsby-level shindig needs these opulent Flappers & Gin lollipops. Made by New York-based Etsy shop The Groovy Baker, these lollies are Infused with Bombay Sapphire, whose signature blue bottle inspired the treat's vibrant color. The citrus-gin pop includes a touch of rosewater and cardamon and is finished with tiny sugar beads or "pearls." The shop also sells a vast range of creative boozy lollipops, including Grand Marnier, Chambord and Baileys flavored sweets.
Mai Tai, Holly's Lollies
Proving that the tiki trend knows no bounds, U.K.-based Holly's Lollies has created Mai Tai lollipops, which are made with real rum and zesty lime and orange flavors (a nod to the orange curaçao in a traditional Mai Tai). Rum fans will be delighted to hear that Holly also sells Mojito, Daiquiri and Piña Colada pops, as well as an authentic British Cider lolly if you're craving a crisp apple sucker.
Pinot Noir, QUIN Candy
If you're looking for the perfect sweet to suck on with your girlfriends at the next Wine-Not Wednesday gathering, this Pinot Noir lollipop is for you. The Portland-based QUIN Candy sources their wine from Union Wine Co. in Oregon. Prefer a bottle of white? Try the peach and pear-forward Pinot Gris lollies instead.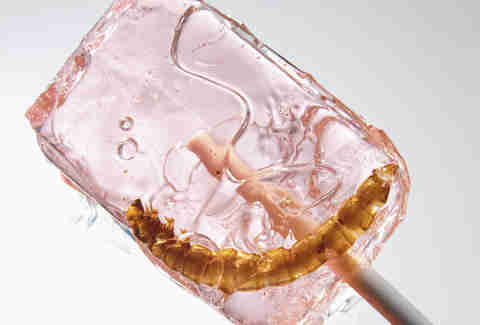 Tequila Worm Sucker, Hotlix
In honor of the bizarre, pointless tradition of adding a larva to a bottle of tequila or mezcal, Hotlix traps the little critters in their tequila flavored lollipops, which sadly don't contain real alcohol. Just how many licks does it take to get to the free worm inside? Well...how about you go first?