The 6 Most Baller Cocktails to Drink in NYC Right Now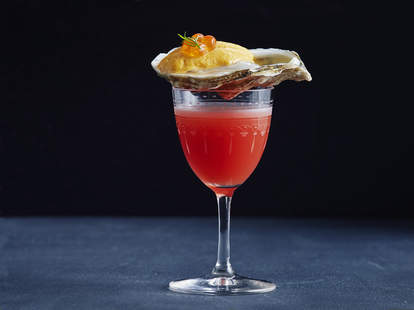 Drinking like a certified baller in New York City requires more than just obnoxiously hollering for bottle service at the club; a real baller orders mic-drop-worthy cocktails. We're talking insane, amazing, over-the-top, holy-crap-I-can't-believe-that-really-exists cocktails. Whether you have $20 to drop or $200, here are the most luxe, baller cocktails you can order in NYC right now.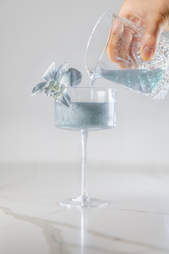 Courtesy of Delilah
Platinum Margarita at Delilah
An Instagrammer's dream come true, the Platinum Margarita at Delilah, a swank LES cocktail lounge, is a swirling, glittering drink made with Gran Patron Platinum, edible silver flakes, agave, lime juice and homemade rose water. Garnished with a marshmallow-flavored silver orchid, the drink swirls around of its own volition (check it out). While the cocktail was originally a limited time offering, it can still be ordered 24 hours ahead of time for $100.
Courtesy of Chez Moi
Bourbon, port, walnut bitters, Sauternes and foie gras: This decadent cocktail is like an internal hug from your rich Upper East Side aunt. Essentially a liquid translation of the Brooklyn bistro's foie gras appetizer, the cocktail is available for a mere $15 and comes topped with shavings of its creamy, unctuous namesake.
Courtesy of Le Coq Rico
This umami-rich take on a Champagne Cocktail is made with Champagne, of course, as well as house-made black truffle syrup and black truffle-infused vodka. And these aren't just any truffles. These are truffles from the Richerenches market in Vaucluse, France, a region known for its potent, aromatic fungi. At just $19 upon request, it's a steal.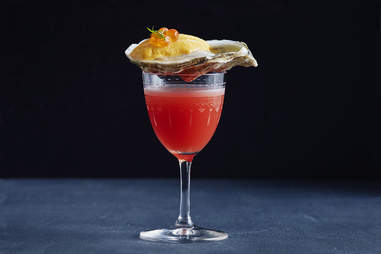 Courtesy of Sushi Seki
A cocktail topped with an oyster? Pretty cool. But a cocktail topped with an oyster, topped with sea urchin, topped with salmon roe? That's straight up epic. The Umi cocktail ($13) at Sushi Seki is a semi-savory drink made with smoky mezcal and dashi-tomato water. Slurp down the roe-topped oyster, then chase it with the ruby red shooter, or try it the other way around. It's up to you. You're the shot-caller—literally.
Courtesy of Slowly Shirley
Julia Child (with Caviar Supplement) at Slowly Shirley
Slowly Shirley, the underground cocktail den beneath the West Village's Happiest Hour, partnered with ROE Caviar to give their drinks an extra luxe pop. For just $4, guests can add a spoonful of sustainably sourced American white sturgeon caviar to one of several drinks. Our favorite is the Julia Child, which blends briny fino sherry, Perry's Tot gin and celery bitters, a mix only improved by a dollop of silky fish eggs.
Courtesy of NYLO
This iridescent cocktail was created for NYLO hotel's Silent Cinema, a series of films about art accompanied by themed cocktails, which the hotel offers in its library. Inspired by the film, Girl with a Pearl Earring, it's made with vodka, pearled vanilla bean syrup, Lillet, Cointreau, lemon juice and mint bitters. Garnished with chocolate candy pearls, it's almost as impressive as a real Vermeer.