The Best Dive Bars in America's Biggest Party Cities
Party cities are great getaways—especially if your hometown is on the quiet side. But sometimes, after a couple nights of strobe-light-fueled raging, you want something a little more low key. Enter the dive bar, the sometimes-shabby-but-always-comforting oasis amidst the shiny cocktail dens and fist-pumping DJ dance parties. The next time you find yourself in one of America's favorite party cities, take shelter in one of these dive bars and drink like the locals do.
MIAMI
Mac's Club Deuce
South Beach is wall-to-wall flashy clubs and overpriced Mojitos, but you'll forget all about those bumping beats and sugary drinks when you step into Mac's Club Deuce. As the oldest bar in Miami, the joint has seen some things. The owner, Mac Klein, ran the bar until he was 103-years-old (he recently died in March of 2016). Though Klein is gone, the bar remains a harbor for anyone who needs a strong, cheap drink. There's a 2-4-1 happy hour, indoor cigarette smoking, a pool table and some of the coolest neon signs we've seen in Miami.
LAS VEGAS
Champagne's
You're not going to find much fine Champagne at this legendary dive, but you will find lots of cheap beer, live entertainment and a much needed break from the glitz and commotion of the Strip. Located east of the main drag, this bar has been serving locals and in-the-know visitors since it opened in 1966. Velvet walls and vinyl booths set the mood as the dulcet tones of Dean Martin and Frank Sinatra waft from the jukebox, taking you far away from the club promoters and Sex and the City-themed slot machines. This is still Las Vegas, though, which means video poker is available, as is karaoke.
NEW ORLEANS
Snake and Jake's Christmas Club Lounge
It's Christmas year-round at this legendary Uptown NOLA dive—but not the holly jolly type of Christmas. Snake and Jake's brand of holiday joy calls for plastic shots of whiskey, cheap Abita, the occasional loose dog and staying open until 7 a.m.—joy to the world, indeed. Housed in a rickety shack with low ceilings and mismatched furniture, Snake and Jake's is lit only by strings of red Christmas lights for a cozy, murder-y kind of feeling. Between the beer-shot combos and WWOZ on the radio, you'll let go of those bad Bourbon Street memories and learn to drink like a real New Orleans native. Don't miss their daily happy hour from 7-10 p.m.
LOS ANGELES
Jumbo's Clown Room
Part dive bar, part burlesque cabaret, this popular Thai Town spot features plenty of cheap drinks with acrobatic dancers to boot. Non-nude, tattooed dancers perform all kinds of gravity defying tricks as you watch in awe with a $5 well drink in hand. The performers choose their own songs from the jukebox, so expect to jam out to everything from Black Sabbath to showtunes. If there's a line—which is common on weekends—we suggest grabbing a quality cocktail at nearby Harvard & Stone before heading back for your Jumbo's fix.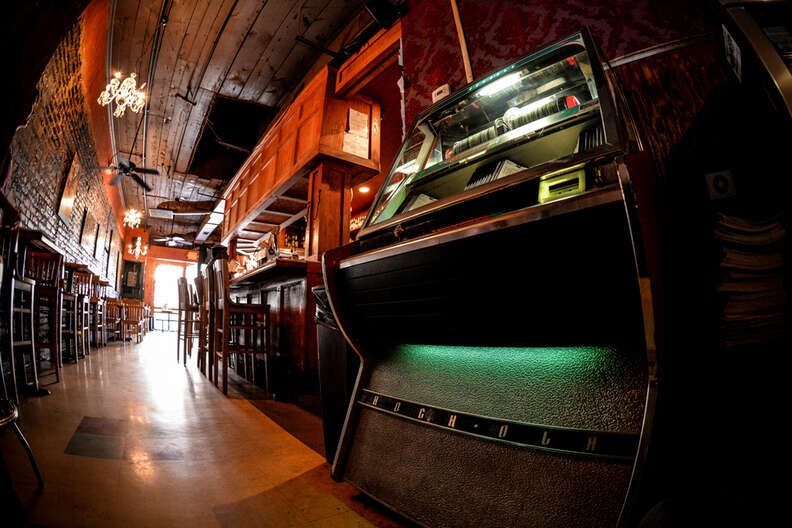 ATLANTA
The Righteous Room
This cozy watering hole is next door to the oldest cinema in Atlanta, which makes it the perfect place to stop in for a pre- or post-movie drink. The drinks are cheap, there's a solid beer selection and there's even a menu of munchies to keep you going strong all night long. Tuck into a turkey melt—stuffed with turkey, onions, white cheddar and horseradish sour cream—grab a cold one and marvel at the tree growing out of the middle of the floor.
NEW YORK CITY
Lucy's
Amidst the widespread gentrification of New York City's once grungy East Village neighborhood, only a few of the great original bars remain. If you want to escape the fratty NYU crowds, look no further than Lucy's. Ludwika "Lucy" Mickevicius has tended bar there for 35 years—even back when it was Blache's—and has owned the place for 17. She is still there every night slinging beers until 4 a.m. PBR is the drink of choice, but you can get a dram of your favorite spirit for next to nothing. Lucy's recommendation? Żubrówka and apple juice.
DALLAS
Adair's Saloon
If you need a break from Dallas's bank account-breaking bottle service clubs, this mainstay is the place to go for a bucket of Shiners and a perfect $7.50 cheeseburger. Frequented by famous folks like Elvis and the Dixie Chicks, the downhome saloon has been a neighborhood standby for decades. The excellent jukebox selection will keep you boot-scootin' if there's no live music, while shuffleboard and Big Buck Hunter will keep you busy. Don't forget to make your mark by signing the wall with your favorite Adair's memory.