The 13 Best Dive Bars in New York
While classy cocktail joints and speakeasies continue to crop up across the city, the great New York dive bar still exists. On a quest to determine the city's best, we drank our way through the boroughs looking for bars that met our requirements: cheap liquor and beer, a sense of nostalgia and belonging, minimalistic, possibly hazardous snacks, grit and a bartender who is welcoming but bullshit-intolerant, with a few jokes up his or her sleeve. Here are the best dive bars in New York.
Midtown Manhattan
Owned by two brothers from Queens, Billy and Mark (hence the name), this mailbox-blue brick building on the corner of 29th Street and 9th Avenue is in no man's-land New York, on the backside of Penn Station, elusive to all except the postal employees working nearby and dive bar aficionados. Opened in 1956, the bar offers no beer on tap and bottom-shelf liquor only. Expect dirty jokes, old men drinking all day (they open at 8 a.m.) and Beatles songs on the jukebox. One Yelp review reads: "Don't like drunks? You are in the wrong place." Just like home.
Chinatown, Manhattan
This Chinatown mainstay has been saucing locals since 1916. Its sordid past was filled with sailors, local Chinese gangsters, artists, bums and hipsters (Kerouac-style, not skinny jeans). In the 1950s the bar was dubbed "The Bloody Bucket" due to all the brawls and stabbings that occurred there. In fact, violence was so common that the bar enlisted the help of a Doberman Pinscher for added protection. Current owner Charles Hanson pays homage to the bar's deviant past with the Bloody Bucket Mary cocktail, and keeps the vibe as seedy as possible. The bar also sells forties of Colt 45 and dangerously boozy Piña Coladas. The icing on the cake is a leopard print pool table in the back room.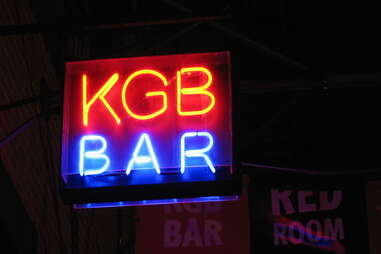 East Village, Manhattan
In the 1940s, this aptly named East Village establishment was a boozy hideaway for the Ukrainian Socialist Party and home to their secret meetings. In its current iteration, this infamous locale has become a New York literary institution, with nightly readings and local literary icons haunting the bar like the giant portraits of former Soviet party leaders that loom down from the blood-red walls. If literature and poetry aren't your thing, there are over 40 different vodkas from which to choose behind the bar and not-so-secret movie nights.
SoHo, Manhattan
From the beginning of the 19th century until the late 1980s, the Bowery neighborhood was a notoriously skeezy part of town, home to flophouses, homeless missions, bars and debauchery. The last of the original Bowery bars, this no-frills establishment opened in 1880 and has been slinging drinks ever since. A tight squeeze when crowded, Milano's hosts an assorted group of regulars (including a few Supercall staffers), who represent the neighborhood's decades of change.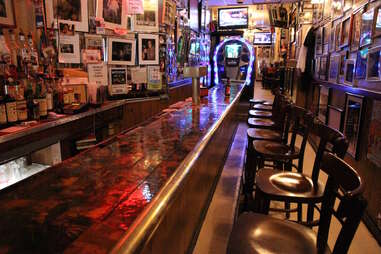 Time Square, Manhattan
With nearly 50 years of service under its belt, Jimmy's Corner is one of the last remnants of the Old Times Square. Owner Jimmy Glenn (who you just might meet behind the bar if you're lucky) was an amateur welterweight and former boxing trainer. Every square inch of the bar's walls are adorned with iconic boxing memorabilia—look closely and see if you can find the photo of Mr. Glenn with Muhammed Ali. The bar is long and narrow, with $4 beers and, if you're willing to listen, a talkative group of regulars who will regale you with tales of the good old days.
Hell's Kitchen, Manhattan
This Hell's Kitchen staple has everything you could want from a seedy dive bar. Weird, completely irrelevant name? Check. Ultra-kitsch decor that's borderline '50s tiki? Check. Bottom of the barrel, bargain-bin liquor at low, low prices? You got it. Somewhat confusingly, the bar has recently adopted a Latin vibe, with a ranchera-heavy soundtrack, which you can listen to at a gated, private table in a mirrored back room.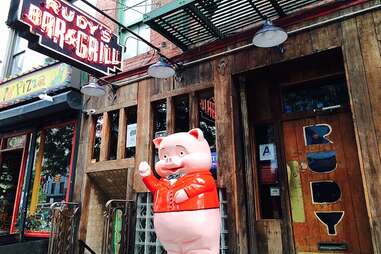 Midtown, Manhattan
Rumour has it this bar holds the first liquor license ever issued in New York post-Prohibition. Once frequented by icons of all stripes, from Al Capone to members of the band Steely Dan (who penned a verse about the bar in their hit song, "Black Cow") to Norman Mailer, this Hell's Kitchen favorite is also famed for its mascot: a really, really large pig wearing an orange sport coat and a bowtie standing outside its doors. The perks of the bar are a raucous party vibe with happy-go lucky drinkers, $8 pitchers, easy conversations and free hot dogs.
Williamsburg, Brooklyn
Turkey's Nest is the last vestige of unadulterated diviness in Brooklyn's trendy Williamsburg neighborhood. The crowd inside is a mix of blue-collar workers, early morning drunks, old timers watching TV, dedicated Quick Draw lottery gamers and hipsters (this time we do mean the skinny jean types). Whatever time of day, there's always a pool game in play and classic rock blaring on the jukebox. For $9 you can get a 32-oz styrofoam cup filled to the brim with a super-strong frozen Absinthe Margarita.
Boerum Hill, Brooklyn
A beacon of comradery on a dull lifeless stretch of Atlantic Avenue, where '70s urban blight meets the modern blight of Downtown Brooklyn, this bar is immediately recognizable by the painted bright orange flames that lick the black exterior. Inside, the bar is dark and sagging, with a dank smell of stale beer and a mix of honky-tonk, punk and metal on the jukebox. Live bands perform nightly on a small stage enshrouded in chicken wire, adorned with an Elvis bust and a giant American flag. In another life, this bar served the Mohawk steelworkers living in Boerum Hill when it was a Native American community village.
Red Hook, Brooklyn
Built in the former home of a locals-only social club and make-shift bait shop, this Red Hook, Brooklyn bar was designed as an ode to New York dive bars of the past (an imposter!). However, in the last 12 years the bar has, fortuitously, become one of the city's best real deal dive bars, outshining even the gritty joints it once sought to emulate. The staff are steadfast against change, as are the bar's devoted, nightly regulars. After-hours debauchery is common if not expected. With decaying taxidermy, fishing knickknacks and layer upon layer of souvenirs, photos and graffiti tacked onto the ceiling and walls, the bar looks like a set piece from The Texas Chainsaw Massacre.
Midtown, Manhattan
Forced out of its original location in 2014, this 77-year-old Midtown stalwart luckily reopened its doors only a stone's throw away on 2nd Avenue. As an added bonus for the die-hard regulars, the new location looks exactly like the old location (if a little cleaner), right down to the black and white floor and the iconic neon signage. Owned by Marcello and Patricia Salinas for the past 40 years, the bar slings cheap beers galore and dynamo wings.
SoHo, Manhattan
Opened in the 1920s as an illegal "to-go" speakeasy serving buckets of beer, this bar has gone through many transformations over the years. The best time to go to is during the day, when it's a sleepy old man bar with a giant corner window perfect for people watching. At night and on weekends, the bar is packed with rowdy tourists, passersby and after-work suits, with an atmosphere that's more akin to funky house party. With a great beer selection, free beer-braised hot dogs on Wednesdays and a "Kegs and Eggs" special in the morning, this dive is a classic neighborhood hang.
Brooklyn Heights, Brooklyn
Opened in 1939, Montero's is the last of the longshoremen bars at the end of Atlantic Avenue. Though a shadow of its former self, the bar serves as a memorial to Brooklyn's bygone era as a port town. The inside of the bar resembles a nautical museum, with a collection of artifacts from visiting sailors and travelers. American flags hang lazily from the walls, along with dozens of paintings of ships, while wooden model ships hide in dusty nooks and lifesavers dangle from the ceiling. Raucous Friday night karaoke parties bring the bar back to life.