The 7 Best Martini Bars in America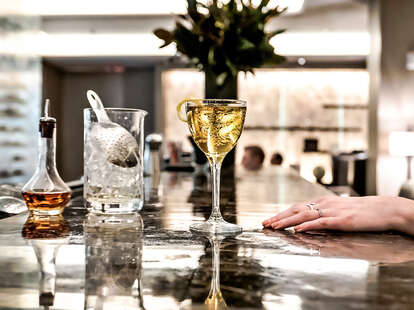 Courtesy of Charlie Palmer at The Knick
Finding a good Martini isn't a difficult task—most mid-range bars and restaurants know how to make a halfway decent one. But finding a great Martini—now that takes digging. There is an art to perfectly chilling and diluting such a strong, booze-forward cocktail, and garnishing it just so.
Here, the best bars and restaurants in America known for their impeccable Martinis.
This Haight-Ashbury mainstay has been serving stiff martinis since 1941, and some of its decade-long regulars can tell you about the bar's late owner, Bruno Mooshei. The gruff barman was known for kicking out customers left and right, maybe because he just didn't like their looks, or possibly because they dared sit at a table rather than at the bar. But the ultra-chilled Martinis were worth risking his hot temper. Bruno's "pounded" Martinis remain legendary to this day. To get the cocktail extra-cold, he would add gin and a tiny bit of vermouth to a mixing glass and muddle it vigorously with ice until the liquid reached the perfect temperature and dilution. Though Bruno passed away in 2000, Aub Zam Zam is still known for its plush Persian decor and expertly-made Martinis.
The history of the Martini is widely disputed, but our favorite tale tells of its creation at New York's Knickerbocker Hotel. Legend has it that Martini di Arma di Taggia—who happened to be John D. Rockefeller's favorite bartender—invented the cocktail there in 1912. Though the hotel closed in 1921, it recently reopened in February of 2015, and its signature restaurant, Charlie Palmer at The Knick, pays homage to its history in the best way possible—a Martini cart stocked with Tanqueray 10 Gin, Noilly Prat Vermouths, bitters and garnishes—that rolls right to you for a tableside show.
Speaking of Martini carts, the Cherry Circle Room is another fan of the old-school cocktail service. Nestled on the second floor of the historic Chicago Athletic Hotel, the bar is led by beverage director Paul McGee—also known for his bar program at Three Dots & A Dash—who believes that you never receive more personalized attention than when the bar comes to you. Though the cart offers a rotating selection of Manhattans and Old Fashioneds as well, we're here for the Martini. Guests choose from three gins, three vermouths and three garnishes to create their ideal version of the classic cocktail.
You may be familiar with Memphis' historic Peabody Hotel because of their iconic daily duck march. Oh, you haven't heard of the daily duck march? Allow us to explain: Every day at 11 a.m. and 5 p.m., the Peabody's duckmaster marches the hotel's pet ducks from their home on the roof to the Lobby Bar fountain. It's an adorable tradition that draws tourists and locals alike in to watch the show. Of course, the ducks aren't the only reason to visit. The Peabody Lobby Bar has won numerous awards for their house Martini, so we humbly suggest grabbing a seat with a cold one in hand and taking in the 5 p.m. march for an unforgettable cocktail hour.
Remember that episode of Mad Men in which Don Draper gets Roger Sterling sloshed during a marathon Martini lunch to get back at him for making a drunken pass at Betty? That scene was shot at the iconic Hollywood restaurant, Musso & Frank Grill, which has been serving up expertly crafted Martinis since it opened in 1919. Everyone from Charlie Chaplin to Keith Richards has eaten and imbibed here, and many were served by their legendary bartender Manny Aguierre, who has been mixing Martinis at Musso & Frank for 25 years. The restaurant's version of the classic always comes with a sidecar of excess cocktail so you can refill your glass as it comes dangerously close to empty.
You could take our word that Oliver's Lounge has one of the best Martinis in the country. Or you could look to their many awards: The bar has won the International Martini Classic Challenge eight times. They've been slinging the classic cocktail to the dulcet tones of live jazz for 40 years. Don't miss their Monday through Saturday aperitivo hour during which you can enjoy a Martini—garnished with their famous "drunken olives"—with a selection of complimentary appetizers.
If a trip to the Big Easy has you feeling some Vieux Carre and Sazerac fatigue, switch up your cocktail order at the recently revamped Bombay Club. Set inside the French Quarter's Prince Conti Hotel, The Bombay Club boasts one of the city's best bar programs. Developed by beverage director Blake Kaiser, the menu features more than 50 cocktails including a selection of Martinis—there's everything from a classic dry version to their signature take, which gets a sweet, rich kick from maraschino liqueur.