The Best Subscription Cocktail Services, Ranked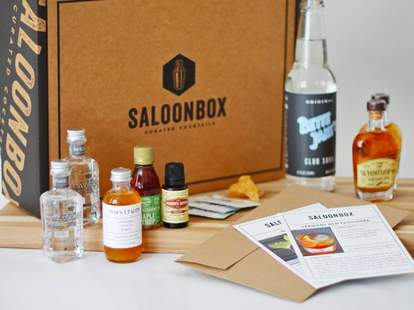 The world is chock-full of meal kit delivery services: Hello Fresh, GreenGurus, Purple Carrot and, of course, Blue Apron. (We wouldn't dare forget about that last one—we hear too many ads for it on our podcasts and see too many banners on the subway to ever forget about it.)
Now finally, FINALLY, boozy delivery services are on the rise, and there are a number out there promising to deliver the ingredients necessary to make bartender-worthy cocktails in the comfort of your own home. And though there really isn't a bad apple in the bunch—friendly reminder, alcohol is being delivered to your doorstep—some may be better than others, depending on your own personal preferences and cocktail know-how. To help you find your ideal service, we took it upon ourselves to test out a few (it's a hard job, we know). Here's what we found.
Courtesy of Shaker & Spoon
Price: $50/month
Every month, a number of experts in the field create three original cocktail recipes for the company featuring a highlighted liquor. All of the ingredients for those cocktails—including fresh produce and housemade bitters—can be found in the box, with enough to make four of each drink. The catch: You provide the liquor. Shaker & Spoon explain that adding a full-size bottle of alcohol to the box means an upcharge for a lower quality liquor brand and less room for high quality mixers. It's worth noting that the company chooses which liquor is highlighted every month, meaning this club is for adventurous and open-minded drinkers only—vodka purists need not apply.
We lit an Underberg bitters-coated rosemary sprig on fire for the Flaming Rosemary Gimlet, and took flight with the Take Flight cocktail, featuring cold brew coffee and cherry demerara syrup. And we're already lamenting running out of the spiced persimmon cordial called for in the Above a Persimmon, which was delightfully sweet-sour. Just one word to the wise: Stock up on extra produce; we found that some recipes only had enough for two cocktails instead of the promised four.
Courtesy of Bitters + Bottles
Price: $89/box
The San Francisco-based craft liquor store also doubles as a cocktail subscription service, using the appropriate slogan, "cocktail class delivered." The premise: To help you create a great at-home bar while educating you at the same time. The four to seven items in each box include full-sized bottles of liquors, bitters and mixers. Also included are 101s, how-tos, five classic cocktail formulas and 10 basic recipes. The first box in the subscription contains bourbon—ours included Buffalo Trace, sweet vermouth, Angostura bitters, Fever Tree ginger ale, and sour cherries soaked in syrup—with the following months getting progressively more esoteric. (Month three includes St. Remy, Bénédictine, and Combier orange liqueur, for example.) The company vows you will never receive the same bottle twice. All in all, perfect for newbies—and for those concerned about (bottle) size.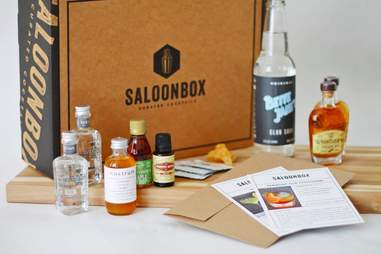 Courtesy of SaloonBox
Price: $37.50 month-to-month
SaloonBox charges such a low fee because every box includes enough ingredients to make precisely two seasonal cocktails from two recipes—including airplane bottle-sized top shelf spirits. Because of this, the packaging is also pint-sized (and cute!), making shipping costs next to nothing. Our box featured Jameson Irish whiskey, raspberry preserves and Earl Grey tea for the Irish Breakfast cocktail, as well as Owl's Brew Wicked Green tea, Casamigos tequila, La Croix sparkling water and sea salt for the Wicked Luck. Also included is a letter describing the thoughts behind the two cocktails and a bonus bar tool. (Free cocktail jigger, ftw!) In short, SaloonBox is great for the customer looking to seek out new liquors without committing to a full bottle.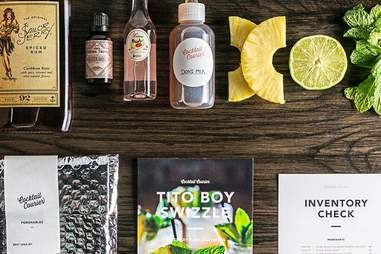 Courtesy of Cocktail Courier
Price: $39.99
Brought to you by ShakeStir, the Chicagoland-based online community for professional bartenders, Cocktail Courier is simple: Select the preferred liquor of your choice and put your faith and trust into the hands of the professionals. Bartenders from the ShakeStir community frequently submit recipes to a competition, and the winners are featured in upcoming kits. These recipes are more intermediate than your classic cocktails, with flavors sure to diversify the palate (think tamarind syrup and Jamaican bitters, shaken with Johnnie Walker Black Label, fresh lemon juice and Angostura for the Tamarindo de Playa cocktail by Ezra Star). The cocktail kits arriving on your doorstep include everything needed to make four to eight servings of the recipe given. And there's an inventory checklist to make sure you have your affairs in order.
Subscription Price: $100-200/month
This cocktail kit includes all the bells and whistles. The company offers three options to choose from: mixers, monthly, or premium, priced at $100, $150 and $200, respectively. The monthly kit includes full-sized, hand-selected spirits, unique mixers not easily found in your local liquor or grocery store, and special accoutrements to jazz up your cocktail. A recent kit included Macchu Pisco Quebranta, Tippleman's Double Spiced Falernum, Wild Hibiscus Flower Co. B'lure Butterfly Pea Flower Extract, gold dust, cocktail picks and napkins. Also included: a clever infographic on exactly how to make the featured cocktail as well as food pairing suggestions.
Crafted Taste is brainchild of restaurant-critic-turned-founder Kat Rudberg, who wanted to share her favorite pastime of trying out cocktails at bars across the country with the world. The company taps bartenders like Gaby Mlynarczyk (Birch, Los Angeles, CA), Megan Deschaine (492, Charleston, SC) and Jimmy Hillegas (Frolik Kitchen + Cocktails, Seattle, WA) to share their favorite recipes. "You get a certain feeling when you sip a good cocktail…what the place and time was like," Ruberg says. "There's a sense of nostalgia." And there's no place like home for a good strong pour of nostalgia.