The Best Rooftop Bars in the U.S.
Along with outdoor brunch, sunny days and cool breezes, rooftop cocktails rank with the greatest pleasures of summer. Sipping a great drink while soaking in a spectacular view and hanging with your friends—does it—can it—get any better than that? To help elevate your rooftop drinking game even more, we rounded up our favorite high-altitude bars from New York to LA. From sky-high towers with commanding views to snug hideaways that'll make you forget you're in a city, there's a stunner in here for you, whether you're kicking off a summer night on the town, or donning your shades for an afternoon in the sun. Take a look:
Los Angeles
Beat the rush and arrive half an hour before sunset. Take the speedy elevator up 950 feet to—yes, the 71st floor—of this downtown LA tower and enter the highest restaurant West of the Mississippi. The views alone are worth whatever you spend here. Wash down poached uni and barbecued octopus with the West Hollywood, a refreshing-tasting vodka and apple-brandy cocktail, or one of the other next-level mixed drinks on Sky Lounge's concise but pleasing bar menu. It's hard to go wrong. On a clear evening, you can see every LA landmark from Dodger Stadium to the beaches of Malibu, from Catalina Island to the Hollywood sign. The drinks are dreamy, the heights are dizzying, and the overall experience is dazzling. —Melissa Seley
Brooklyn
Westlight is the literal capper to Andrew Carmellini's food and drink trifecta at The William Vale in Williamsburg. (He also has an Italian restaurant and a "roadside burger" trailer at the hotel.) Twenty-two floors up, the chic lounge has unbeatable views of the Manhattan skyline to savor along with Anne Robinson's excellent cocktails. The PDT alum concocted a list of rooftop-friendly drinks—think playful riffs on classics and intriguing originals —to go with global snacks (shrimp cocktail dumplings, duck carnitas tacos) from chef Anthony Ricco. It's open all year round thanks to a floor-to-ceiling glass enclosure, but the killer cityscape is best appreciated during warm-weather months when the terrace—outfitted with plush yellow couches—re-opens for prime rooftop season. —Patty Lee
Washington, D.C.
There are only a handful of rooftop bars on the planet that can claim a plum view of the White House, and P.O.V Rooftop is one of them. The bar sits a block east of 1600 Pennsylvania Avenue, NW, on top of the W Hotel. Shift your gaze slightly from the power center of the free world, and you get a clear view of the Washington Monument. Drinks here are definitely political, with pointed, and punny, titles. The bar also serves the official cocktail of D.C., The Rickey, which you can order with gin or vodka, topped with half a lime and soda water. Try to grab a seat by the terrace because it makes for good people watching, especially when Marine One is coming in for a landing on the South Lawn. —Tim Ebner
Atlanta
It may have seemed like a farfetched notion to put a beer garden on top of what used to be Atlanta's East City Hall building. But when you experience the view from 9 Mile Station at Ponce City Market, with its sweeping vistas of the Atlanta skyline, you'll understand it was (literally) a visionary idea. The 9 Mile menus are equally eye-catching: Alongside a huge range of craft beers, there's a beer smash (choose your spirit, from vodka to bourbon, and mix it with fresh fruit and beer), a delicious tropical vodka cocktail, and other options to please any type of tippler. As for food, you can go small plate with BBQ chicken and pork skewers, have a medium serving of lamb bolognese, order the whole fish of the day, or get silly with sausages by the inch (bratwurst, kielbasa, and merguez). You can also branch out with the picnic-basket option ($115, serves four) and take it to adjacent Skyline Park for a round of carnival games, with the city views as your sparkling backdrop. —Mike Jordan
Miami
For clever cocktails, beautiful people-watching, and even more beautiful sunset views over the sizzling downtown Miami skyline, you can't beat Sugar, Miami's most gorgeous rooftop bar. Nestled on the 40th-floor rooftop of the EAST, Miami hotel—and lavishly landscaped with light-strung Japanese Privet trees, cocoplum shrubs, and inviting sofa pits—this see-and-be-seen spot has a cloistered garden vibe to go with the sensational wide-open scenes visible off every side of the rooftop. Asian cuisine inspires both the sumptuous food (Thai Pork Panang Curry, Chicken Makhanwala) and the signature cocktails. Settle in with samples of both, and stay till long after you watch the sun sink below the horizon. —Jennifer Agress
Las Vegas
Perched on the 55th floor of the Ivory Tower of the Palms Casino, Ghostbar opened its doors in 2001 and has been a haven for locals and tourists alike ever since. The bar offers an ornate lounge setting with open format DJs—not to mention floor-to-ceiling windows that optimize the world-famous views of The Strip and Las Vegas' neon skyline. Ghostbar serves as a great space for some of the best networking in town, and A-list celebrity sightings are not uncommon either. On summer afternoons, experience Ghostbar Day Club (GBDC), a kind of sky-high carnival featuring costumes, nostalgia themed parties, and enjoyable silliness, sometimes involving mini-tricycles. Ghostbar is a legendary spot that delivers traditional Vegas thrills while maintaining a lower-key vibe than typical venues near the Strip. —Jayme Lamm
New York, NY
Gallow Green is New York City's dreamiest drinking destination. With a repurposed train car that doubles as a cocktailing space and lush, and overgrown greenery sprawling everywhere, the bar is less about the views than about being a true sanctuary from the big-city hustle. It sits on top of Chelsea's McKittrick Hotel—not an actual lodging establishment, but an interactive theater space—and doles out zesty drinks, including punches served in Instagram-friendly copper bowls that will kick off your outing in style. There's also a tempting menu that includes crispy suckling pig, mini lobster rolls, and pizza courtesy of the recently installed wood-burning oven. Visit during summer when the greenery is at its peak and lose yourself in the otherworldly atmosphere for a few hours. —P.L.
Los Angeles
The menu here veers so hard from highbrow to lowbrow you might get whiplash: there's a $100 punch bowl right next to a bowl featuring a mix of your local quickie-mart's most day-glo colored snack foods. But this downtown oasis makes it all work—and then some. Surrounded by skyscrapers, furnished with artisanal white barrel chairs, and featuring Spanish-Gothic architecture around a minimalist concrete pool that reflects the city lights, Upstairs is as hip as it is glamourous. The venue's daily events (from DJs to book signings to live bands), its standout cocktail menu, and of course, its terrific views, seal its status as a top-shelf rooftop spot. —M.S.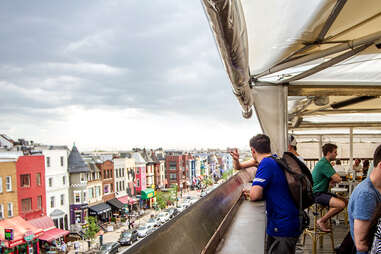 Washington, D.C.
Its name may be a little on the nose, but that doesn't change the fact that Roofers Union is a sensational place to enjoy a drink high up on a perch overlooking the main drag of D.C.'s Adams Morgan neighborhood. The area is one of the biggest nightlife hubs in the city, and an ideal place to launch a night out in the nation's capital. Roofers Union has one of the most comprehensive beer menus in D.C., along with a well-curated roster of mixed drinks. Not sure where to start? Simply ask beverage director Dave Delaplane for a few recommendations, and he'll steer you right. You also can't go wrong with the menu of bar snacks that includes Sriracha honey glazed wings, potted pork with crackers, and house-made sausages on a pretzel roll. —T.E.
Atlanta
This inside/outside space atop the Glenn Hotel in the heart of Midtown has had more than one life: It used to be B.E.D. Lounge, where people reclined on beds during a night on the town (remember when that was a thing?). Now, it's crystalline views of Atlanta's glassy central skyscrapers will have you standing at attention—or, given the upscale, classy atmosphere, proposing to your supermodel girlfriend or closing a million-dollar business deal. (That vibe also means no ball caps, sweatsuits, sleeveless shirts on men or other questionable style decisions.) While the menu leans small-plate, that can be hacked by ordering the Southern Sampler of bacon-wrapped dates, pimento cheese, smoked trout dip, and lavosh crackers. Match that with a glass of wine or one of their five specialty cocktails and let your eyes roam the expanse outside the window, stretching from Downtown to Buckhead. —MJ