The Best Tiki Bars in America
Anyone can open a bar, throw some sand on the ground, put a Mai Tai on the menu and call it "tiki." But good tiki bars—ones serving classic drinks made with quality spirits, homemade syrups and fresh-squeezed juices—are harder to come by. Thanks to tiki's recent resurgence, though, more and more really great tiki bars are cropping up across the country every day. Here, the top 12 American bars keeping the tiki tradition alive while giving it their own unique spin.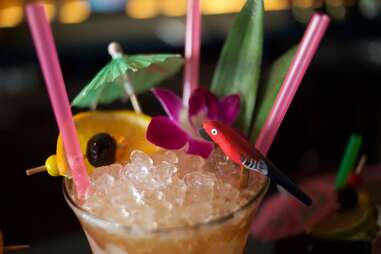 Brooklyn, NY
This tiki newcomer not only nails the genre's tropical flavors and breezy aesthetic, but also its easy going ethos. For owner Justin Olsen and his staff, it's all about having a good time. "We get to concoct some really wild stuff," Olsen says. "And the absolute over-the-top nature of tiki ensures that nobody gets too full of themselves—it is totally disarming." Expect a mix of old and new with ingredients like cashew orgeat and and an on-tap Sangria made with three types of vermouth and allspice dram.
Portland, OR
There's no questioning this bar's dedication to tiki. The dimly lit hideaway is decorated floor to bamboo ceiling with things like backlit tiki masks, glowing pufferfish and other Polynesian paraphernalia. And, of course, there's the menu packed with 42 tropical cocktails. "The tiki resurgence is bringing back a unique piece of American history and has revived wonderful, almost lost cocktail recipes," bartender Sierra Kirk says. The menu alone is worth the trip. Beautifully illustrated, it includes each cocktail's birth year and bar of origin as well as strength level and an indication of whether or not a drink is on fire. Do yourself a favor and make sure at least one of your cocktails is flaming.
Chicago, IL
Morse code for the letter "V" (for victory), three dots and a dash was the message broadcast to American troops when WWII came to an end. That message went on to inspire a classic tiki drink (Don Beach's ode to the soldiers who brought Hawaii's tropical flavors and Aloha shirts back to the states), which in turn inspired this fantastic, transportive Chicago bar. "People just want to have fun," Three Dots and a Dash beverage director Julian Cox says. "Tiki affords us that opportunity to get outside of ourselves and relax on an island somewhere." Settle into a drink served in an elaborate, custom-made tiki mug or bring a crew and dive into a large-format cocktail like the Bali Bali—a massive mix of passion fruit, orange, falernum, rum, Armagnac and gin served in a sea urchin bowl with dry ice.
Palm Springs, CA
Housed in the same space as the original Don the Beachcomber, Bootlegger Tiki uses only fresh-squeezed juices and homemade syrups for cocktails, both old and new. "My team's goal is to step away from the stereotype of everything in a tiki bar being extremely sweet and strong and lean more toward cocktails with a nice balance," says bar manager Chad Austin. You can order classics such as the Daiquiri and Poison Dart or opt for Bootlegger originals like the King Slayer—a take on the Jungle Bird with an addition kick from Donn's Spices #2 (vanilla syrup and allspice dram).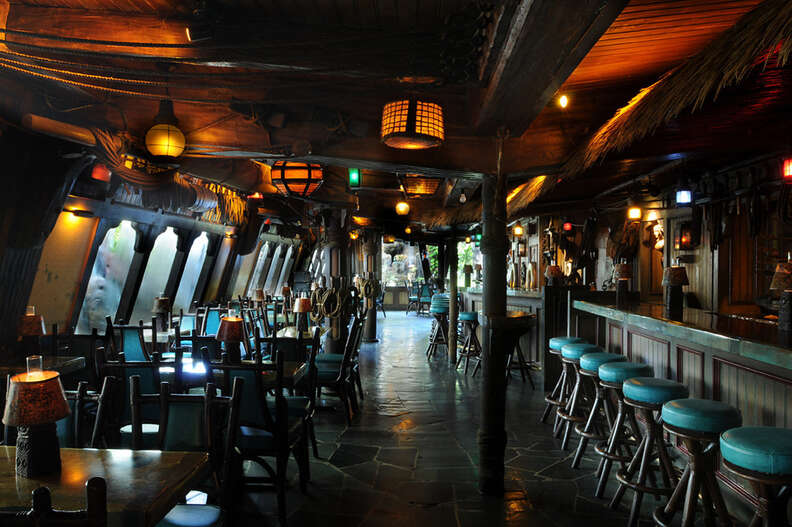 Fort Lauderdale, FL
"It's nice to see bars and bartenders putting the time and effort into creating a unique experience with every cocktail," Kern Mattei, the manager of Mai-Kai, says of the tiki revival. "All of this attention to tiki drinks is helping create a new audience of customers for us." Mai-Kai has been serving South Florida a taste of the Polynesian lifestyle since opening in 1956, and little has changed. The restaurant's Molokai Bar serves more than 50 tiki cocktails including the Barrel O' Rum and the Moonkist Coconut (served in a fresh coconut, and free to take home). Aside from cocktails and pu-pu platters, the bar also features nightly drum and dance performances.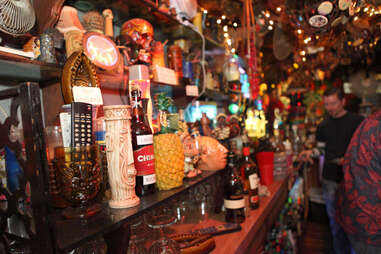 Los Angeles, CA
The drink menu at this L.A. mainstay is so big (94 cocktails, to be exact) that there is a printable checklist available on the bar's website for those who need an easy way to keep track of which ones they've tried. Opened in 1961 by Don the Beachcomber veteran Ray Buhen, Tiki-Ti serves exotic cocktails in a teeny-tiny, tropical knickknack-filled bar. The bar attracts regulars and tourists alike who sip Painkillers and Pearl Divers under strands of Christmas lights and dangling hula girls. The bar is known to keep weird hours, so check their calendar before you go.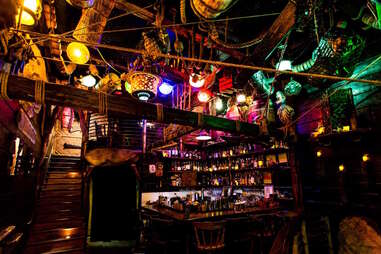 San Francisco, CA
When you pull up a stool at Smuggler's Cove, you get more than a cocktail—you get a tiki education. The menu features everything from traditional Caribbean creations to historic colonial libations to lost drinks from Prohibition-era Havana. Smuggler's Cove has more than 550 different bottles of rum on hand at a given time, including rare and vintage varieties and spirits made exclusively for them. They've won countless awards since opening in 2009 and are dedicated to using house-made ingredients and fresh juices. Grab a punch card to keep track of the cocktails you've tried—patrons who order all of them receive a gift and merit badge to honor their tiki dedication.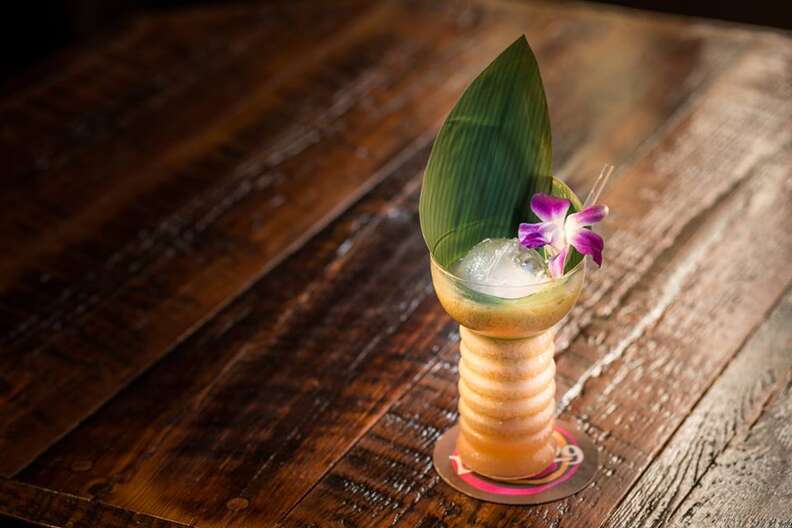 New Orleans, LA
Jeff "Beachbum" Berry has spent the last 20 years unearthing lost tropical drinks (we have him to thank for bringing back the Zombie), and now imbibers can taste his favorites at Latitude 29. The menu features cocktails like the bar's namesake drink—made with eight-year Demerara rum, passion fruit purée, homemade Madagascar vanilla syrup, orange, pineapple and lemon—as well as other classics like Navy Grog, Mai Tais and, of course, Zombies. Polynesian-inspired snacks like rumaki, pork ribs and a mahi-mahi banh mi are available to help soak up the booze.
Minneapolis, MN
Minneapolis might seem like an odd spot for a tiki bar, but during chilly Minnesota winters there's nothing better than stepping into the warm, tropical main bar at Psycho Suzi's (complete with an indoor waterfall). Aside from the inviting decor, there's also the draw of drinks like the frosty Beachcomber and the Scorpion Sting, served in a tiki mug you can take home for five bucks extra. Soak it all up with their take on the pu-pu platter, stacked with things like battered cheese curds (a Midwestern classic) and Polynesian-style wings.
New York City, NY
Mother of Pearl is one of the best designed bars in New York City—but it's more than a pretty space. The bar features a solid lineup of tiki-inspired libations and a vegan food menu that'll make you wonder why you ever needed meat in the first place. Head mixologist Jane Danger is a seasoned veteran, with an impressive resume that includes NYC cocktail revolutionaries like Death & Company, Little Branch and Please Don't Tell. She credits those craft stalwarts with paving the way for tiki's comeback. "They educated the drinking public on quality cocktails," Danger says. "Because of them, we can put a respectable drink in a shark head and dash it with fake blood. We can light things on fire. We can have fun in cocktail bars again."
Cleveland, OH
When Cleveland's Kon Tiki bar closed in 1976, it left a hole in the city's tropical cocktail landscape. Locals were hard pressed to find their fix until Porco Lounge & Tiki Room opened in 2013. The bar boasts one of the most thoughtful menu designs we've ever laid eyes on, complete with illustrations of zombies and ghosts wafting out of tropical drinks. Both the Painkiller and one of their signatures, The Bastards, can be ordered in three strength levels depending on your tolerance or mood. The classic Scorpion Bowl makes an appearance along with another large format drink called Tiki Bob's Concussion—which, the menu warns, is "served ONCE to you before being immediately CUT OFF."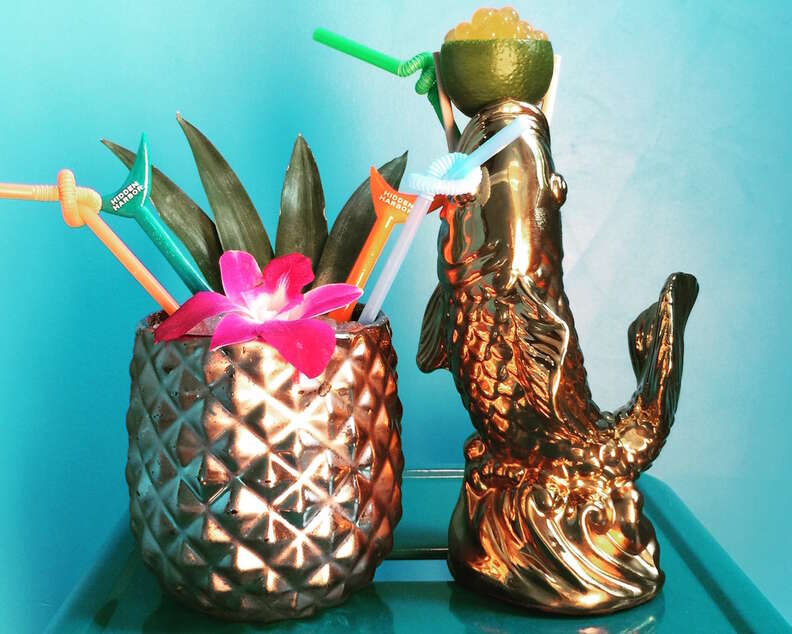 Pittsburgh, PA
Hidden Harbor is a modern cocktail spot dedicated to upholding tiki tradition. The bar showcases classic cocktails like Planter's Punch and Zombies as well as originals like Josie's Faraway Vacation—a mix of arrack, Jamaican rum, lime, curacao, basil, chili, ginger, mint and coconut. The bar also makes its own house five-rum blend that's featured in several drinks, most notably the Hidden Harbor Rum Barrel, which comes with a "very potent" warning and a one-drink-per-customer limit.