If breakfast is the most important meal of the day—and we don't doubt it for a second—then brunch, when breakfast expands its borders and annexes lunch, is the most important meal of the week. Nowhere is this more apparent than in the sun-soaked, completely packed seating areas of brunch-focused restaurants on late Saturday and Sunday mornings across the nation.
Brunch has become such a happening during the past two decades that restaurant owners have had to step up their games to keep pace. We spoke to a half dozen owners and managers of hot brunch spots from around the country to get their stories and find out how they do it—how they stay ahead of the competition, how they keep their cocktail lists interesting and relevant. In short, how they keep their edge in the brunch-spot hustle. Here's what they told us:
New York
Ron Silver, Owner
For many New Yorkers, Bubby's is practically synonymous with brunch. The Tribeca restaurant has been operating since Thanksgiving Day in 1990, when owner Ron Silver started slinging pies on the corner of North Moore and Hudson Streets. Breakfast soon followed, and so did the crowds.
How does a great brunch place stay great?
It's a challenge not just to be consistent and good, but also to keep ratcheting it up to see if we can do a better job. I try to see what other people are doing and saying, but I really like to keep our standards coming from within ourselves—not just from me, but from the entire organization. It's hard to open a restaurant, and you want hype to get busy, but you're in for a long haul. Being what I call 'cutest girl in high school' is not the best thing. It's better to have a slow arc.
Do you strive for a balance between high-end and approachable?
I cooked in the 80s for a lot of high-end and fine-dining restaurants and Bubby's was an opportunity for me to finally do whatever I wanted. Breakfast is my favorite meal of the day and when I was growing up, my mother was very creative with her weekend breakfasts, so we have simple things like our number one seller, the Bubby's Breakfast—it's bacon, eggs, potatoes and toast—but also our sourdough and sour cream pancakes, which are both at the top of the category.
What are the keys to keeping your cocktail list interesting?
One of Bubby's main philosophies is working in seasonality. We're going to do a spicy bloody Mary with pickled asparagus and another drink with pickled ramps. They grow on my partner's property and we use those.
How about your menu?
Two years ago, my wife and I moved into a new apartment and we were going through boxes of stuff and I found my original menu. The Day 1 menu. It's amazing how much of it, in a certain way, hasn't changed. A lot of our menu is based on what's available. Right now, strawberry and rhubarb are the only things that come in until June, so it's a long run with that. Then we start working in plums, peaches, raspberries.
You've been open since 1990. Do you have a lot of regulars?
There are probably around 50 people who have been coming since our first couple of months. I have one woman who's been eating here literally every single weekend for 26 years. [The actor] Harvey Keitel's practically been eating here since we opened. We also have a guy who has breakfast here seven days a week and orders the same thing every time.
What are your key customer-service policies?
We try to treat everybody like locals and regulars, whether they're movie stars or ex-convicts. —Patty Lee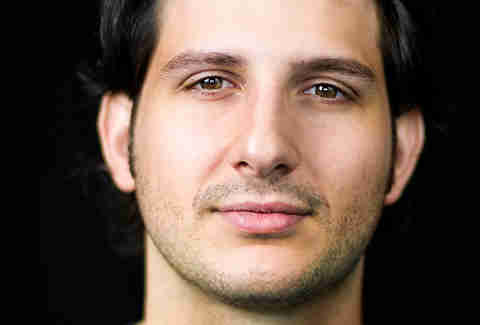 Miami
Giorgio Rapicavoli, Owner/Chef
The mellifluously named Giorgio Rapicavoli was named Miami's hottest chef in 2013. That's hot as in looks, not culinary success, but he's a strong contender for the latter as well: He's been nominated for James Beard awards, Food & Wine Best Chef shortlists, and in 2013, landed on Forbes' 30 under 30 list in the Food & Wine category. His first venture, Eating House, launched as a pop-up in 2012 and currently has "a minimum 50-person line out the door every Sunday at 11:00 a.m." Rapicavoli told us the secrets to maintaining that line—and keeping it moving—every week.
What makes a great brunch place stand out in Miami?
Flavors and dishes you can't get anywhere else! Our Cap'n Crunch Pancakes, for example, definitely set us apart.
How do you set your menu, and adapt it?
We have an a la carte menu that we change whenever we want. Honestly, we change it when we get bored of something.
You mentioned the Cap'n Crunch Pancakes. Do you strive for a mix of approachable, fun and high-end elements?
We like to make all of the aspects of our restaurant approachable, except for the flavor and attention to detail. That's where we go high-end.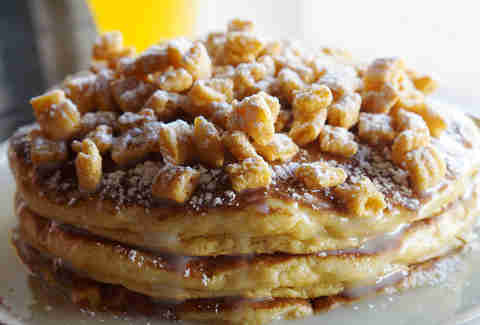 How do you keep your cocktail list on point?
You always need delicious flavors that have a proper balance of sweet, sour, bitter, and salty.
How do you manage wait staff turnover and training?
We don't have very much turnover, so for us, it's pretty simple: keep your staff happy, don't be a greedy owner, and always work with the team. 
What's the key to your customer service policy?
We strive to provide unique and tasty food and drink in a setting that anyone can enjoy. We're always having a good time—if you ask me, our servers are usually having more fun than the guests. —Jennifer Agress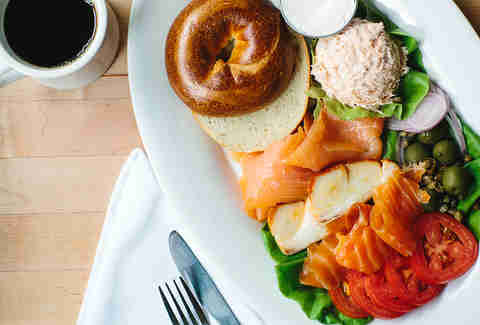 Atlanta
Todd Ginsberg, Chef-Partner
Shelley Sweet, Partner
The General Muir opened in February 2013, when Ben and Jen Johnson, longtime fans of New York City's Jewish delis, decided to open their own version of one in East Atlanta. (Visit their website to read the incredible story behind the name.) They cure and smoke pastrami in-house, make their own bagels, and, on weekends, crush the brunch game. Ownership partners Todd Ginsberg (who's also the chef) and Shelley Sweet told us how they do it.
How do you ensure your guests keep coming back?
Todd Ginsberg: People who brunch—and thankfully there are a lot of them in this city—are creatures of habit. I think that's because brunch is a meal that perhaps more than others provides comfort. So, consistency with respect to a guest's expectations has to be one of the most important things for a brunch place to continue to please guests. For that reason, we aim to limit changes on our brunch menu, except for a few seasonal adjustments.
What are the keys to keeping your cocktail list relevant and fresh?
Shelley Sweet: The cocktail menu needs to be simultaneously about trends and seasonality and rooted in the familiar. So, for example, knowing that a Bloody Mary is going to be one of our most popular brunch drink orders, we always have offered several variations. Our "regular" Bloody Mary is The General Mary, but we offer the Bloody Caesar, Spicy Green Chile Bloody Mary, and the Mezcal Mary, now, for example. We start with the familiar, but always provide an option for a guest to branch out.  
How do you get your kitchen staff primed for service at that hour of the day?
TG: We don't schedule doubles or closing shifts the night before running into opening brunch shifts. We also pay our cooks more for working brunch service than other shifts so that they benefit from being busier, just like front of house [tip-based] staff does. We have an "all hands on deck" mentality during brunch so there are layers of support for the staff that work those days.
Can you remember a time when something went way wrong, and how you handled it?
SS: A couple years ago, on a beautiful but cool spring day with lots of folks dressed in white, we had a full restaurant and full patio. It was busy, but running smoothly. I was in the kitchen when a server came over and said there was water coming down the windows on the patio. I looked in complete horror at more than 40 people rushing off the patio. The sprinklers in the ceiling had been activated by the the gas heaters and—incorrectly sensing fire—had gone off, soaking everyone with not just water, but also the black fire retardant in the water. I grabbed a big stack of business cards and rushed out to make sure everyone was okay. Handing out business cards, promising to pay for dry cleaning, and inviting them back for brunch on us. Almost everyone from that day has become a regular at the restaurant. Now, when I run into those folks we can laugh about the memory of that crazy day. I share that story with my management team as a lesson, because even though it was one of the worst days in my 15-plus years in hospitality, it was how we handled the situation that makes us who we are. —Mike Jordan
Washington, D.C.
Kevin Ramsey, General Manager
The brunch rush at Birch & Barley is no joke. On any given weekend, the restaurant, which opened in 2009 and quickly vaulted to popularity, can turn a table three times in a few hours. That keeps both the kitchen and front-of-house staffers on their toes. Yet brunch there never feels like a mad rush. It's a highly coordinated enterprise that looks almost effortless. That's mainly due to general manager Kevin Ramsey. He marshals dozens of staff members who rise bright and early on the weekend to pull off this seamless operation.
You've drawn the crowds to Birch & Barley. How do you keep them?
I think any great restaurant is defined by how well its service can operate, whether it's breakfast, brunch, lunch, or dinner. Consistency in everything we do is key, but the number one thing that drives us is ensuring our guests have the best possible experience.
How do you stay ahead of the competition?
D.C. is a great brunch town. What Chef Bill [Williamson] has been able to do here is take some classic brunch staples and put his own spin on it. You might have had steak and eggs before, but our steak and eggs feature locally-sourced beef from Roseda Farm in Monkton, Maryland. Instead of home fries, we use house-made tater tots that our culinary team spends hours preparing each day.
What are the keys to keeping your cocktails on point?
First and foremost is seasonality. It doesn't make sense to offer a mulled cider in the middle of July. Another key is creating drinks that have house-made ingredients and serving creative cocktails alongside classics.
How do you manage table turnover during the brunch rush?
Table turnover is important. Every little detail, from getting the guests menus to taking the order promptly, contributes to table maintenance and our ability to run a smooth and efficient service. The challenge every shift is to try to welcome as many walk-in guests that we can fit around our existing reservations.
What about waitstaff turnover and training?
Staff turnover is one of the realities of the industry. What I love about my staff is that each of them are passionate individuals, and although not every one of them views the restaurant industry as their career, they are all dedicated to providing the best possible experience for our guests. Training for new employees usually takes about seven to 10 days, and hires learn not only what we serve, but how we serve it.
Have you ever had things go sideways during the rush?
I remember one brunch when two out of three of our waffle irons went down.The kitchen was struggling to keep up, and it seemed like everyone's brunch entrees were dragging. I noticed that our pastry section was perfectly fine, so I worked with the pastry cook to prepare a bunch of treats for tables that had a long wait for food. I walked around to a half dozen tables with breakfast pastries in my hands to apologize for the delay on their food. That's a big thing for me—if things go wrong, you need to be upfront with them and work tirelessly to rectify the situation.—Tim Ebner
Las Vegas
Dan Adams, Owner
The Perch comes by its name naturally, as it is 'perched' on the second floor of Vegas's Downtown Container Park, an open air shopping, entertainment, and recreation center featuring retail stores made out of shipping containers. Owner Dan Adams gave us his cut-to-the-chase assessments of what it takes to thrive in the busy Vegas brunch game, which the Perch has been doing since opening in 2014.
How do you get your kitchen staff primed for service at that hour of the day?
Espresso and the knowledge that the restaurant will be filled within a half hour.
How do you manage wait-staff turnover and training?
When hiring, personality and attitude is 51%, skill set is 49%. They have to be a culture fit. 
What are the keys to keeping your cocktails interesting? 
The modifiers have to be fresh, not bottled. We have a fair mix of popular classics and signatures. Our bar staff is always experimenting and doing tastings.
How would you describe your customer-service policy?
Special orders don't upset us. And we don't limit your options during brunch happy hour. You can start with a Bloody Mary, and move to a Bellini or a Mimosa. Most brunch places only allow one of them at that pricing.
Your location in Downtown Container Park certainly helps, but it can't do everything. How do you make sure customers keep coming back?
It starts with a happy team, having fun, and a strong presence from the culinary team, as well as in the front of the house with guests.
Can you remember a time something went especially wrong and how you handled it? 
We had a reservation on the books for 10 people. A party of 10 showed up and were seated. We only have one large family table that can accommodate 10. After this party was seated, another party of 10 showed up—the guests who had actually made the reservation. After a small hullabaloo and some confusion, we rallied around and pulled some tables together for them. No problem. Of course, complimentary champagne didn't hurt.—Jayme Lamm
Los Angeles
Suzanne Goin, Chef-Owner
The James Beard Foundation's Outstanding Chef of 2016, Goin has a hand in four LA-area restaurants. A.O.C., her second venture with business partner Caroline Styne, opened to rave reviews in 2002 and has been going strong ever since. Success, it seems, comes naturally to Goin, who was named one of Food and Wine magazine's Best New Chefs of 1999, has been nominated for the James Beard Outstanding Chef award eight times, and consistently earns high praise from critics for each of her ventures. She and A.O.C's general manager, Julie Grimm Espinoza shared some of their secrets.
How do you stay ahead of the brunch competition?
Suzanne Goin: Luckily our dishes start with what our farmers bring to the market. This enables (and forces) us to change our menu frequently and stay creative. We have a lot of regulars that want to order the same thing every time, but others that want to try something new. We try to accommodate both.
What's the key to a masterful omelette?
SG: Loving the eggs! We get our eggs from Schaner Farms near San Diego. I've been to the farm, and Peter Schaner loves his chickens, this makes great eggs. If you cook your eggs too fast they get tough so you should take your time and make them nice and slow, cooked this way they will get a beautiful silky texture. The filling is almost an afterthought.
What are the keys to keeping your cocktail list fresh and relevant?
SG: Our Head Barman, Christiaan Röllich, is amazing. I think he might be a wizard. He keeps everything really seasonal and makes anything he can from scratch. Christiaan will frequently start conversations with me about techniques and flavor pairings we use in the kitchen, and then incorporate them into his cocktails.
How do you manage wait-staff turnover and training?
Julie Grimm Espinoza: We are very lucky at A.O.C. to have such loyal staff. There are bussers and servers who have worked with us for over 13 years. This becomes crucial during times of training new staff to match them up with those who have worked here the longest, since they can help explain the "A.O.C. way." Even some of our managers—like me!—were once servers and bartenders, so upward mobility is also very prevalent at all of Suzanne and Caroline's restaurants.
What are your essential customer-service policies?
JGE: Know your menus! Education is a large part of working at A.O.C. We are continually learning about our cheeses, our wines—and our menu, being very seasonal, changes often. Servers are continually checking their notes. That way, they can relax when asked a bunch of questions, and they can share their knowledge with our guests. —Melissa Seley