Food & Drink
Sponsored by
A Neon Artist Picks the World's Coolest Neon Bar Signs
Sponsored by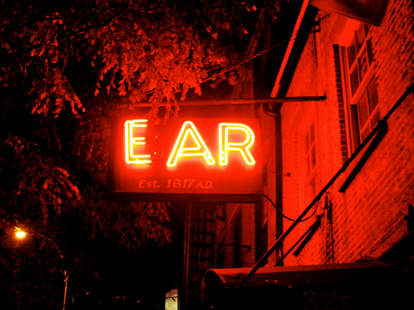 Neon has been a part of cocktail culture since 1913, when one of the world's first neon signs, a spectacular, block-lettered advertisement for a brand of vermouth, radiated from a Paris rooftop. "Liquid fire" has been used to attract imbibers pretty much ever since, and some of the most distinctive neon designs ever have lit up the facades of bars. Here, Wayne Heller, a designer and Art Director at Lite Brite Neon in Brooklyn, singles out six of the coolest neon bar signs on the planet.
New York, NY
This neon sign falls into the category of what I would deem NYC vernacular, in which you solve design problems by winging it, or using readily available materials (see also: NYC bodega signs). The sign says BAR, and it came with the building, but your business is called EAR Inn? No problem, just paint out some of the glass on the B and make yourself in E. Viola, done! It's a plus that the inside of this place is basically a time machine to pre-war NYC. (That's pre-Civil war.)
Hong Kong
Hong Kong is without a doubt one of the neon capitals of the world, even as the signs have dwindled over the years. Without even knowing what the signs say (my Cantonese is pretty shabby), I could write an entire essay about the aesthetic virtues and moody charm of the puddles of neon that fill the streets of Hong Kong. But there's something beautifully simple about Little Bao's wordless sign. Unlike its spectacular cousins over on Nathan Road (where neon signs go to achieve nirvana), Little Bao's pink neon baby head has a magic that relies on simple line work and off-kilter positioning. I'd swear that people hang around outside sipping drinks just to gaze at the neon, if it wasn't common knowledge that May Chow is running one of the best restaurants around.
Timothe Krause / flickr
Los Angeles, CA
A classic for obvious reasons, right? A 32-foot neon clown that sells spirits? This sign is about half a century old, which makes you wonder: Was it as terrifying to folks back then as it is now? This place has had scene-stealing cameos in half a dozen movies and a famous hip-hop video.
Chicago, IL
It's not the most opulent sign in Chicago (that award might go the the butcher shop neon that depicts pigs diving head first into a meat grinder and emerging as neon sausages), but this classic Schlitz sign outside a classic bar exemplifies the ubiquitous 'privilege' signs (provided by the brand, as an on-premises ad) you'll see in and outside of so many Chicago drinking establishments. The ovular red metal shape behind the neon has crisp white letters, while the company's logo crowns the top.
Paul K / flickr
Las Vegas, NV
When I first went to Las Vegas, this liquor store was also a bar and I couldn't believe my eyes. It's still a bar, but I think it's sort of fancy now—though at least they've kept the layered volumes of bulb and that swooping-arrow–bordered sign in the front, which looks like the wayward relative of those squeaky In-N-Out Burger signs.
Alessio Albano/ flickr
Berlin, Germany
Paris bar is famous and sort of looks like it belongs in a Manet painting—and if even if Bowie and Iggy Pop didn't hang there, they'd still have that fine-looking mid century era sign. You see a lot of reverse painted channel letter signs in Germany, with this wonderful flowing script rendered in metal, which makes this such a fine dimensional object that it becomes a piece of the building itself. As a side note, there are a lot of Döner kebab shops in Berlin, and a lot of Döner kebab neon signs that go with them—all of which are different and many of which are weird. My favorites are the ones that animate, with a knife-wielding chef slicing away at the Döner.