The Best Thing We Drank This Week: The Collins at The Fat Radish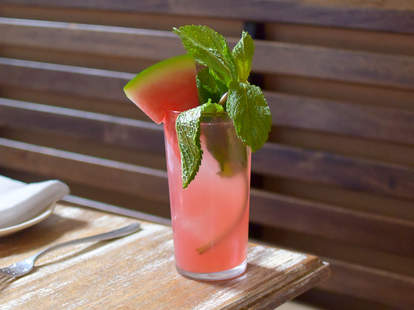 Nickolaus Hines / Supercall
In the summer, New York City is like a swamp, only with more trash. Thankfully, the city is also filled with some of the best bars in the world, so escaping said swamp is as easy as running to a rooftop or ducking into a cocktail den down the street for a list of cooling drinks. We recently did just that and found one of the most cooling cocktails we've ever come across made with two of the most cooling ingredients: watermelon and aloe.
At The Fat Radish, a British restaurant and bar in the Lower East Side of Manhattan, escape awaits in a drink simply called "The Collins." It's made with 1.5 ounces of Aylesbury Duck Vodka, 2 ounces of watermelon juice, 0.25 ounces of simple syrup, 0.25 ounces of lemon juice, club soda and, to complete the drink, 0.5 ounces of Chareau, an aloe, cucumber and mint liqueur from California. It tastes like a fresh breeze on an otherwise still and lifeless day, kind of like those addicting WTRMLN WTR cold-pressed juices, but with booze. The watermelon does the heavy lifting flavor-wise, and the Chareau rounds the drink out with some viscosity. A sprig of mint fluffing out of the top of the glass hits you with every sip, adding cooling smells to those sweet cooling flavors.
You can get The Collins at the front bar of The Fat Radish or seated at one of the tables, which are illuminated by sunlight filtering through a big window. You don't have to get food, but you won't be disappointed if you do. The dishes are British inspired but made with local ingredients like fluke caught in the waters by Long Island and eggplants from nearby New Jersey (which, surprisingly, grows 66 percent of the world's eggplant supply).
New York isn't alone when it comes to hot summers, and New Yorkers shouldn't be the only ones who get to drink something like The Collins. Make one for yourself and escape, if only for the length of time it takes you to finish a cocktail.