Drinking My Way Through Philly DNC 2016, Part Two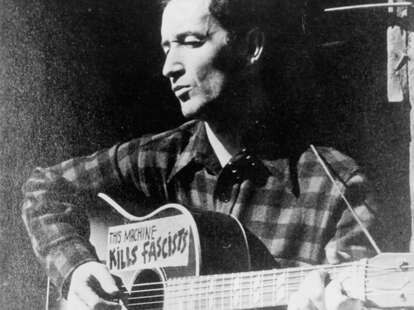 Michael Ochs Archive / Getty Images
The most enduring image of American folk singer Woody Guthrie is of the Dust Bowl Troubadour brandishing a guitar emblazoned with the message, "This machine kills fascists." Powerful words that still resonate today, especially among the thirsty multitudes who have gathered in Philadelphia for the Democratic National Convention.
I had expected the city to be brimming with public spirit—along with spirits spirit—but what surprised me was the music. It was everywhere. So last night, I visited a series of local bars to ask people, "What song/cocktail combination makes you feel most patriotic?"
Spoiler alert: Guthrie's "This Land is Your Land" won by a country mile. But the booze was all over the map.
"I find Irish whiskey to be very patriotic," said Sean McGovern, who hails from the Frankford section of the city. "I'd salute America with a shot of Jameson and 'This Land is Your Land' cranked all the way up."

When I was suggested that an American-made whiskey might be more apropos for seasoning the stew of liberty, McGovern replied, "My ancestors came from Ireland and helped build this country. And besides, I like Jameson more than bourbon or rye. Freedom of choice is what this country is all about." Fair play, Sean.
Lara Gainey drove up from North Carolina to support Bernie Sanders. The song about this country that amps her up most is Rage Against the Machine's "Bulls on Parade." Flag-waving sheeple she ain't, at least according to the giant RATM clenched fist logo tattooed on her rib cage. She said that when she gets home, she's getting Bernie's face permanently etched on her torso too. I dig the commitment, Lara.

What drink gets Ms. Gainey lit up about the Land of Opportunity? "This," she beamed, raising her half-empty pint of lager. "Beer's my cocktail." You had me 'til beer, Lara.
My wingman on this mission was my cousin Dennis, who's been raising hell in Philadelphia since the day he was born. He cited "The End" by the Doors as the tune that gets his 'Murrican mojo risin'. Whatever floats your boat, Dennis. I have a good therapist if you need. And no, I'm not embedding that thing here. This is a family show.
"As for the drink," he said, "here," and handed me a shot. We clinked glasses and tilted back. Jägermeister. You're aware we're talking about United States drinks, right, Dennis? "I drank it here, that makes it American." Sure does, buddy. It sure does.
Yvette Samuel lives just over the Delaware River in New Jersey. Which pretty much counts as Philly so long as you don't rub it in anyone's face. She said she cried on the 4th of July when she heard Ray Charles's "Georgia" after drinking Mint Juleps all day. Said it gets her every time. Drinking Juleps all day gets me every time too, Yvette.

"It's funny," she said. "Something about the South just feels, you know, real American to me." I didn't have the heart to tell her she was at the wrong convention.
We stopped by a DNC party thrown by Patriotic Millionaires, part of the Agenda Project, a nonprofit that supports left wing causes. It was held at a huge brownstone at 16th and Locust that I'm pretty positive they used as the Duke Brothers' home in Trading Places. That's where I saw John Popper from Blues Traveler sipping on white wine. Way to ruin your image, John Popper! I reminded him that we'd met once before at a party at Adam Carolla's house where we'd had a laugh about the fact that Ron Jeremy had shown up wearing sweatpants. Some people drop names in a careful coherent manner to make themselves seem important. Other people Jennifer Lawrence Carrot Top the J. Lo Rush Limbaugh with Tila Tequila.
John Popper, of course, is most famous for his rendition of "The Preamble" on Schoolhouse Rock Rocks The Vote, which doesn't seem to be anywhere on the internet except here. It's OK, John Popper. I still believe you're famous.
"Seriously?" Bob LaBrum of Fishtown asked at Rouge on Rittenhouse Square, incredulous. "Nobody else you've asked so far has mentioned this song or this drink?"
No, Bob. No they haven't.
"Let's fix that right now," said LaBrum. He ordered a round of Manhattans. Stiff. Then went to the jukebox and put on the Godfather of Soul, the hardest working man in show business, Mr. Dynamite, the amazing Mr. Please Please Please himself... James Brown!

On his cue, I raised my glass and looked up at the big screen where Bill Clinton was auditioning for the role of First Hubby. Then I peeked at LaBrum, and I swear I saw tears welling up in his eyes. Though to be fair, he might have been thinking about Rocky IV. After a good long moment, he turned and looked at me and grinned.
"America," he said reverently. "Fuck yeah."
You said a mouthful, Bob LaBrum. Because that sweet little ditty from Team America World Police is my patriotic drinking song of choice. I like to listen to it while drinking Jack Daniel's. And riding a laser eagle. Across the Grand Canyon.

I highly recommend you try it sometime. If you need a laser eagle, I know a guy.
Dan Dunn intends to keep on rockin' in the free world. Check out Dan's latest book, American Wino: A Tale of Reds, Whites and One Man's Blues. Follow him on Twitter and Instagram.