The 7 Oldest Tropical Watering Holes in America
When Donn Beach and Trader Vic first birthed tiki, it's unlikely either of the founders realized exactly what they had created. Their bars, draped in flotsam and jetsam, served up not only elaborate tropical cocktails, but also instant escape. Eight decades later, tiki is going stronger than ever with new beachy bars cropping up across the country. And while many of the original tiki bars have shuttered, a few mid-century watering holes have persevered, keeping tiki's history alive. Here, seven stalwarts that continue to enthrall tiki lovers around the country.
Where: Fairmont Hotel in San Francisco, CA
When: 1945
The Tonga Room is perhaps most famous now for its pool, which sits in the middle of the bar's seating area and houses a miniature tiki bandstand on which bands and performers regularly perform. The bar also features occasional interior thunderstorms for a total sensory tiki experience.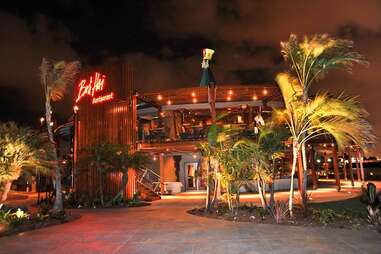 Where: San Diego, CA
When: 1954
First opened by restaurateur Tom Ham, Bali Hai has remained in his family for decades and is now run by his daughter, Susie Baumann, and his grandsons, Tommy and Andy. Everyone who enters the space is greeted by the restaurant's "tiki icons," which have been there from the beginning: Mr. Bali Hai, who stands at the entrance, and "The Goof" who keeps watch on the roof.
Where: Ft. Lauderdale, FL
When: 1956
Sixty years ago, brothers Bob and Jack Thornton opened this massive tiki lounge, complete with its own gardens, restaurant and Polynesian performances, featuring dancers and live music. The space has multiple dining rooms—each themed for a different group of islands—and is draped in seafaring decor, including authentic Polynesian artifacts. Now, the place is run by Bob's stepchildren, but it is as laid-back and escapist as it was in its heyday.
Where: Los Angeles, CA
When: 1958
Opened in 1958 by brothers Ace and Ed Libby, Tonga Hut has been serving North Hollywood Mai Tais and Zombies for nearly 60 years. Like many tiki bars, though, it hit a rough patch in the 1980s, during which it became more of a tropics-themed dive than a tiki den. In 2011, however, the bar was renovated and restored to its original Polynesian glory.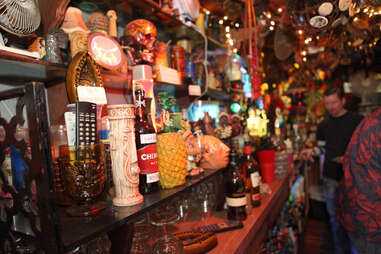 Where: Los Angeles, CA
When: 1961
A member of tiki royalty in his own right, Ray Buhen was one of Donn Beach's most trustworthy bartenders at the original Don the Beachcomber. Eventually, though, Buhen tired of slinging cocktails for Beach and decided to open up his own place: Tiki-Ti. Today, the bar is still a family affair with Buhen's son and grandson, Michael and Mike Buhen, handling day-to-day operations. The bar's menu features dozens of classic tiki concoctions like the Pearl Diver and Fog Cutter. If you can't figure out what to order, no worries; indecisive customers just have to spin the Tiki-Ti wheel to determine which of the 85 drinks to order.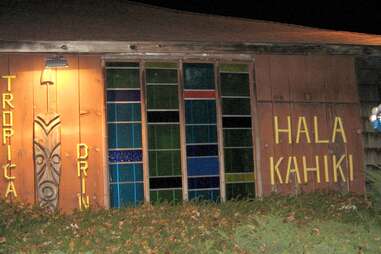 Where: River Grove, IL
When: 1964
Illinois might not be the first place you'd expect to find a renowned tiki joint, but Hala Kahiki celebrated its golden anniversary in 2014 and isn't going anywhere any time soon. Located just outside of Chicago, the bar was opened by Rose and Stanley Sacharski, who originally named the tavern The Lucky Start. By 1964, though, it had morphed into a tiki den and changed locations and its name. If you plan to visit, be prepared to make some tough decisions—the menu is divided into 17 categories of cocktails, including "Coconut Drinks" and "Drinks for Two," with scores of classic and original recipes from which to choose.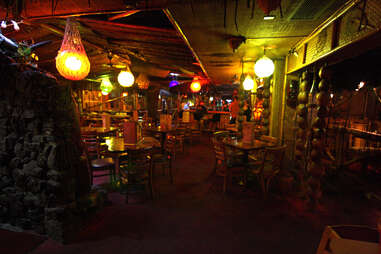 Where: Tucson, AZ
When: 1963
Kon Tiki has hardly changed since Dean Short opened its doors 53 years ago. Short moved to Arizona in the 1940s from Ohio, where he had worked in his family's bar for years. After opening a couple of successful restaurants, Short decided to capitalize on the tiki craze and opened Kon Tiki. The restaurant serves everything from wings to "Monkeys-on-a-stick" (which is actually made with steak), and the bar offers tiki classics starting at $5 as well as original concoctions like the Hawaii Five-O, "a tropical concoction of 5 different liquors guaranteed to bring out the criminal in any upstanding citizen."