The Real Housewives shows would be a pretty boring TV show if it weren't for booze. Luckily, the stars of Bravo's highly successful reality television franchise keep the drinks flowing, from fruit-flavored "Martinis" to heavy pours of Sauvignon Blanc. When they go out together, they're even more likely to have one of those quality heart-to-hearts, or launch into a full-on purse-swinging scuffle, and it's often at one of their signature spots—whether that's a Mexican tourist spot for the OC women or, in the case of NYC, a basement-level club that feels more like a sex den. And then there are the many places the housewives themselves operate. Here are the most popular bars and clubs (note: We're including restaurants with well-stocked bars) on The Real Housewives that every true fan needs to know.
Recommended Video
Thrillist's Best (and the Rest): What You Actually Need to Know About Natural Wine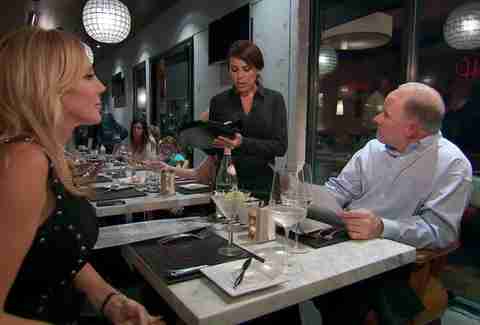 The RHOC ladies are fond of partying in each other's McMansion-style homes, but they also venture out from time to time. One of their favorite spots to unwind, bond, and sometimes cry over drinks is Hanna's in Rancho Santa Margarita, California. You can find Vicki Gunvalson and her daughter Briana opening up about each other's struggles there, and former star Jeana Keough recommends enjoying the Effen Vodka Blackberry Martini amid the restaurant's "quiet elegance."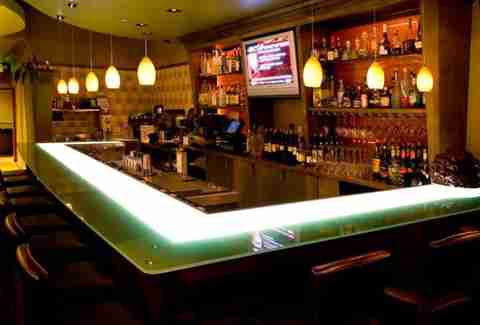 Infusion Restaurant and Martini Bar (RHOC)
Pour out one of Vicki's Dirty Vodka Martinis with a blue cheese-stuffed olive, because one of the cast's frequent hangouts, Infusion in Ladera Ranch's Mercantile West Shopping Center, closed down in 2012. Tamra Judge and other ladies made trips to the bar for cocktails and small plates when they had some personal news to share or tensions to air out. "It's sad," Infusion's co-owner Claire Shepard told The Orange County Register of the closing. "The rent is high, the economy is bad, and people aren't spending on high-end food, so we just can't keep going." Why one of the gals didn't adopt saving the bar as her own pet project is beyond us.
 
This restaurant in Corona del Mar, California, became instantly notorious in the latest season of RHOC as the site of a plate-throwing fight between stars Shannon Beador and Kelly Dodd. The two have never really gotten along, and when Kelly showed up and caught Shannon by surprise, Shannon did not react politely, dropping F-bombs (and some food), while Kelly needled her about her weight gain. Shannon said afterward that in retrospect she would have "handled everything differently."
Some of the most intense action on RHOC happens when the housewives depart from their comfortable suburban surroundings. Vicki's love of the vacation town Puerto Vallarta in Jalisco, Mexico, is legendary by this point, and she always hits the landmark bar Andale when she's in the mood for "whooping it up," as she calls it. (As any fan of the show knows, this basically means drinking a lot and screaming "woo-hoo" at the top of her lungs while waving her hand around.) She shared a wild night with Tamra there during Tamra's bachelorette party and once proclaimed her love for a drink she calls "Vicki's medicine."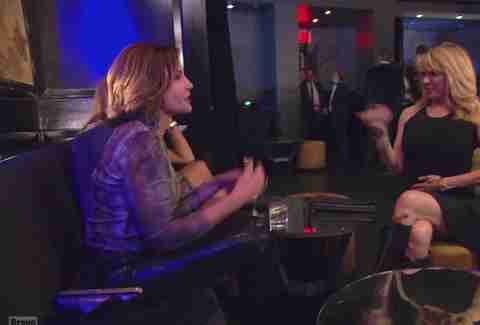 Beautique (The Real Housewives of New York City)
The basement lounge of Beautique near Central Park has been the host of major plot points on RHONY. Star Luann de Lesseps even referred to it as a "pickup joint," while Sonja Morgan said you can get "tipsy" at the club and "fall off your heels." When Jezebel visited Beautique's lounge, it found the dark, sexually-charged atmosphere unappealing, likening the place to "the mansion orgy scene in Eyes Wide Shut."
The sleek bar in the luxury Park Avenue hotel was a favorite hangout for Tom D'Agostino and Luann during their romance (they have since split *tear*). It was also the backdrop for the extremely awkward run-in between the couple and Tom's former flame, Missy. But Sonja warns that you should "behave yourself" in the hotel, which she says hosts "heads of state."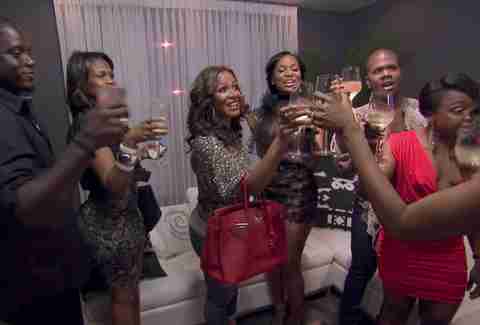 Bar One (The Real Housewives of Atlanta)
Bar One became a pitstop on RHOA after Peter Thomas, husband of star Cynthia Bailey, opened the downtown lounge and tapas bar. During a party, costar Phaedra Parks seemed unimpressed with the spot, saying it was "in the hood." Bar One has since closed, but Thomas was undeterred, going on to open a full-on nightclub, Club One, in Charlotte, North Carolina.
 
Little Town New Jersey (The Real Housewives of New Jersey)
The Real Housewives franchise has proven to be a great way for its stars to promote their brands—and that can extend to their kids, too. We watched Albie and Chris Manzo, sons of housewife Caroline, build up their bar Little Town New Jersey earlier on RHONJ. They've since transformed the location into the Hoboken outpost of the high-end sports bar chain The Ainsworth.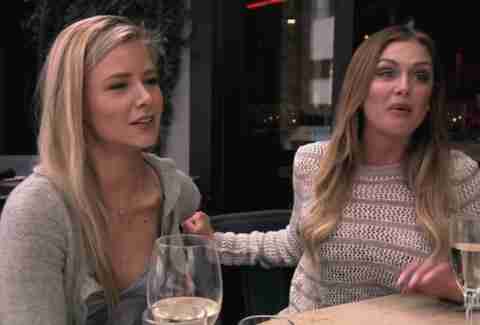 Star Lisa Vanderpump rules RHOBH, and that includes her mini-empire of bars and restaurants, which she owns with husband Ken Todd. The outposts most commonly spotlighted on the show include West Hollywood's SUR (it stands for Sexy Unique Restaurant), which dishes out plenty of conflict in addition to standard Italian cuisine and novelty cocktails like the "Flirtini" (Chandon sparkling wine, Skyy pineapple vodka, and pineapple juice).
The other Lisa Vanderpump mainstay on RHOBH, also located in West Hollywood, is PUMP, which calls itself "Los Angeles' Sexiest Restaurant" (Lisa is evidently very into the idea of sexy hospitality). It serves Mediterranean food in a spacious outdoor area along with Vanderpump's sugary house cocktails like the Friday meme-inspired "Bye-felychee," a vodka-and-lychee concoction, which we're guessing goes down as smoothly as watching Lisa's feud with Lisa Rinna. (You might want to be careful if you go, however: One man sued PUMP alleging that his calamari came with pieces of glass.)
Mynt Lounge (The Real Housewives of Miami)
Of course RHOM has a South Beach club owner in its supporting cast. Earlier in the show, star Joanna Krupa was engaged to Mynt owner Romain Zago, and in season two, fellow housewife Adriana de Moura awkwardly flirted with Romain at the club's 10th anniversary party. Joanna and Romain have since separated, though Mynt lives on.
Though it's only been around for two seasons, the Potomac edition of Real Housewives (set in the high-income Maryland town) has already shone a spotlight on one of its star's establishments. The Australian-themed Oz, started by housewife Ashley Darby and her husband Michael, offers standard bar food as well as rarer Australian specialties like emu wraps and kangaroo sliders. Of the marsupial, Ashley said that despite Americans' misgivings, it's a "very tasty meat."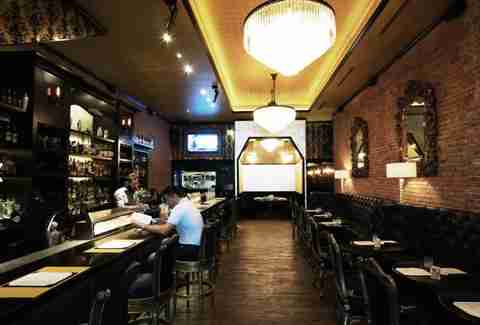 The Mitchell (The Real Housewives of Dallas)
Star Stephanie Hollman threw a Great Gatsby-themed birthday party for her husband, Travis, last year at this chic downtown Dallas bar. She wanted nothing but the best for him, clearly. "The day he was born is a very precious gift that God gave the world and nothing can go wrong," Stephanie said on the show. If that doesn't deserve 1920s decadence and finally getting your wish of seeing your wife pop out of a cake, we don't know what does.